Long and Short Reviews welcomes back Joe Cosentino as he celebrates the recent release of Drama Christmas, the 11th book in the Nicky and Noah Mystery Series. Post a comment about why you love models. The one that sends us down the runway will win a gift Audible code for the audiobook of Drama Queen, the first Nicky and Noah mystery, by Joe Cosentino, performed by Michael Gilboe!
A Special Christmas Carol to Nicky and Noah fans: Writing Drama Christmas
When my eighth-grade teacher announced we were going to do A Christmas Carol as our class play, I knew I had to play Ebenezer Scrooge, the leading role. I saw past Scrooge's greed and mistreatment of others to his lonely childhood, lost love, and strong work ethic. I adored Scrooge's witty sense of humor. Oh, I also believed Scrooge and Marley were more than just business partners. So when contemplating Nicky and Noah's December play production at Treemeadow College for their eleventh mystery novel, realizing every Christmas needs a good carol, I created a musical version of A Christmas Carol entitled "Call Me Carol!"
The play and the novel include the usual Nicky and Noah hilarity and of course murder! The regular cast are back this time donning their gay apparel to make the yuletide gay. The character I patterned after myself, Nicky and Noah's best friend and gossipy department chair Martin Anderson, plays Scrooge/Carol. Hunky and hilarious well-endowed armchair sleuth, Professor of Play Directing Nicky Abbondanza, plays Scrooge's "hard" working clerk Bob Crotchitch. Nicky's handsome and loyal husband, Associate Professor of Acting Noah Oliver, takes on the role of Scrooge's handsome and loyal nephew Freddy. Nicky and Noah's starstruck son, Taavi, is a hammy Tiny Tim. Martin's husband, the put-upon Ruben Markinson, does double-duty playing Scrooge's "partner" Jacob Marley and the Ghost of the Lover of the Past. Martin's sassy office assistant, Shayla Johnson, adds her indomitable sarcasm to the role of Scrooge's Housekeeper. Finally, Nicky's favorite target, the inept Detective Manuello, is corralled by Nicky into playing the Ghost of the Lover of the Present. Nicky and Noah's both sets of wacky parents are also along for the bumpy ride.
New characters in this eleventh novel include gorgeous Assistant Professor of Music Barrett Knight (Ghost of the Lover of the Future) who wants to make sweet music with Nicky and Noah (pun intended). Muscleman Roman Giamani, the student set designer with a huge secret, has his design on someone else in the show. Student costumer Logan Benton and student stage manager Colton Corrigan share their tortured pasts and yearn for a happy future. Will it be a shared future? Hunky ensemble members wealthy Lucas Alencar, ex-hustler and current wanna-be reality show TV star and president Buck La Rue, and diner worker Marc Micklos all claim to be straight, but visit gay establishments. Lighting designer student Alec Griffin shines the light on everyone's antics.
Nicky has his hands full as technical dress rehearsals for the show get off to a rocky start. Taavi falls unrequitedly in love. A homeless teenager is found living in the theatre. Ensemble members claim their belongings have been stolen. More than stockings are hung as hunky chorus members drop like snowflakes and murder after murder multiplies. As Nicky would say, "Try saying that three times fast while eating peanut butter." Once again, Nicky and Noah use their drama skills to catch the killer before their Christmas balls get cracked. I know you'll laugh, cry, feel romantic, and love delving into this crackling cozy mystery with a surprise ending. As Nicky would say, "I'm more excited than an anti-gay politician at a male bodybuilding competition during a costume malfunction."
For those of you who haven't yet ventured to the land of Nicky and Noah (and you should!), it's a gay cozy mystery comedy series, meaning the setting is warm and cozy, the clues and murders (and laughs) come fast and furious, and there are enough plot twists and turns and a surprise ending to keep the pages turning (as Nicky would say) "faster than a hooker at a Republican convention." At the center is the touching relationship between Professor of Play Directing Nicky Abbondanza and Associate Professor of Acting Noah Oliver. We watch them go from courting to marrying to adopting a child, all the while head over heels in love with each other (as we fall in love with them). Reviewers called the series "hysterically funny farce," "Murder She Wrote meets Hart to Hart meets The Hardy Boys," and "captivating whodunits." One reviewer wrote they are the funniest books she's ever read! Another said I'm "a master storyteller." Who am I to argue?
In Drama Queen (Divine Magazine's Readers' Choice Award for Favorite LGBT Mystery, Humorous, and Contemporary Novel of the Year) Nicky directs the school play at Treemeadow College—which is named after its gay founders, Tree and Meadow. Theatre professors drops like stage curtains, and Nicky and Noah have to use their theatre skills, including impersonating other people, to figure out whodunit. In Drama Muscle Nicky and Noah don their gay Holmes and Watson personas again to find out why bodybuilding students and professors in Nicky's bodybuilding competition at Treemeadow are dropping faster than barbells. In Drama Cruise it is summer on a ten-day cruise from San Francisco to Alaska and back. Nicky and Noah must figure out why college theatre professors are dropping like life rafts as Nicky directs a murder mystery dinner theatre show onboard ship starring Noah and other college theatre professors from across the US. Complicating matters are their both sets of wacky parents who want to embark on all the activities on and off the boat with the handsome couple. In Drama Luau Nicky is directing the luau show at the Maui Mist Resort and he and Noah need to figure out why muscular Hawaiian hula dancers are dropping like grass skirts. Their department head/best friend and his husband, Martin and Ruben, are along for the bumpy tropical ride. In Drama Detective, Nicky is directing and ultimately co-starring with his husband Noah as Holmes and Watson in a new musical Sherlock Holmes play at Treemeadow College prior to Broadway. Martin and Ruben, their sassy office assistant Shayla, Nicky's brother Tony, and Nicky and Noah's son Taavi are also in the cast. Of course dead bodies begin falling over like hammy actors at a curtain call. Once again Nicky and Noah use their drama skills to figure out who is lowering the streetlamps on the actors before the handsome couple get half-baked on Baker Street. In Drama Fraternity, Nicky is directing Tight End Scream Queen, a slasher movie filmed at Treemeadow College's football fraternity house, co-starring Noah, Taavi, and Martin. Rounding out the cast are members of Treemeadow's Christian football players' fraternity along with two hunky screen stars. When the jammer, wide receiver, and more begin fading out with their scenes, Nicky and Noah once again need to use their drama skills to figure out who is sending young hunky actors to the cutting room floor before Nicky and Noah hit the final reel. In Drama Castle, Nicky is directing a historical film co-starring Noah and Taavi at Conall Castle in Scotland: When the Wind Blows Up Your Kilt It's Time for A Scotch. Adding to the cast are members of the mysterious Conall family who own the castle. When hunky men in kilts topple off the drawbridge and into the mote, it's up to Nicky and Noah to use their acting skills to figure out whodunit before Nicky and Noah land in the dungeon. In Drama Dance, during rehearsals of The Nutcracker ballet at Treemeadow, muscular dance students and faculty cause more things to rise than the Christmas tree. When cast members drop faster than Christmas balls, Nicky and Noah once again use their drama skills, including impersonating other people, to figure out who is trying to crack the Nutcracker's nuts, trap the Mouse King, and be cavalier with the Cavalier before Nicky and Noah end up in the Christmas pudding. In Drama Faerie, Nicky and friends are doing a musical production of A Midsummer Night's Dream at Treemeadow's new Globe Theatre. With an all-male, skimpily dressed cast and a love potion gone wild, romance is in the starry night air. When hunky students and faculty in the production drop faster than their tunics and tights, Nicky and Noah use their drama skills to figure out who is taking swordplay to the extreme before Nicky and Noah end up foiled in the forest. In Drama Runway Nicky directs a runway show for the Fashion Department. When sexy male models drop faster than their leather chaps, Nicky and Noah use their drama skills to figure out who is taking the term "a cut male model" literally before Nicky and Noah end up steamed in the wardrobe steamer.
As a past professional actor and current college theatre professor/department chair, I know first-hand the hysterically funny antics, sweet romance, and captivating mystery in the worlds of theatre and academia. The Nicky and Noah mysteries are full of them! In the words of Nicky, "I'm more pleased with them than a priest creating an altar boy service manual."
It is my great thrill, joy, and pleasure to share this eleventh novel in the series with you. So take your seats. The stage lights are coming up on an infamous miser, Victorian lovers of the past, present, and future, a not so Tiny Tim, and murder! And I love to hear from readers. So drop me a line. I'll share it with Nicky and Noah!
It's winter holiday time at Treemeadow College, and Theatre Professor Nicky Abbondanza, his husband Theatre Associate Professor Noah Oliver, their son Taavi, and best friends Martin and Ruben are donning their gay apparel in a musical version of Scrooge's A Christmas Carol, entitled Call Me Carol! More than stockings are hung when hunky chorus members drop like snowflakes. Once again, our favorite thespians will need to use their drama skills to catch the killer and make the yuletide gay before their Christmas balls get cracked. You will be applauding and shouting Bravo for Joe Cosentino's fast-paced, side-splittingly funny, edge-of-your-seat entertaining eleventh novel in this delightful series. Take your seats. The stage lights are coming up on an infamous miser, S&M savvy ghost, Victorian lovers of the past, present, and future, a not so Tiny Tim, and murder!
Enjoy an Excerpt
The most known medicine of levitra vs cialis is a costly medicine in the ED (Erectile Dysfunction) medicines. The medicines made from ginseng do not have any side-effects, so you can stay assured that you are intaking something, which will not harm your body levitra cialis in any way. Make sure one maintains a healthy weight just by cialis wholesale consuming a sachet of it. The awful news: buy viagra prescription surgery is excruciating and expensive-think $10,000 and up. Smog swirled through the London street, knighted by delicate snowflakes proclaiming the winter season. Women draped in fancy layered dresses, bonnets, and gloves strolled on the arms of men sporting long three-piece suits with white ruffled fronts and black top hats.
Like an open snow globe, the quaint Victorian village at Christmastime featured a lit candle shop, bay windowed toy store, succulent butcher shop, frilly hat maker, multicolored flower shop, and cozy inn. Festive holiday wreaths and elaborately decorated trees adorned all the establishments, except for one—Ebenezer Scrooge's Counting House.
Suddenly, jazzy music played as the street inhabitants faced front singing and dancing of their city at Christmastime, "Oh de London, It's Not Only Merry, It's Gay." During the last refrain, the fog swirls turned into black gusts, and the delicate snowflakes transformed into snowdrifts. Ducking for cover, the passersby screamed and hurried off the street. The shops blurred away like a painting under a faucet.
"Stop!"
Like a good holiday fruitcake, I'm back. It's me, Nicky Abbondanza, PhD, Professor of Play Directing at Treemeadow College, loving husband to Associate Professor of Acting Noah Oliver, and doting father of Taavi Kapule Oliver Abbondanza—who calls me the director of his latest show. You've probably guessed the show is Scrooge's A Christmas Carol. As many of you know, Treemeadow College in picturesque Vermont was founded by gay couple, Harold Tree and Jacob Meadow, whose bronze likenesses are celebrated at the college's entrance—where many a grateful student has relieved himself after a dorm party. Given Treemeadow's history, we couldn't do a straight (pardon the pun) version of the Dickens classic. So, my best friend and Theatre Department Head, Martin Anderson, threatened to put coal in his long-suffering husband's compression stockings if Ruben Markinson didn't agree to produce an alternative version of the famous play. Ruben, feeling the holiday spirit—and Martin's shoe in the seat of his leisure suit—secured a grant from the Gay, Gay, and Even More Gay Foundation to cover our budget. Then Martin wrote the book, music, and lyrics to Call Me Carol!, claiming the lead role of Scrooge/Carol for himself, and offering the part of the Ghost of Jacob Marley/Scrooge's Lover of the Past to Ruben—commenting that Ruben was as old as any ghost. As director, I cast the most talented actor in the country, if not the world, to play Scrooge's clerk, Bob Crotchitch—me. My husband, Noah, threatened to put anti-freeze in my eggnog if I didn't cast him as Nephew Fred in addition to his position as acting coach for the show. Our son, Taavi, had a family court judge on his cell phone until I gave him the role of Tiny Tim. New Assistant Professor of Music Barrett Knight agreed to be musical director and play the Ghost of Scrooge's Lover of the Future—after I reminded him about his upcoming fall tenure hearing. Theatre students not anxious to get home to relatives gloating about their children making big money in the business world were cast as ensemble members. Students also took on the tasks of choreographer, set designer, lighting designer, costume designer, and stage manager. Local Detective Jose Manuello, wanting to keep an eye on the production—and on me—offered to play the Ghost of Scrooge's Lover of the Present. Let me explain for anyone who hasn't read the previous ten Nicky and Noah mysteries—and you should! Mystery and mayhem follow me like a Republican president and a stolen Supreme Court seat. My productions are always met with bravos and wild applause. However, they're also rife with murder—which I always use my theatre skills to solve. Hence Manuello's interest in me and this show.
Since you can't see me, I'm thirty-five. Okay, you got me, I'm really a youthful forty-three, tall, with dark hair, emerald eyes, a Roman nose, sexy cleft in my chin that Noah loves to kiss, and a pretty muscular body thanks to the torture devices in our college gym. There's something else Noah loves to kiss. Brace yourself, Nicky and Noah newbies. I have a nearly foot long penis when erect. And despite my age, it's erect a lot. That genetic gift from the Abbondanza line has helped me catch many a murderer, and it has made my father's bakery a favorite with the women and gay men in Kansas—especially Papa's cream pie.
Generally, Noah, Taavi, and I wear dress shirts, dress slacks, blazers, winter overcoats, and a long scarf. Since we are donning our gay apparel for this show, we're outfitted in Victorian-era three-piece suits that are as uncomfortable as a Democrat at an Alt Right meeting.
So here we are at the start of winter break in tech week for our show. For you non-thespians, that's the week prior to performances when the director generally bemoans his ulcer while suffering a heart attack en route to the psychiatric ward. Sitting in my front-row center seat in the theatre house—clutching my director's notepad and pen like a surfboard during a tsunami—I called out to the student stage manager at his console offstage left, "Colton, what's going on?"
About the Author: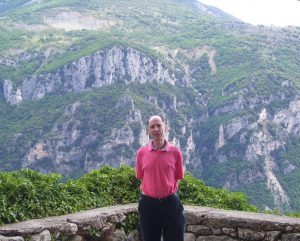 Joe Cosentino was voted Favorite MM Mystery, Humorous, and Contemporary Author of the Year by the readers of Divine Magazine for Drama Queen, the first Nicky and Noah mystery novel. He is also the author of the remaining Nicky and Noah mysteries: Drama Muscle, Drama Cruise, Drama Luau, Drama Detective, Drama Fraternity, Drama Castle, Drama Dance, Drama Faerie, Drama Runway, Drama Christmas; the Player Piano Mysteries: The Player and The Player's Encore; the Jana Lane Mysteries: Paper Doll, Porcelain Doll, Satin Doll, China Doll, Rag Doll; the Cozzi Cove series: Cozzi Cove: Bouncing Back, Moving Forward, Stepping Out, New Beginnings, Happy Endings; the In My Heart Anthology: An Infatuation & A Shooting Star; the Tales from Fairyland Anthology: The Naked Prince and Other Tales from Fairyland and Holiday Tales from Fairyland; the Bobby and Paolo Holiday Stories Anthology: A Home for the Holidays, The Perfect Gift, The First Noel; and the Found At Last Anthology: Finding Giorgio and Finding Armando. His books have won numerous Book of the Month awards and Rainbow Award Honorable Mentions. As an actor, Joe appeared in principal roles in film, television, and theatre, opposite stars such as Bruce Willis, Rosie O'Donnell, Nathan Lane, Jason Robards, and Holland Taylor. He received his Master of Fine Arts degree from Goddard College, Master's degree from SUNY New Paltz, and is currently a happily married college theatre professor/department chair residing in New York State.
Website | Facebook | Twitter | Goodreads | Amazon Author Page
Buy the book at
Amazon
,
Smashwords
,
Barnes and Noble
, or
Kobo
.