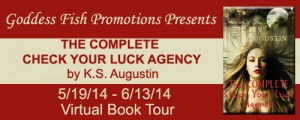 This post is part of a virtual book tour organized by
Goddess Fish Promotions
. The author will be awarding a $25 Amazon GC to a randomly drawn commenter during the tour. Click on the tour banner to see the other stops on the tour.
Writing an SFR/UF?
I was asked to write five to ten "musts" that every story in my genre should have. The problem is,
The Complete Check Your Luck Agency
is the first urban fantasy I've ever written! I'm actually more an SFR type gal. But, you know, there are things I look for regardless of genre, so why don't I start with those?
1. Believable characters
Readers won't relate to your story if they don't sympathise with or, at the very least, understand your characters. But having believable heroes isn't enough. In order to craft a compelling book, you've got to put the same kind of work into your villains, and even secondary characters. What are their motivations? What brings them to this particular point where they meet? Everyone has reasons for doing the things they do. Make sure your characters have them as well.
2. Differentiate between your characters
If you have a character called Anne who is tall, willowy and speaks like Buffy the Vampire Slayer and you have another character called Betty who is tall, willowy and speaks like Buffy the Vampire Slayer, how are readers going to tell them apart? I give different characters different physical attributes, mannerisms and turns of phrase so that a reader can easily identify each in a dialogue without overly relying on the tags ("Anne said", "Betty argued").
3. Exotic, but not too exotic
We like reading fiction because we like to escape, but it's difficult to immerse yourself in a world where you can't relate to anything going on. This is true whether we're talking about a place on Earth or in another galaxy. I set The Complete Check Your Luck Agency mostly in Singapore. While it's an exotic location to Western readers, it also has enough of a Western vibe that is comforting to people new to the setting. It's also a great introduction to Asia. It's the same with SFR. It might be great writing about a techno-anarchic mechanoid utopia in fluidic space but unless you can introduce a believable conduit between that world and ours, the reader will just find it hard going. I know I would.
4. Consistency
Oh, the number of times when I've been used to reading about a character doing A, A, A and then suddenly, at a critical moment, she does C or even X! "Whoa," I think to myself, "where did that come from?" The setting has to be consistent (no monsoon one minute, and a parched desert the next); the characters have to be consistent as well.
5. Try to keep a few lines in the water
For a short story, you've got to keep things tight but, then again, the reader is less likely to wander away. The longer you go, the more "lines" you can throw in. For mine, I have the basic fish-out-of-water theme with Ursula Formosa initially not being prepared to own up to her own paranormal abilities. I also add a dangerous sorcerer who wants to enslave all the souls in Singapore and (cue organ music) the WORLD! But wait, there's more! Did someone really say that Ashida is hundreds of years old? And what's with the weird super-strength that Evelyn has? Is Alfred really a scam artist, as Ursula seems to think, or is there more lurking under the surface?
There are relationships between characters (excluding Ursula) that are explored, mini-crises, a reality TV programme, a delicious ex-model host, deaths, fraud and a cat! I like the idea of my characters having pasts and futures before and beyond the confines of my books, so I make sure they have enough to engage them besides the up-to-the-minute crisis that will destroy the Earth…or galaxy!
6. Add a little humour
I don't mean slapstick, but a dry or sarcastic comment every now and then shows that your characters are relatable, even if they're three-metre high spacefaring reptilians…or a professor of Ancient Greek history who is mightily pissed that he's dead!
7. Be daring!
It's easy to follow the crowd. I remember when vampires were "hot" and everybody was churning out vampire stories. It's good that a creature I like was getting some recognition but I also suffered from vampire overload. How nice it would have been to have something else to break up the vampire binge so I didn't suffer reader burn out! Be that break for the reader who either doesn't like vampires (sacrilege! 😉 ) or wants some rest from fang action. There are more of us around than you probably think.
Sometimes life is stranger than fiction.

After the tragic death of her parents, and with nothing left tying her to the United Kingdom, Ursula Formosa returns to her homeland and a job with the eccentrically-named Singapore firm, "The Check Your Luck Agency".

What begins as an attempt to stave off boredom turns into a new way of life as the scales drop from Ursula's eyes and she tentatively enters a realm that contains vengeful ghosts, toyol, demons, pontianak and curses, not to mention old-fashioned fraud and larceny. As she befriends bomohs, mediums and a young woman already centuries old, Ursula's ideas of friendship expand into a fresh view of the world that surrounds her.

But she isn't going to be left to ease into things. A criminal mastermind, who is also a powerful sorcerer, is gathering mythical creatures to help him possess every living soul in Singapore, and he isn't about to let the members of The Check Your Luck Agency stand in his way!
About the Author:KS "Kaz" Augustin loves writing human stories, whether set on Earth or out among the stars. Malaysian-born, she has travelled a goodly portion of the world and lived to tell the tale! Her urban fantasy release, The Complete Check Your Luck Agency, consists of five books, exploring the myths and legends of the melting-pot that is south-east Asia. Come for the food, stay for the monsters! (Ghosts included at no extra charge.)
As if all that's not enough, she's also Chief Editor of the free online quarterly magazine, Sci-Fi Romance Quarterly.
Kaz's website is at http://www.KSAugustin.com and a list of her books can also be found at http://www.SandalPressOnline.com. She occasionally tweets as @SandalPress.
The Complete Check Your Luck Agency is available from:
Amazon ~ Amazon UK ~ Apple ~ Barnes & Noble ~ OmniLit ~ Tomely