Leave a comment for a chance to win a digital copy of Evidence of Love.
Writing a Villain
by
Elisabeth Rose
Evidence Of Love
is my first published romantic suspense story. Contemporary romance is my usual area so really evil, ruthless villains don't generally get a mention in my books. I've discovered that the truly villainous guys are fun to write! I've heard actors say that about landing the role of the evildoer in a movie. They say there's much more to get their acting skills into in creating a complex baddie. There's always yin and yang—nothing is purely one thing or the other but some of these people are almost evil to the core.
I started out with one baddie character in mind but he somehow became ambiguous and I began to like him quite a lot. Yikes! He was turning into a semi good guy. I needed another baddie, someone far worse who wouldn't be trying to change his life for the better and who revelled in controlling people and amassing power and money. Of course, this man isn't particularly intelligent, he just thinks he is and has the ruthlessness and the henchmen to back it up.
I only needed to open the newspaper every day to find inspiration for my villain. These men abound in horrifying numbers in our society. They're either in court, under suspicion, being investigated, 'helping police with their inquiries', being arrested, killing each other, killing innocent people by mistake, terrorising the public by having fights in public places, or being mourned by friends and family in a show of grief at their funeral.
Money and power are their gods and they'll do almost anything to attain or retain it. They create their own world in which they reign supreme. Other people don't matter, they're there to serve the boss.
Having grown up in a crime steeped family my heroine Lara knows this firsthand and she wants out. The trouble is the bad guy in Evidence Of Love regards her and her child as his for the taking and if she won't come willingly he'll use her child to force her.
She survived years as a gangland wife, sacrificing everything to the family. But now they're threatening the one thing that she will never, ever give up — her child.

When Maja's abusive gang boss husband Tony is murdered, she takes the opportunity to flee, change her name, and leave her criminal family and her past behind. As Lara Moore, she and her toddler son Petey live quietly in suburban Sydney. Then, one act of kindness threatens to reveal her secrets and unravel the threads of her new life. But Detective Nick is dedicated and determined, the antithesis of everything she was brought up to believe about the police. Slowly, Maja finds herself drawn out of her shell and into his protective embrace.

Investigating Detective Nick Lawson doesn't know what it is about the prickly, reclusive young mother that attracts and intrigues him, but as the facts about her crime-steeped family emerge, Nick doubts whether his career would survive this relationship, even if she were interested.

Then, to Lara's horror, her past meets her present, and thoughts of love and a future are lost as the fight for her child begins.
About the Author: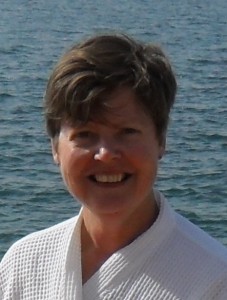 Elisabeth Rose lives in Australia's capital, Canberra. She completed a performance degree on clarinet, travelled Europe with her musician husband and returned to Canberra to raise two children. She teaches classes in Tai Chi as well as teaching and playing clarinet. Travel is high on Elisabeth's agenda and in the photo she has just ticked off another item on her Things To Do list: float in the Dead Sea, which followed her trip to the Pyramids. Next is to see the Victoria Falls, which she will do in 2013.
Goodreads Link — Author Site — Author Facebook
Buy the book at Amazon or Barnes and Noble.