Long and Short Reviews welcomes back Joe Cosentino to talk about his upcoming release The Perfect Gift. Check out his giveaway at the bottom of the page.
Writing a Series
by Joe Cosentino
I remember as a pre-schooler watching
Search for Tomorrow
and
As The World Turns
on television with my mother. Carrying on the family tradition as I grew older and went to school, at lunchtime I'd watch
All My Children
, and after school I'd hurry home for
Dark Shadows
and
Edge of Night
. What I found so captivating about these television serials was how the characters, relationships, and stories continued over a long period of time. Instead of getting involved in a character's life only to never see him/her again after two hours, those characters became our friends, family, and loved ones over many years. We laughed when they laughed, cried when they cried, and felt romantic when they had romances. We advised them in our heads, rejoiced with their happiness, and pounded our fists against our chests when all was lost. However, tomorrow always came with a new set of stories for our favorite characters.
It was an incredibly exciting time for me when as a young actor in New York City, I won a role on Another World. Wouldn't you know, it was the one daytime drama I had never watched. I was a snitch for the show's very popular villain, Carl Hutchins, played by Charles Keating. The job only lasted a week, but it was great fun.
So, it came as no surprise that when I began writing novels, I would revel in creating series. Currently, I am up to eight Nicky and Noah mystery novels (five published so far), four Cozzi Cove beach novels (four published at this point), five Jana Lane mysteries, and I'm writing my second Tales from Fairyland. However, what I'm here to talk about today are my Bobby and Paolo holiday stories published by Dreamspinner Press. That series started with my popular novella and audiobook performed by Joel Leslie, A Home for the Holidays. The story chronicled the relationship between young American law student Bobby and his sexy, muscular, handsome Italian distant cousin Paolo after they met and fell in love in the gorgeous, magical Island of Capri. Now comes my two-part novella beginning a year after A Home for the Holidays ends. Bobby and Paolo are living in Philadelphia as a junior lawyer and junior fashion designer. When Paolo proposes, Bobby's family and friends are intent on giving the couple a gaudy, elaborate wedding against their wishes. Bobby and Paolo jump through quite a few holiday hoops and finally have their perfect December wedding (December Grooms). A year later, since it's again Christmas time, the couple tour many of the quaint and wonderful holiday sites in their area featuring elaborately decorated trees and wreathes, Dickensian villages, Victorian carolers and bell ringers, vendors selling hot mulled cider and roasted chestnuts, and bay-windowed shops. They exchange beautiful gifts, and enjoy spending Christmas with Bobby's eccentric family and hilarious friend Jared. While playing department store Santa, Bobby's father suffers a heart attack. A man in a Santa suit, who Bobby assumes is his father's replacement, brings the young couple to the hospital room of a sick little boy. Could this boy be the holiday gift leading to happily ever after for Bobby and Paolo (An Unexpected Present)?
Will there be a third Bobby and Paolo holiday novella? I'm writing it now. As I mentioned, the stories always continue.
Thank you, readers, for your love, support, and requests for more Bobby and Paolo holiday stories. I hope you get lots of surprises in your holiday stocking, including something you never knew you needed. Enjoy my special holiday gift novella to you. Please know that it comes wrapped in a huge ribbon of love.
THE PERFECT GIFT (Bobby and Paolo Holiday Stories, Book 2)
by JOE COSENTINO
published by Dreamspinner Press, e-book $4.99

Back in America after finding A Home for the Holidays and each other in Capri, new couple Bobby McGrath and Paolo Mascobello are ready to tie the knot during the winter holidays. Their families, friends, and pastor offer more advice than sages on speed. So, young lawyer Bobby and fashion designer Paolo are caught in the matrimonial holiday circus. Will a shocking turn of events somehow lead to the perfect wedding for the December grooms?

The following Christmas, Bobby and Paolo aren't feeling the holiday spirit. They have a nice apartment, designer clothes, entertaining and supportive friends and family, but little time for each other. While out shopping in their quaint local holiday village, Bobby and Paolo encounter Gregory, an adorable seven-year-old who changes their lives forever, offering them a true holiday miracle… if they're willing to accept it.
Enjoy an Excerpt from The Perfect Gift
A few minutes later, Paolo and I sat across from each other at our cherry dining room table. The scent of Italian cheeses, garlic, olive oil, mushrooms, spinach, and chicken filled the room. Between bites, Paolo asked, "What is it that you wanted to ask me?" The candlelight from our antique brass candleholders made him look incredibly sexy. He didn't need much help.
I took in a deep breath. Though I had rehearsed my speech a hundred times over the last few months, what came out was, "I bought lemon gelato for dessert."
He blew me a kiss. I caught it and placed it over my heart. Ready for take two, I took a sip of my herbal tea in a failed attempt at moistening my bone-dry throat. "Paolo, we've been living together for almost a year now."
"Are you tired of me already?" He winked at me.
I slid to the edge of my seat. "During that time, have you… did you ever think about…."
He swallowed his food. "Bobby, I told you before. I look at other men. But you are the only one I want."
"And you're the only one I want."
"Then it is a good thing we live together." He continued eating.
"Do you miss your life in the villa with your family in Capri?"
"Not when I am with you. Don't worry; we will never end up like Edgar and everyone else getting a divorce."
"Why not?"
"Because we do not need a piece of paper to validate our love."
The lawyer in me surfaced. "That piece of paper would enable us to make healthcare decisions for each other in emergency situations, and to protect our wills from a family member who might want to contest them."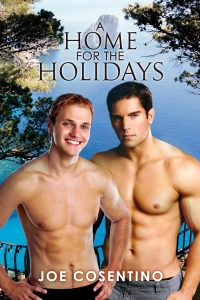 What reviewers said about A Home for the HolidaysK/I>, Bobby and Paolo Holiday Stories, Book 1:
"I adore the character of Bobby…the heartwarming family moments…the love the author has for Capri and the people there flows off the page in every word he has written…..When you finish reading this story, you will want to book your own flight to Italy and boat to Capri." Scattered Thoughts and Rogue Words
"Joe Cosentino's holiday novella, A Home for the Holidays, delivers in every way that a romantic, feel-good story should. Every book I read by this author continuously pulls me in and wraps me up like a warm blanket." Kathy Mac Reviews
"The one thing you can't escape when reading Cosentino's books is his humour; it's what draws me back time and again to this author. Sometimes the humour is subtle, sometimes it's unashamedly overt – every time it is hilarious." Boy Meets Boy Reviews
I'm going to go on record saying that Joe Cosentino pretty much has me at hello. His writing style is incredibly smooth with beautiful details that never feel like too much or too little. Even in this very short story, I felt like I was right there in Capri with Bobby. Both the scenery and Bobby's emotions are painted with lush, vivid detail…exceptional writing and beautifully gift-wrapped love story." AM Leibowitz
About the Author: Bestselling author Joe Cosentino wrote In My Heart/An Infatuation & A Shooting Star, the Bobby and Paolo Holiday stories: A Home for the Holidays and The Perfect Gift, The Naked Prince and Other Tales from Fairyland (Dreamspinner Press); the Nicky and Noah mysteries: Drama Queen, Drama Muscle, Drama Cruise, (Lethe Press), Drama Luau, Drama Detective; the Cozzi Cove series: Cozzi Cove: Bouncing Back, Cozzi Cove: Moving Forward, Cozzi Cove: Stepping Out, Cozzi Cove: New Beginnings (NineStar Press); and the Jana Lane mysteries: Paper Doll, Porcelain Doll, Satin Doll, China Doll, Rag Doll (The Wild Rose Press). He has appeared in principal acting roles in film, television, and theatre, opposite stars such as Bruce Willis, Rosie O'Donnell, Nathan Lane, Holland Taylor, Charles Keating, and Jason Robards. Joe is currently Head of the Department/Professor at a college in upstate New York, and is happily married. He was voted 1st Place Favorite LGBT Mystery, Humorous, and Contemporary Author of 2015, and 2nd Place Favorite LGBT Romance Author of 2015 by the readers of Divine Magazine. He has also won many Rainbow Award Honorable Mentions including for In My Heart/An Infatuation & A Shooting Star.
Website | Facebook | Twitter | Goodreads | Amazon Author Page
Buy the book at
Amazon
or
Barnes and Noble
.
Giveaway: Post a comment about your favorite holiday gift. The one that reaches the star on the tree will win a gift audiobook of A Home for the Holidays, Bobby and Paolo Holiday Stories Book 1, by Joe Cosentino, performed by Joel Leslie, published by Dreamspinner Press.