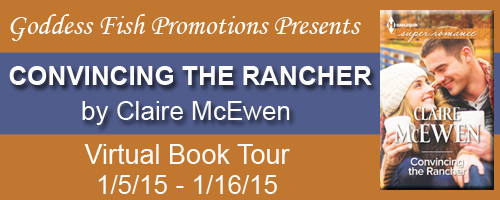 This post is part of a virtual book tour organized by
Goddess Fish Promotions
. Claire McEwen will be awarding $15 Amazon/BN GC to a randomly drawn winner via rafflecopter during the tour. Click on the tour banner to see the other stops on the tour.
Write What You Know… Or Do Your Research!
 Thank you for inviting me to be a part of Long and Short Reviews!
When I wrote my first two novels, I stuck to topics that I know pretty well.  Ballroom dance was easy to explain because I used to teach it.  Horses were pretty simple to conjure because I grew up riding and caring for them.
But my new book, Convincing the Rancher, is about a conflict over clean energy. Wind power?  I knew almost nothing about it except that I've driven by windmills before. Solar panels? I knew a bit more about these because we had some installed on our roof, but honestly, I didn't know much!
Everything I didn't know had me feeling overwhelmed and stuck.  And I realized that my first step to getting un-stuck was to do a whole bunch of research.  So I did, and it helped, and here is what I learned.
Visit Your Setting
I live by the coast and my series is set on the east side of the Sierra Nevada, in the mountains and the high desert.  It had been a while since I'd visited there, and I felt rusty and awkward as I tried to write about it.  So I took a long weekend and drove south on Highway 395, east of the Sierras, stopping to take photos and write notes along the way.  It saved me. I drove home inspired and ready to write.
If you can't get to your setting, can you research it via Internet?  Look for articles, tourist websites, photos, local newspapers or websites… surround yourself with images and information about your setting.
Do Your Background Research
Hooray for Google!  I looked up wind power.  I went to the websites of wind energy companies and studied diagrams of turbines.  I looked up the permitting process for siting a wind farm on land owned by the Bureau of Land Management.  I searched for articles discussing the compatibility of cattle grazing and windmills.
I knew I wouldn't actually use all this information because I was writing a novel, not a report on wind power.  But having all that background knowledge helped me write fluently – especially when writing my heroine's words, because she'd done her research on wind power, and was supposed to really know her facts!
Look for People's Opinions
Once I had a general knowledge of wind and solar power, I went back to Google and looked for editorials about it.  My hero and heroine were going to be arguing about these issues, and I wanted their disagreement to be realistic.  I searched terms like no windmills and the problems with solar panels.  Lucky for me, people just love to share their opinions on the Internet!  I found articles, blogs, letters to the editor and people arguing in chat rooms.  I took notes on the pros and cons of their arguments.  And then I figured out where I might use those pros and cons for maximum effect in my story.
Find an Expert
Once I had my list of pros and cons, I decided to ask someone who knows about alternative energy to fact-check them for me.  Fortunately, I have an acquaintance who owns a solar panel installation company.  He's very honest and blunt, and I knew he'd give me solid answers.
I was nervous approaching him, but when I got up my courage, he seemed thrilled to be asked. I e-mailed him the arguments I'd come up with, both in favor of and against windmills and solar panels, and he told me if he thought they made sense.  His input was extremely helpful.  And we both had fun and became better friends in the process! 
Put Yourself in a Similar Situation
For this book, the climax is a public meeting where the hero and heroine come face-to-face in their fight over the windmill project.  I was a little nervous about writing that scene.  However, my own town was facing a difficult issue regarding resources as well.  The city wanted to build a de-salination plant in my neighborhood to provide more drinking water.  I attended the public hearing about the proposal.  It was a very heated discussion, and as I watched the poor consultants trying to present the environmental impact report, I could picture my heroine facing similar tension at her own public hearing.
Looking for images, articles and videos on the Internet is great, but if you can have an actual experience with your topic, I think it's more helpful.  If you've never ridden a horse, but want to include horses in your story, can you take a few riding lessons?  If you're hero is a cop, can you call your local police station and ask to interview and shadow someone?  
What I learned by writing Convincing the Rancher, is that the more research I did, the better my story became.  My new understanding of the issues helped me decide what choices my characters would make, what they'd say to each other, and how they'd eventually resolve the huge conflict they were embroiled in.
So, my friends, start Googling, make a travel reservation, sign up for a class or look for someone to interview.  Research can be a lot of work, but it is truly worth it!
About that night…

Benson, CA, represents all that Tess Cole doesn't want. So she intends to keep her business trip there brief. Too bad her idea to quickly change the mayor's mind about some planning issues dissolves the moment she recognizes him! That one night with Slaid Jacobs remains a personal favorite for Tess—and for him, too, it seems.

Even though he's gorgeous and hot, it's clear to Tess that the single dad wants a commitment—something she avoids. It's also clear Slaid is bent on convincing her they can build a future out of their passionate past. And that's a very tempting offer…
Enjoy an excerpt:
TESS WASN'T PREPARED for a Jeep that looked like an ice sculpture. With a pang of longing, she pictured her underground parking space in San Francisco, where even on the rare frosty morning she never had to worry about a frozen car. Reluctantly she opened her wallet and stared at her rainbow assortment of credit cards, wondering which one she could sacrifice as an ice scraper. The Saks Fifth Avenue card was nice and thick and would work the best, but she didn't want to risk ruining it. Same with Bloomingdale's. And there was no way she'd sacrifice Nordstrom—their annual shoe sale was coming up.
She finally settled for Talbots and started scraping at the frosted windshield. The ice came off in a spray coating her bare skin. "Ow!" she exclaimed and pulled her hand away abruptly, shaking it to try to get the frost off and the heat back in.
"Don't tell me you didn't bring gloves?" The deep voice had her whirling to confront the mayor. He looked warm and comfortable, his thick parka advertising the fact that he was prepared for the weather. The battered leather cowboy hat on his head was one more reminder that she'd left San Francisco far behind.
"It's probably seventy degrees at home today," she said by way of an answer.
"It's seventy degrees in San Francisco most days. Didn't you check the weather report before you drove out here?"
She hadn't. She'd been in denial until she'd pulled into town yesterday. Despite all the arguments with Ed and the cramming she'd done to understand wind power, she'd ignored the fact that she'd be living in this tiny town in the middle of nowhere for the next month or so. Tess could safely say that denial was one of her strongest abilities.
About the Author: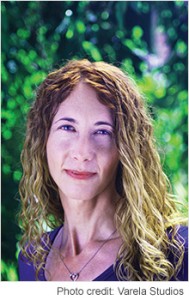 Claire McEwen lives by the ocean in Northern California with her family and a scruffy, mischievous terrier. When not dreaming up new stories, she can be found digging in her garden with a lot of enthusiasm but, unfortunately, no green thumb. She loves discovering flea-market treasures, walking on the beach, dancing, traveling and reading, of course! Convincing the Rancher is her third book for Harlequin Superromance.
Website | Blog | Goodreads | Facebook | Twitter
Buy the book at Amazon, Barnes and Noble, Harlequin, iTunes, or Kobo.