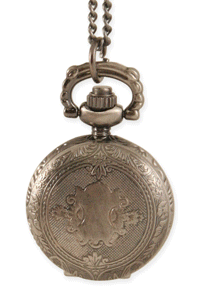 This post is part of a virtual book tour organized by Goddess Fish Promotions. Meggan will be awarding a silver pocket watch pendant and a cameo choker, and a signed paperback copy of The Marker, her historical romance to a randomly drawn commenter during the tour. (US/CANADA ONLY)
Wrestling with my Muse
I'll admit, my muse is a bit wonky.
Some days, the ideas flow like beer at a fraternity party, copious and seemingly never ending. The words come easy. I'll stay up way too late working, and wake up with a vicious muse-induced hangover.
Other days, though, dragging the words from my muse is no easy task. It's like trying to wrangle a buffalo. Or what I imagine wrangling a buffalo would be like, since I try to stay away from large bovines. It's the principal of the thing, I suppose.
Now, my muse is always active, don't get me wrong. She just doesn't like to do what I want her to do. Perhaps she's got oppositional defiant disorder. (You know it's bad when you try to diagnose your muse with a specific psychiatric disorder)
We wrestle with the ideas, or we tangle over word choice. I'll ask her where we're going next, and she'll start singing Bohemian Rhapsody, or Sweet Caroline, which is actually a little disturbing.  It's in those moments that I realize our ship is rudderless and all my navigational systems are down.
My story is going nowhere, and going fast.
Now, I have a number of writer friends who, when I complain of my museless status, say, "Oh, let the writing come to you. Allow the story to be organic."
But let's face facts: if I could throw some fertilizer on my muse to force her into working, I would totally do that. To heck with organic. Grow me a story, baby.
While my friends have a point, and I would certainly prefer to have a story that writes itself, I sometimes have to go all steel-cage death match on my muse in order to make her work. When I say I'm wrestling with my muse, I'm not talking about a weirdly fascinating match complete with baby oil. When I wrestle with my muse, someone is going to come out bloody.
It's usually me.
In any case, some days the words come easier than others. Some days, my creativity is spent on the day job, the kids, or other drama, and I don't have a whole lot left over when I write. Sometimes the story speaks to me, but sometimes I just need a break. I write every day, but there are days when I realize, as I sit down at my computer, that I will erase everything I write.
And that's okay.
Now, I can't speak for everyone, because, yes, some people make writing seem so effortless. So instead, I'll admit to this: my muse is not perfect, and writing isn't always fun. Sometimes it's hard work.
So, to all you writers out there who are struggling with your story, think on this: not every story will come easily. Not every character will speak to you in the same way, at the same time, or when you want them to.
Relish the days when you can sit down at your computer and breathe life into images written on a black and white piece of paper, when you can give a soul to people who don't exist. Not everyone can do that.
It's those days that make writing worth it.
Meggan Connors is the author of two historicals, The Marker and Highland Sons: The Mackay Sage (with Dawn Ireland), as well as a western steampunk, Jessie's War. When she's not forcing her muse into submission, she can be found hiking in the hills, searching for cute shoes on the Internet, or reading a book. 
Website: www.megganconnors.com                                Twitter: @megganconnors
She's about to become a pawn in a brutal game between nations…

The American Civil War has raged for more than ten years. The outcast daughter of a famous inventor, Jessica White has struggled to salvage what little remains of her life. Then, one cold winter night, the lover she'd given up for dead returns, claiming the Union Army bought the plans for her father's last invention. But he's not the only one who lays claim to the device, for the Confederacy wants the invention as well. Both sides will kill to have it.

…And only he can save her.

As an agent for the Union Army, Luke Bradshaw is a man who will use whomever and whatever is at his disposal in order to complete his mission. An attack by Confederate soldiers ensures that Jessie will turn to him for help, but Luke can't help but wonder about the secrets she keeps–and if those secrets will ultimately prove fatal.

BUY THE BOOK AT: