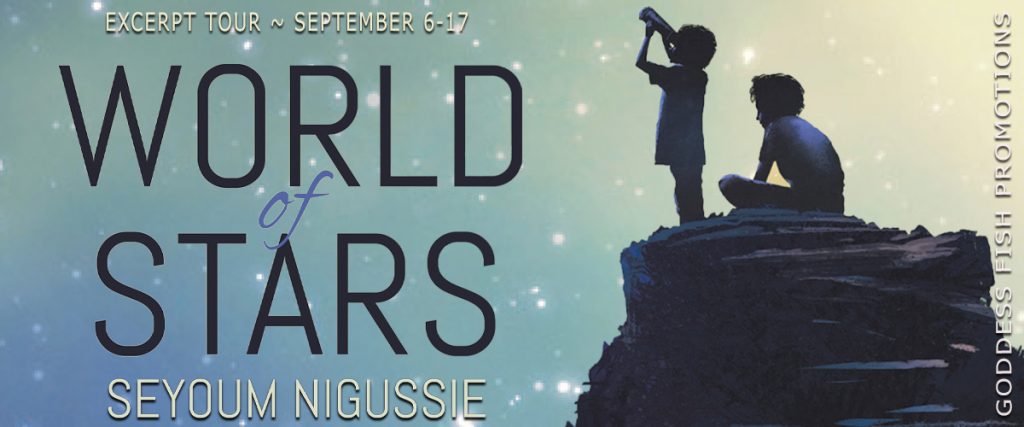 This post is part of a virtual book tour organized by Goddess Fish Promotions. Seyoum Nigussie will be awarding a 15 Amazon or B/N GC to a randomly drawn winner via rafflecopter during the tour. Click on the tour banner to see the other stops on the tour.
World of Stars is a collection of poetry that portrays the beauties of nature and human experiences in the world. The poems enumerate various places, events, personas, notions and conditions that deserve poetic attention. A portion of the poems are made for tributes and gratitude to great personas who make this world as adorable as it is.

The poems are on varied topics and distinct from each other. Abstract and subjective ideas are woven into the poems to highlight the degree of transcendence. All the poems are metrical composition. By illustrating the good side of the world and nature within it, the poems aim to elevate people to a good way of looking at life as beautiful and meaningful.
Enjoy an Excerpt
Big Apple Tree
There will always be big apple tree
Big apple tree heralds of being free.
Greatest city where fortunes redouble
Graceful city where everybody is noble,
And also a city where doves are humble.
New York City is the one of Big Apple.
People so far use cars or planes to travel
When next generation begins to shuffle,
Visits to New York is by space shuttle
And create centre of galaxy if possible.
As humans grow to feel a living glory
Instincts will remerge just as in priory.
To chant on around Big Apple Tree
The world will convene so as to agree.
Big Apple Tree as City of New York
And there is much stamina on every dock.
There are persons with stripes of zebra
And there are varieties in every single aura.
When musicians play pulling their strings
Big Apple Tree contents behave like kings.
About the Author: The world and life in general was promising to me until I was 17 years in my native country of Ethiopia. While a high school student in 1974, the world around me came crashing down when communist military Junta took state power and soon started a killing spree, at times committing mass murder. This was very traumatizing and the start of Stalinist 'Red Terror' on the ground. It was bad enough to hate being in life. From this, I quickly learnt life in the world is about taking on adventures.
With six of my school friends and one of our teachers, we formed an alliance to take action against the Junta. With 2 years of preparation we had managed to inform the public and get the local police headquarters on our side. Then, in April 1976 we staged a rebellion without violence in Nekempte, provincial capital of Welega. The revolt was short-lived, nothing lost with little gain. Amidst media control of the Junta, the news of rebellion was heard across the country. After that, my friends and I vowed to individually take on challenges for democracy as a life-long mission. We split apart and I went underground. When the security situation became harsh, I left the country for Sudan.
Despite traumatizing news and the realities around me with the 'Periods of Gloom and Doom', I took refuge in reading classical poetry which became my long time passion.
After a long journey through ups and downs, I suffered a car accident in Sudan, and left Africa all together – migrating to Canada in 1990. Through my journey in life, I looked around for a drug of relief from grief and nostalgia. Poetry reading had become my choice for entertainment and to delete bad memories and traumas. Soon after I realized that positive poetry is as good as drugs, music and paintings are, I decided to write one and here I begin with World of Stars.
Website | Facebook
Buy the book at
Amazon
,
,
Chapters Indigo
,
Barnes and Noble
,
Book Depository
,
Kobo
,
Smashwords
, or
iBooks
.