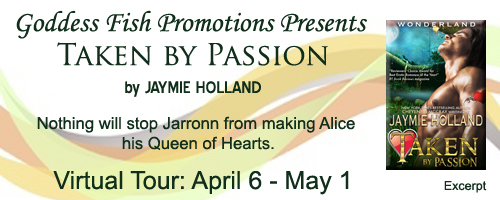 This post is part of a virtual book tour organized by
Goddess Fish Promotions
. Jaymie will be awarding $25 Amazon or B/N GC to a randomly drawn winner via rafflecopter during the tour. Click on the tour banner to see the other stops on the tour.
After being cheated on yet again, full-figured Alice O'Brien no longer believes she'll find her Prince Charming. She resolves to enjoy men, but refuses to involve her heart.

When she literally tumbles down a rabbit hole, she finds she has left her familiar home city of San Francisco. She has landed in a strange and beautiful world, where she meets a powerful and dominant shapeshifter, Jarronn, and his equally fierce and irresistible brothers.

By the draw of a card foretelling his kingdom's future, Jarronn has deliberately lured Alice to his realm in hopes of averting a terrible danger threatening his people. He has every intention of saving his kingdom with his and Alice's bond of passion, and nothing will stop him from making her his Queen of Hearts.
Enjoy an exclusive excerpt:
"How do you feel now?" Jarronn asked softly.
"Honestly," Alice's expression was one of seriousness yet happiness and confusion all at once, "at this moment I wouldn't change who I am for anything in your world or mine."
A surge of triumph rose up within Jarronn. He stopped beneath a large cluster of orchids and pressed Alice up against the glossy trunk of a ch'tok tree. She gasped as she looked up into his eyes and she surely read the hunger and need in his gaze.
He grasped her waist and settled his hands at her hips. "Hold on to me."
She slipped her arms around his neck, her lips parted, expectant and waiting.
Jarronn's mouth met Alice's in a possessive yet gentle kiss. Without words he told her what his heart was already saying. No matter that he had known her a short time, his soul had known her forever. He loved her so deeply. That in itself was pain mixed with pleasure. A fierce ache in his heart that could only be fulfilled by Alice.
He wouldn't tell her of his love until after her training, when he was ready to make her his queen.
A purr rose up within his chest as he thrust his tongue into Alice's mouth. She clung to him as their mouths devoured each other, feeding their needs in ways that only two soul mates could fulfill.
About Cheyenne (writing as Jaymie Holland):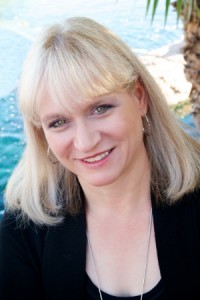 New York Times and USA Today bestselling author Cheyenne McCray's books have received multiple awards and nominations including three Romantic Times Reviewer's choice awards and three nominations. Chey has over 90 published novels and novellas since her first novel was published in 2003.
Some of Cheyenne's awards:
*RT Book Reviews magazine's Reviewer's Choice awards for Best Erotic Romance of the year, Best Paranormal Action Adventure of the year, and Best Romantic Suspense
*Three "RT Book Reviews" nominations, including Best Erotic Romance, Best Romantic Suspense, and Best Paranormal Action Adventure.
*Golden Quill award for Best Erotic Romance
*The Road to Romance's Reviewer's Choice Award
*Gold Star Award from Just Erotic Romance Reviews
*CAPA award from The Romance Studio
Cheyenne grew up on a ranch in southeastern Arizona. She has been writing ever since she can remember, back to her kindergarten days when she penned her first poem. She always knew one day she would write novels, hoping her readers would get lost in the worlds she created, just as she experienced when she read some of her favorite books.
Chey has three sons, three dogs, and is an Arizona native who loves the desert, the sunshine, and the beautiful sunsets. Visit Chey's website and get all of the latest info at www.CheyenneMcCray.com and meet up with her at Cheyenne McCray's Place on Facebook! Feel free to contact Chey at chey@cheyennemccray.com. Or check out Chey writing as Jaymie Holland.
Buy the book at Amazon.