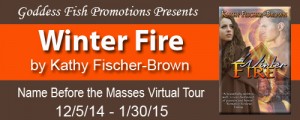 This post is part of a virtual book tour organized by
Goddess Fish Promotions
. Kathy will be awarding a $10 Amazon or B/N GC to a randomly drawn winner via rafflecopter during the tour. Click on the tour banner to see the other stops on the tour.
Thanks for stopping by Long and Short Reviews on your tour.
Thank you for the opportunity to connect with your readers. I hope they enjoy as much as I have. 🙂
How long have you been writing?
I can't remember a time when I didn't write in some way or another. Before I even learned to form my letters, I was scribbling over countless sheets of paper, and reading back what I'd imagined I'd written. When I was in second grade I wrote and illustrated my first story. I completed my first novel at 10, inspired by the late-1950s Disney TV series, The Swamp Fox. By 13, I'd written another novel, a French Revolution ghost tale. During the next few years, I was never without a notebook, always jotting down scenes and ideas that popped into my head. By that time, I realized what a lonely avocation writing is…especially for someone in her teens. For the next 14 years, I concentrated my creative efforts on the theater, majoring in drama both as an undergraduate and graduate student; spent time in New York, taking acting classes, going to auditions, and performing in some odd and off-the-beaten-track places. I also taught theater classes for a few years at a small all-girls college in Indiana. But it was while working on the written part of my MFA thesis project that I rediscovered my first love. I knew I was destined to write when, waiting for an entrance cue (Death Trap, 1983, Terre Haute, IN), I stood in the wings with my mind engrossed on the book I was writing. I haven't been on stage since.
What advice would you give a new writer just starting out?
Today it's not a matter of getting published, because anyone can do it. But in writing for publication—whether it be Indy, the Big Boys, or through Amazon's Createspace program—the most important thing is to learn the craft. Brush up on grammar. Read other writers. Write your story. Rewrite it. Find a good critique group. Rewrite some more. Many writers have their own descriptions of their process, likening it to an onion with its many layers, or a slab of marble wherein you carve first the rough outline and then add the details. There's no right or wrong way, as long as the writing contains the little things that make your characters, story, and setting come alive to the reader.
What, in your opinion, are the most important elements of good writing?
Personally, I'm drawn into a story in which the author sets the scene and introduces the characters in an effortless way. She might draw the reader in with a snappy bit of dialogue, with just enough detail to place the "where" of the action, and/or give the reader a taste of the conflict to come. Done discreetly, without bludgeoning the reader over the head with lots of backstory and an overwhelming amount of detail.
That's just the set-up. Good writing builds on these little promises. The main characters are exposed in measured doses by their deeds and words, and how other characters respond to them. The reader witnesses their actions and hears them speak, feels their joys and sorrows. She gets to recognize their particular internal and external traits and tics as they interact with each other and their environment.
An often elusive element, creative use of language elevates good writing into inspired writing, when a description of a sunrise not only makes you see it but experience it with all your senses…in a completely new and different way.
Structure is another element I consider important. Sagging middles can happen to anyone, but they can be prevented by being attuned to the pulse of rising and falling action.
What comes first, the plot or characters?
I start with a germ of an idea for a story, and then the characters step forward and tell me what parts they will play. As I work my way into the plot, other characters come out of the woodwork it seems, and end up finagling themselves into major players. Then that incredible thing happens: the characters start to assert themselves and "speak" to me, dictating the direction the plot will take. Even offering scenes I would not have imagined without them 🙂
Are you working on anything at the present you would like to tell us about?
I've been working on an epic fantasy for a number of years and, for one reason or another, haven't been able to finish it. Tentatively titled Sword of Names, it's a fun book, with pretty much everything one would expect of an epic fantasy: a cross-dressing heroine under a crazy spell, a bumbling old sorcerer forced out of retirement, a young ne'er-do-well who finds purpose and an unlikely friendship while on an impossible quest, a beautiful queen and her betrayed king, her enchanted son and his enchantress, some really nasty bad guys…and a magical sword.
What are you reading now?
I read mostly historicals, and when not reading fiction, I like histories, social histories, and biographies. I'm currently reading (and enjoying) Suzanne Adair's Revolutionary War novel, The Blacksmith's Daughter.
How do you come up with the titles to your books?
With great difficulty 🙂 I try, but not always successfully, to find something in the book—a line of dialogue, a description that can be reduced to its essence—but this approach often yields a title that is meaningless to everyone but me. I thought I was on a roll with "The Serpent's Tooth" trilogy, until it came time find a title for the third book. I wanted to name it "The Patriot's Wife," (and wish I had), but shied away from that when I considered all the New England football fans who might mistakenly think it was biography about quarterback Tom Brady's spouse.
Describe your writing space.
As much as I try, I never can keep my space neat and tidy. I'm lucky to have my own little room (with a door I can close on the clutter), with a large shelf unit within easy reach of my desk. On this resides—in addition to my printer and internet connection devices—a number of favorite books (a few dating back to my childhood), including some novels, but mostly history and reference works. The desk, which is usually strewn with papers, books, notebooks, and junior steno pads, contains my essentials: computer stowed away underneath on a roll-out stand; keyboard (I'm very particular about my keyboard—an aged, thrice rejuvenated Northgate OmniKey 102 with that old IBM-like tactile click) on a drop-down ledge; really cool but vintage satellite speakers (a gift from my dad), a small set of cheap plastic drawers (filled with stuff like paperclips, markers, pens, pencils, thumb tacks, and the like). A cordless phone (with the ringer turned off) takes up space between the little drawer unit and a few books propped against a CD case behind my 22" monitor. The CD case contains a bunch of programs installed on my computer, along with a host of mostly junk disks of a nostalgic nature.
Since the room was recently painted and rearranged (with a colorful new rug and the current desk), I haven't put anything back up on the walls. Not even my Cairn terrier calendar. When I get a free moment, I'll find a cork board to pin up pictures of my characters and other necessary items that, by now, have become lost in the piles of papers and books on my desk. Behind me is a window (I would find myself distracted if it were in front of me), and under the window is a futon originally set there for my napping pleasure. But since it's been claimed by the resident mutant springer spaniel, I won't even sit on it as it's covered with little white hairs.
What is your work schedule like when you are writing?
I become pretty manic when I'm "into" a project. I easily lose track of time and forget to eat. Of course, my husband will call or email about "what's for dinner?" some time during the afternoon, so I must drag myself away from my little haven to attend to such mundane tasks as getting a meal together. After dinner and cleaning up, I will write until my eyes stop focusing. Even after shutting everything down and I curl up in bed, my mind is still at work. Before I learned to turn off the computer at night (or rather the early hours of morning), I was tempted—sometimes two and three times a night—to drag myself back to the desk and attempt to capture what was keeping me awake. Now, I'll jot down notes, which next day seem cryptic or just plain unreadable.
What do you like to do when you are not writing?
I really love to cook and consider myself pretty decent. Dinners here, even when I'm in a manic writing phase, are complex and often exotic. I also like to play with graphics programs, making greeting cards with photographs I doctor into paintings (did I mention I'm kind of a photography bug?). I recently bought a graphics tablet with a stylus that facilitates a lot of the work I used to accomplish (with great difficulty) using a mouse.
Summers are my favorite non-writing times, when I love to sit outside on our screened-in deck before the sun goes down, with a good book and a baseball game on the radio. After dark, I find exquisite enjoyment in watching the fireflies cavort to some great music.
What is the most surprising thing you discovered while writing your book(s)?
It never ceases to amaze me how characters that never actually drew breath can become as alive to me as anyone I've ever known.
How do you do research for your books?
When I started writing for publication, the internet was years away. So were personal computers. I spent hours at the local library and frequently, when the desired tome was not available, I'd order it through inter-library loan. I also wrote letters to experts in my chosen field, and when I could afford it, I'd take a trip. These days, I still love to visit living history sites, re-enactments, and rendezvous. With the growth of the internet over the past 20-some odd years, I can spend an entire day going through digitized texts of rare books and documents that were unavailable in any form until the late-1990s. I'm amazed at the breadth of information and resource materials available online. Maps, primary sources… All right there, right on my computer monitor!
What is your favorite food? Least favorite? Why?
I have too many favorite foods to list them all. But my least favorites include asparagus and Brussels sprouts. I've tried to like them, but I can't get those old mushy boiled sprouts from childhood out of my head. As for asparagus, it all goes back to a lovely, romantic dinner out with my husband many moons ago. The restaurant was dimly lit, with a view of the Long Island Sound through a large picture window, and boats moored along the wharf just outside. There was candle light and dusk had fallen when our entrées were set on the table. I popped something green into my mouth. With my taste buds piqued for a string bean, I nearly barfed. Asparagus! Yuck!
OK, I must admit I've tried those two again recently. Roasted sprouts—with a little olive oil and garlic—are not so bad. But I just can't do anything with asparagus to make it palatable.
What is the most embarrassing thing your mother ever did to you?
When I was a kid, my mom used to cut our bangs. My sisters and I, with our hair tightly braided and that uneven fringe zig-zagging across our foreheads, would cry and beg to stay home from school. We have photos of those butcher jobs and can laugh now. But back then, it was tantamount to death.
Are you a plotter or a pantser?
Definitely a pantser. I have yet to write a book in which something unforeseen has not happened to change the plot for the better. Characters appear out of nowhere and go on to assume important roles. Although I usually have in mind a pretty good idea of the beginning, middle, and end of the story, I've learned there are too many surprises down the road to make me adhere strictly to an outline.
Where are you from and what do you love best about your hometown?
I was born in New York City (my parents lived in the Bronx at the time), but I was raised on Long Island…in Massapequa, to be honest. When I was 16 we moved to Connecticut. Since I've lived most of my life in the Nutmeg State, I consider it my home. But New York, especially Manhattan, has a special place in my heart. I love everything about NYC—theater, museums, shopping, the sights and sounds, restaurants…
Ebook or print? And why?
I like them both. While there is no substitute for the feel and smell of a book made of dead trees, I love the idea of being able to load my Kindle with hundreds of books, toss it in my purse and have lots of choices to read wherever I go. Actually I would give e-books a slight edge for the ability of the user to adjust the size of the type.
Tell us about your family.
My husband of nearly 39 years is a public school teacher in the drama department, where he teaches theater and video production courses to middle school and high school students. Most years, he directs three plays, but this year a newly replaced knee has curtailed his schedule. He also writes plays and can hold his own in the kitchen…for the most part. Our two kids are grown; our son and daughter-in-law (and GORGEOUS two-year old grandson) live in Massachusetts. Our daughter works in an optometry lab. We share our home with two dogs—Aimee, an ageless 15 year old Cairn terrier, and the above-mentioned four-year old mutant springer spaniel named Evie…or Eeeeevil, depending on her mood. Whatever her mood, though, she is beautiful, and quite large.
Favorite color? BLUE
Weather: Hot or cold?
No bones about it. Nothing beats a hot summer night under a full moon with fireflies lighting up the yard.
When Ethan Caine pulled the unconscious woman from the half-frozen creek, he had no idea that his world was about to explode. Dressed in quilled doeskin of Iroquois design, she stirred up dark secrets from his past. At the same time, she was everything he desired. But she was more Indian than white, and on the run for murder. He needed to know the truth. He needed to find it within himself to trust her.

Banished by the Seneca Indians who had adopted and raised her, ostracized by the whites in the settlement, Zara Grey wanted only to be accepted. "Ethancaine" treated her with kindness and concern. It was easy to trust him. But her Indian ways disturbed him, and in her heart she would always be Seneca.
Enjoy the book video:
About the Author: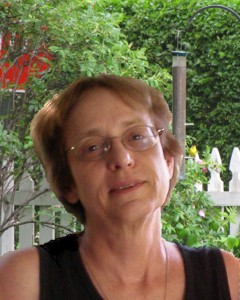 As a child Kathy wanted to be a writer when she grew up. She also wanted to act on the stage. After receiving an MFA in Acting from the Mason Gross School of the Arts and playing the part of starving young artist in New York, she taught theater classes at a small college in the Mid-West before returning home to the East Coast, where over the years, she and her husband raised two kids and an assortment of dogs. During stints in advertising, children's media publishing, and education reform in the former Soviet Unions, she wrote whenever she could.
Her love of early American history has its roots in family vacations up and down the East Coast visiting old forts and battlefields and places such as Williamsburg, Mystic Sea Port, and Sturbridge Village. During this time, she daydreamed in high school history classes, imagining the everyday people behind all the dates and conflicts and how they lived.
Claiming her best ideas are born of dreams, Kathy has written a number of stories over the years. Her first published novel, Winter Fire, a 1998 Golden Heart finalist in historical romance, was reissued in 2010 by Books We Love, Ltd., which also released Lord Esterleigh's Daughter, Courting the Devil, and The Partisan's Wife.
When not writing, she enjoys reading, cooking, photography, playing "ball" with the dogs, and rooting on her favorite sports teams.
Website ~ Facebook ~ Twitter ~ Amazon Author Page ~ Blog ~ Publisher Author Page
Buy the book at
Amazon US
,
Amazon UK
, or
Amazon AU
.