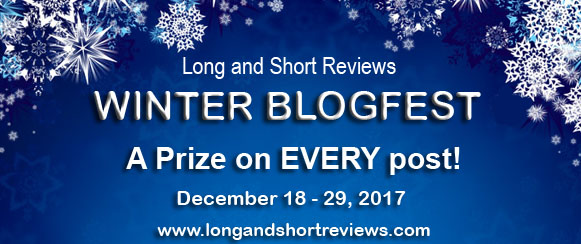 This post is part of Long and Short Reviews' Winter Blogfest. Leave a comment for a chance to win a free copy of A Dom and His Writer (ebook).
My Favorite Christmas Food
We probably all have it – that special food that brings back fond childhood memories and immediately gets us into the mood for Christmas. I have to admit, now that I have children of my own, one in elementary school, one in kindergarten, the Christmas season has lost a great deal of its appeal. There's just too many events that require me to bake like a maniac, to brew punch, to find small presents for the school advent calendar (not more than three Euros and gender neutral, because the presents are raffled), to make nice little arrangements with lots of gold and glitter and candles, and festivities I have to attend with the children. Don't get me wrong, my children love it and I do my best to create fond memories for them, just like my grandmother and mother did for me and my sister, but once you're in charge of making the season jolly, it gets less jolly for yourself.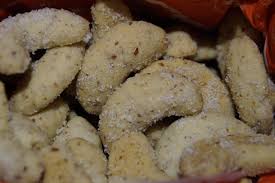 Apart from trying to keep the stress out of the Christmas season as much as possible, I also have one sure-fire method to get myself in the mood. My Christmas food are Vanillekipferl. That's a kind of cookie mainly found in Bavaria and Austria, and my whole family loves them. Before I start baking, I put on Frank Sinatra's Christmas album, and when he starts singing "Adeste Fidelis", I can feel the spirit of Christmas deep inside.
To make a batch of Vanillekipferl, you need:
250 g flour (wheat or spelt, not too dark)
2 packages of vanilla sugar (preferably with the dark dots in it)
75 g powdered sugar
a dash of salt
100 g grounded almonds or hazelnuts (my family prefers hazelnuts, the traditional recipe asks for almonds; your choice 😊)
200 g butter (the real deal, sorry, Christmas is NOT the time to watch your waist line…)
2 vanilla beans
100 g sugar
First, you mix the flour, vanilla sugar, powdered sugar, salt, almonds/hazelnuts, and butter. The butter should be soft to make the mixing easier. Wrap the dough in foil and put it in the fridge for about 30 minutes. Warm your oven to 160 degrees (Celsius, not Fahrenheit!)
Take the dough out and make noodles as thick as your finger, then cut them every five centimeters/slightly less than two inches and form little half-moons. Put them on cookie sheets with baking paper and put it in the oven for about 12 minutes.
Meanwhile, open the vanilla beans and mix the content with the sugar (if you can get your hands on sugar that's already mixed with those delicious black dots, go for it!) in a flat bowl.
Take the Vanillekipferl out of the oven and start rolling them in the sugar while they're still hot.
Put them in a cookie jar and wait a few days, then enjoy!
Life is perfect for Richard and Dean. Richard is a wealthy and successful businessman who also owns a BDSM club, and Dean is a bestselling author and sub to Richard. They're young, happy, and in love. The future is bright….

Until tragedy strikes and an accident claims Dean's beloved sister. Dean also finds himself the guardian of a three-month-old infant, and soon he's trading in his leather fetish gear for diapers and drool bibs. But little Emily is all that remains of his family, so how can he abandon her?

It's not what Richard signed up for. As much as he tries to be supportive, he never wanted kids and misses having his partner to himself. Suddenly the life he imagined for them is gone, and he's not sure their relationship can survive the upheaval. But fate isn't through with Dean, and when misfortune strikes again, will he be able to turn to the man he loves? A final crisis will determine if they can pull together as a family or they must face facts and part ways.
About the Author: Xenia Melzer was born and raised in a small village in the South of Bavaria. As one of nature's true chocoholics, she's always in search of the perfect chocolate experience. So far, she's had about a dozen truly remarkable ones. Despite having been in close proximity to the mountains all her life, she has never understood why so many people think snow sports are fun. There are neither chocolate nor horses involved and it's cold by definition, so where's the sense? She does not like beer either and has never been to the Oktoberfest – no quality chocolate there.
Even though her mind is preoccupied with various stories most of the time, Xenia has managed to get through school and university with surprisingly good grades. Right after school she met her one true love who showed her that reality is capable of producing some truly amazing love stories itself.
While she was having her two children, she started writing down the most persistent stories in her head as a way of relieving mommy-related stress symptoms. As it turned out, the stress-relief has now become a source of the same, albeit a positive one.
When she's not writing, she teaches English at school, enjoys riding and running, spending time with her kids, and dancing with her husband. If you want to contact her, please visit either her website or write her an email: info@xeniamelzer.com.
Buy the book at Amazon.