This post is part of Long and Short Reviews Winter Blogfest. Leave a comment for a chance to win a $10 Amazon gift card.
Writing a Christmas Story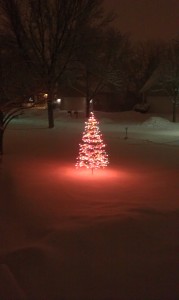 I've always been a Christmas person, ho-ho-hoing to anyone who will listen, watching Christmas movies, reading Christmas books and stories. Every year for Christmas I get a gift card to buy books from my family, and you can bet that some of them are Christmas themed. For that reason alone, I have always wanted to write a Christmas story, but what to write that hasn't already been done? I stopped and started half a dozen times, but the inspiration is hard to come by when my thoughts are saturated with all the other "sappy" (as my husband calls them) stories that revolve around the holiday.
Imagine my surprise when, out of the blue, I started writing a Christmas story. After years of starts and stops, I delved into a paranormal story based on a "moment of grace" I'd had driving to work one day. A buck, standing in the frigid winter air, huffing a breath that froze as it left his mouth. It was a magical moment, and from that moment came MIST ON THE MEADOW. With the frozen condensation, the frigid air, it lent itself to Christmas, and part of the family was a beloved uncle reminiscent of Herr Drosselmeyer in the Nutcracker. The story gave me an opportunity to share some of my German heritage and to create something "completely different."
MIST ON THE MEADOW launched a trilogy of "Mist" books, but in that first one, I got to finally write my Christmas story. I went searching for new Christmas traditions to share along with the old. It is my best seller, won an award, and it remains one of my favorite books.
Wolf Harper needs a Kundigerin, "one who knows," to close his grandmother's estate and save the failing family business; instead, professional baker Marissa Maitland rattles skeletons in his family's closet and ignites a passion Wolf has never felt before. Has he been bewitched?
About the Author: Karla Brandenburg is the author of eight contemporary romances, including RISING MIST released in November 2015. She has been writing since 2002, and is a member of the Romance Writers of America. Raised on the gothic romances of Victoria Holt, she is an avid reader. Karla is a card-carrying cookie-holic, enjoys baking and travel. She lives in Illinois with her family.
Website | Blog | Facebook | Twitter
Buy the book at Amazon.