This post is part of Long and Short Reviews Winter Blogfest. Leave a comment for a chance to win a $10 Amazon Gift Card.
Winter Solstice
Three years ago, my husband and I joined my son's family and we started a family farm. As farmers, we decided to start a new tradition for the holiday season—Winter Solstice.
The mid-winter Solstice celebration has been around as far back as history is recorded. Cultures all over the world celebrated the darkest time of winter. Neolithic farmers were fearful that the sun and their crops might not return. Fire played a part in symbolically bringing back the warm sunny days. Romans decorated their homes with evergreen plants and had various celebrations to lift the spirits during the long winter months. Celtic traditions are many for winter and the Solstice. Native Americans had Solstice traditions. It was a time to reflect on the past year and hope for the new. Sprinkled in all these traditions across the globe were Shaman gift givers, Santa in various forms, holly, ivy, bells and all the other things we associate with Christmas.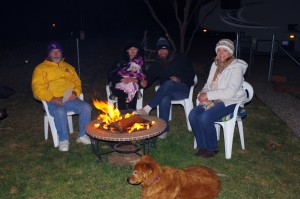 Our Solstice celebration includes a meal with much of our own produce, a fire and reflection (and of course s'mores!) and the exchanging of gifts. I doubt the ancient Neolithic farmers had s'mores but after all that reflection, chocolate and marshmallows are in order.
Solstice Butternut Squash Soup
(this feeds four adults, one child, with leftovers)
Ingredients:
Two large butternut squash, cut in half and seeds scooped out
½ large onion, diced
(note here: If you want to include some other veggies you may. Christie added a small amount of fresh spinach)
Rice milk (or any milk product you prefer) as needed for a soup consistency
5-6 slices of bacon, cooked crispy and crumbled
Spices to your taste:
Salt
Curry powder
Cinnamon
Black pepper
Bake squash at 400 degrees for one hour and fifteen minutes. Baste with butter occasionally. In a pan, cook the onion and any other veggie you might like in a couple of tbs of butter. Puree cooked butternut in a blender adding the milk of your choice to the consistency desired. Pour into a pan, add seasoning and bacon. Heat for at least ½ hour to blend the spices. Enjoy!
Lacy Dahl never questioned her past until the deaths of her adoptive parents and her husband. A husband who wasn't what he seemed. Her research uncovers secrets about the mother she never knew; secrets that dispute the identity of her father and threaten her life.

Sheriff Chance Meadowlark is still haunted by the murder of his wife and the revenge he unleashed in the name of justice. When he meets Lacy he is determined not to become involved, but their pasts may make that impossible. As they move closer to the truth, saving Lacy may be his only salvation.

Lacy begins to think the present is more important than her past…until Chance's connection to her mother and a murder spin her deeper into danger and further from love. Will the truth destroy Lacy and Chance or will it be the answer that frees them?
About the Author:Brenda spends most of her time writing stories of discovery and love entangled with suspense. The rest of her time is spent tending vegetables on the small family farm she shares with her husband, son, daughter-in-law and granddaughter. Together, they've embraced an age-old lifestyle that has been mostly lost in the United States – multiple generations living under one roof, who share the workload, follow their individual dreams and reap the benefits of combined talents.
Although she didn't start out to write romantic suspense, she's found all good stories involve complicated human relationships. She's also found no matter a person's age, a new discovery is right around every corner. Whether humorous or serious, straight contemporary or suspense, all her books revolve around those two facts.
Website | Blog | Facebook | Twitter
Buy the book at Amazon.