This post is part of Long and Short Reviews Winter Blogfest. Leave a comment for a chance to win a signed paperback copy of LOVELAND (US only)–(ebook available for other countries for an international winner).
WHY I LIKE WINTER
I'm a winter person. I like the purity of white snow, the silence it brings, the muffled quiet of a winter night. I like the blast of cold air as I open a door, the brisk chill that hits my face, and the sense that everything has been refreshed.
I was born in April and by rights should love spring—the season of renewal, flowers bursting into bud, birds and animals returning to bring new life into the world. But no—for me, it's winter.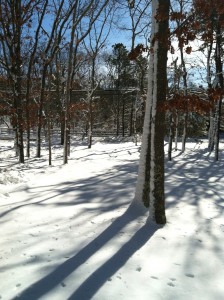 One of my earliest memories is of playing in my parents' backyard in the snow, thickly encased in one of those padded children's snowsuits, head wrapped in a warm woolen cap, watching the lights go on in nearby houses, peeking in at my mother through the kitchen windows and waiting for the blue twilight to descend into late afternoon winter darkness. The snow sparkled like crushed stars and crunched underfoot. And then there was my mother's call to come in, the removal of now-dripping boots, the lengthy unraveling of outer clothes, and the warmth of the kitchen.
Sometimes I wonder if my intense love for the northwest, for Wyoming in particular, doesn't center on the fact that the mountains there are snow capped about eight months a year. I love the way the snow picks out the crags and crannies of the Tetons, the way it reflects in calm waters, and gives a sense of mystery. Something is hidden by fresh snow; it blankets the scars and lacerations of the year coming to an end.
But even in the city, where I live most of the year, snow is welcome. It's not easy to walk on, makes driving treacherous, and ends up in grey piles showing its dirty side and blocking paths. Yet, for a while, it underlines the designs on railings and indicates where others have walked. It makes patterns on rooftops and hushes the clamor of a place where millions live. Back in the country, nothing is lovelier than seeing the tiny claw prints of birds in fresh snow and the hoof prints of deer, trees laden with a burden of white and icicles hanging like Christmas decorations from rooftops or tree branches.
And finally, winter heralds a season of merrymaking and parties, holidays and fun. I hope you all enjoy this festive season. Merry Christmas and Happy New Year to you all.
When Lady Alexandra Calthorpe returns to the Loveland, Colorado, ranch owned by her father, the Duke, she has little idea of how the experience will alter her future. Headstrong and willful, Alex tries to overcome a disastrous marriage in England and be free of the strictures of Victorian society –and become independent of men. That is, until Jesse Makepeace saunters back into her life…

Hot-tempered and hot-blooded cowpuncher Jesse Makepeace can't seem to accept that the child he once knew is now the ravishing yet determined woman before him. Fighting rustlers proves a whole lot easier than fighting Alex when he's got to keep more than his temper under control.

Arguments abound as Alex pursues her career as an artist and Jesse faces the prejudice of the English social order. The question is, will Loveland live up to its name?
About the Author: Andrea Downing likes to say that when she decided to do a Masters Degree, she made the mistake of turning left out of New York, where she was born, instead of right to the west, and ended up in the UK. She eventually married there, raising a beautiful daughter and staying for longer than she cares to admit. Teaching, editing a poetry magazine, writing travel articles, and a short stint in Nigeria filled those years until in 2008 she returned to NYC. She now divides her time between the city and the shore, and often trades the canyons of New York for the wide open spaces of Wyoming. Family vacations are often out west and, to date, she and her daughter have been to some 25 ranches throughout the west. Loveland, her first book, was a finalist for Best American Historical at the 2013 RONE Awards. It has just been re-released by Amazon Encore. Lawless Love, a short story, part of The Wild Rose Press 'Lawmen and Outlaws' series, was a finalist for Best Historical Novella at the RONE Awards. Dearest Darling, a novella, part of The Wild Rose Press Love Letters series, came out Oct. 8th 2014 and won Favorite Hero as well as several honorable mentions in the Maple Leaf Awards. It has also won the Golden Quill Award for Best Novella. Dances of the Heart, another full length novel, came out Feb. 2015.
Website | Facebook | Twitter
Buy the book at The Wild Rose Publishing"