Ozark Winter Surprise by Velda Brotherton
When I first started to write back in the early Eighties, I met a young lady who was writing her first book. She lived so far out in the boonies of the Ozarks, it took a pickup truck to make the drive. We began meeting at her house, then at mine to work on our very first books.
If you've never spent a winter in the Arkansas Ozarks, then you don't know the treachery of the weather. One day you can smell the ocean, the next, someone opened the door to the arctic. And when those two collide high above us, we're in for something wild. Ice is usually the result, but once in a while, snow begins to fall.  And it isn't long till the roads are closed. Because snowstorms are rare counties don't spend money on snow removal equipment. Everyone just stays put till it's over.
My friend Mary and I held our usual get together at her house one December afternoon. As writers will, we became totally absorbed in reading and editing our books. When it came time for me to leave, I gathered my things and opened the door to at least a foot of snow. We were on the side of a mountain, at the end of a road that was barely passable on a good day. She lived in a small two room house with no space for an overnight guest. When she wrote, her printer sat on her bed, the only place for it. Her kitchen was beneath the house and open to the elements.
I had to start home. So I climbed in the old Chevy pickup, revved the engine and began the trip. Down the mountain wasn't so bad, except at times I could only tell where the road was because there weren't any trees growing in it. Thankfully, it wasn't dark yet, but it would be soon. A trip to the highway that should have taken maybe thirty minutes was going to take much longer than that. And by the time I reached the highway, it might already be closed.
Being much younger than I am now and totally foolish, I kept moving. There would come a time when I would have to climb rather than drive downhill. At the highway, I slithered out onto the snow covered road. No traffic in sight anywhere. I knew where they all where. At the bottom of the mountain down in the valley to the south. Semi tractor rigs that traveled the mountainous route would either be parked in the small town there or stalled trying to make their way to the top of Mt. Gayler, a steep climb which I would have to make.
A few had made it through ahead of me, leaving tracks that I could follow.  Highway 71 was treacherous all the time. Snow covered it was precarious and hazardous to the max. Once at the top, it followed a narrow ridge and the terrain dropped down on one or the other or both sides, then it hugged the mountainside in hairpin curves until it reached the bottom on the northern edge, which is where I live.
What seemed an eternity later, my old truck moving right along at a sprightly ten miles per hour, I dropped down through one of those hairline curves to see flashing blue and red lights. I pulled to a stop next to a highway patrol unit, the trooper standing beside it with a flashlight.
They closed the highway behind me and I climbed that last incline, thanking my lucky stars it was snow and not ice. It was downhill all the way from there, but not exactly safe if I began to skid. All this time the snow continued to come down in thick, fat flakes and it was dark, so those last few miles kept my heart rate going good.
I parked at the bottom of the hill up to my house and walked the rest of the way. Some writers will do anything for their craft. Oh, the book? I'm finally reworking it. Beyond the Moon will be published in 2014.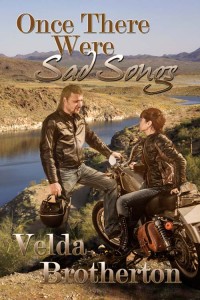 Bio: From historical romance to mystery and women's fiction, Velda Brotherton writes sexy, dark and gritty stories. She easily steps out of the old west into contemporary settings to create novels about strong women with the ability to conquer life's difficult challenges. Tough heroines, strong and gentle heroes and villains to die for, all live in the pages of her novels. Her two latest are The Purloined Skull, the first of A Twist of Poe mystery series; and Once There Were Sad Songs, a vintage love story. She is now working on the second in the Victorian series, Rowena's Captain.
As a prize I will give an Ebook copy of Once There Were Sad Songs. Just leave a comment.
Website: http://www.veldabrotherton.com
Blog: http://www.veldabrotherton.wordpress.com
Facebook: http://www.facebook.com/vebrotherton
Twitter:  http://www.twitter.com/veldabrotherton
Pinterest: http://www.pinterest.com/veldabeth
Buy Link: http://www.tinyurl.com/kgerkkf