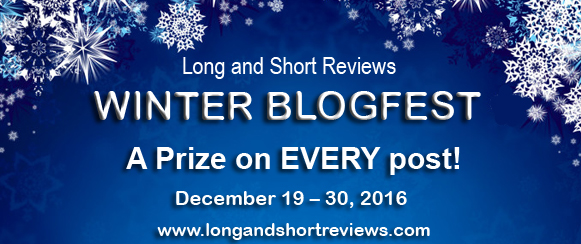 This post is part of Long and Short's Review Winter Blogfest. Leave a comment for a chance to win an Amazon GC for $10..
Santa Clause
Since I'm pretty sure that no one young enough to still believe in Santa Clause would read this post I thought I'd be safe with the topic. I remember when my daughter first asked me if there was a Santa Clause, and I'd replied by asking her if she believed in him. When she'd answered yes, I told her that was all that mattered. I knew that eventually she'd find out; though I hadn't counted on her very own aunt telling her there was no Santa while she was only in first grade.
Well, now her daughter knows there's no Santa Clause and that mommy and daddy are the ones who buy all those gifts. Funny, but my daughter and I were just talking about it the other day. Alivia is ten and I asked Michelle if she thought it was funny that Alivia still believed in Santa. Low and behold a week later Alivia comes home from school and asks her mom about it. Apparently one of her friends told her there was no Santa. Michelle told Alivia the truth, but asked her not to tell her five-year-old brother. Yeah, we'll see how long that lasts.
The news that there was no Santa Clause hit Alivia hard. After all she'd firmly believed in him, and the traditions around him. I mean, Ernie the Elf visits us every year right after Thanksgiving. I'm sure her little mind is thinking about the tooth fairy and Easter bunny, too. It was time for her to learn the truth, but a sad time, too. A little of her innocence is gone now.
However, she didn't miss an opportunity the other day when she told her mom that she wants a hoverboard. Michelle said there was no way she was going to buy her a $300 hoverboard for Christmas so Alivia said, "Fine, I'll just ask Santa." Lol
I hope that all of you who celebrate Christmas have a wonderful and safe holiday! Thanks for letting me visit with you today. I hope that you'll take a moment to check out my next big release, which comes out the end of this month. Pre-order is available at Amazon.
Club trouble won't keep Rock from bringing his son and Allie home.

Rock's the VP of Phantom Riders MC. Dangerous. Unpredictable. Ruthless. A killer who'll stop at nothing to keep what's his. And he wants Allie and their son.

Allie had given Rock her virginity, and then ran away when she got pregnant. Seven years later he shows up at her door, demanding his son, and claiming her.
About the Author: Tory Richards is a fun-loving grandma who writes smut. Born in 1955 in the small town of Milo, Maine, she's lived most of her life in Florida. Today she lives with her daughter and her family. She has her own woman-cave which she shares with four felines whose main goal in life is getting as much cat hair on everything that they can.
Penning stories by hand and then on manual typewriter at the age of thirteen, Tory was a closet writer until the encouragement of her family prompted her into submitting to a publisher. She's been published since 2005, and has since retired from Disney to focus on family and writing.
Website | Facebook | Twitter
Buy the book at Amazon.