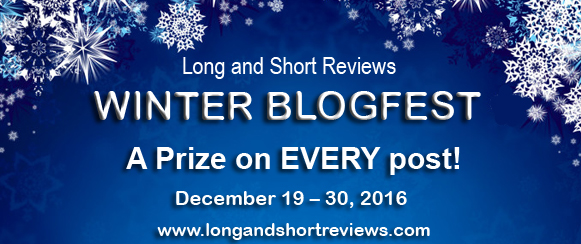 This post is part of Long and Short's Review Winter Blogfest. Leave a comment for a chance to win a $10.00 Amazon Gift Card..
Holiday Traditions
Whew, another year has flown by at the speed of light. All I could do was catch hold of its tail and be catapulted into my computer chair hoping to finish my Winter & Christmas blogs before the bell of Christmas present tolls.
No sooner had we put the fifth wheel trailer in storage than the holidays began. Rather than a stormy Halloween, it was a balmy 60 degrees when I turned the scary sounds CD off along with the fog machine and porch light. We were out of candy.
In a blink of an eye, I gotta quit blinking, it was time to prepare the Thanksgiving feast. Our family is small and our pets, a dog, parrot, box turtle and guinea pig participate. Not at the table, of course they have their own bowls. We remember what we are thankful for, including my wonderful readers, and hope the coming years will be as blessed. I think traditions are what make the holidays special. Don't you?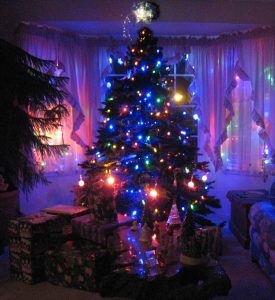 As for my family, we put up the tree, Christmas decorations inside and out, the weekend after Thanksgiving. Or try to if Mother Nature cooperates. No, it's not a real tree, only because I'm allergic. We watch Christmas movies throughout December and make candy such as Divinity, Fantasy Fudge, and Beaver Dams.
What are Beaver Dams, you ask. The recipe calls for a package of butterscotch chips, melt them in a double boiler, stir in half-package of crispy Chow Mein Noodles and one-half can of cocktail peanuts. Spoon the concoction onto foil and let set. They look like beaver dams hence the name. YUMMY.
This year I'm going try my hand at gingerbread cookies. Haven't had a lot of luck in previous years getting a good tasting cookie. Do any of you have a favorite recipe that I could try? Feel free to leave the recipe in the comments section.
Then it's on to New Years and resolutions. We make them attainable. Last year I was lucky enough to make my writing goals and resolutions of 5,500 or more words written per week, two book contracts, I got four. Whew! What a wonderful year. Except the catastrophic softball sized hail that totaled our truck, roof and required major repairs on the RV. That wasn't much fun and going forward into 2017, I resolve to never allow such a storm in my neighborhood. Okay, that's probably one of those resolutions that will be broken as soon as spring arrives. So I retract that one. Don't want to spoil my nearly perfect record.
In 2017, I plan lots of fun walks with the dog and more play time with our parrot. Above all enjoy each day while working towards my professional goals, but schedule more time to spend with family and friends. Life is short, you are never guaranteed tomorrow.
What are some of your holiday traditions and New Year's Resolutions? Do you make or keep them? Here's wishing each and everyone a very Merry Christmas and a Happy, Prosperous New Year!
Elemental witch, Pepper McKay and former Navy SEAL, Lathen Quartz have built Lobster Cove Wildlife Rescue and Rehabilitation Center on enchanted McKay land. During a romantic interlude on Halloween night, Pepper happily agrees to become Lathen's wife. What better day than Winter Solstice for their wedding in a town that loves celebrations and Christmas. However, planning a wedding and operating their wildlife center takes a toll on both Pepper and Lathen.

When the couple takes a much-needed break for Thanksgiving with family in Colorado, a Maine snowstorm fills the center with injured wildlife. Lathen finds himself drawn into a covert military mission, while trying to deal with issues concerning friends and family. Pepper wants to cancel the wedding. Is she having second thoughts? Will the nosy McKay ghosts, Lathen's werewolf pack, Pepper's parents, and her best friend help or hinder the wedding and holiday plans?
About the Author: Tena Stetler is a paranormal romance and cozy mystery author with an over-active imagination. She wrote her first vampire romance as a tween, to the chagrin of her mother and the delight of her friends. With the Rocky Mountains outside her window, Tena sits at her computer surrounded by a wide array of paranormal creatures telling her their tales. Colorado is her home; shared with her husband of many moons, a brilliant Chow Chow, a spoiled parrot and a forty-year-old box turtle. Any winter evening, you can find her curled up in front of a crackling fire with a good book, a mug of hot chocolate and a big bowl of popcorn. Her books tell tales of magical kick-ass women and mystical alpha males that dare to love them.
Website | Blog | Facebook | Twitter
Buy the book at Amazon.