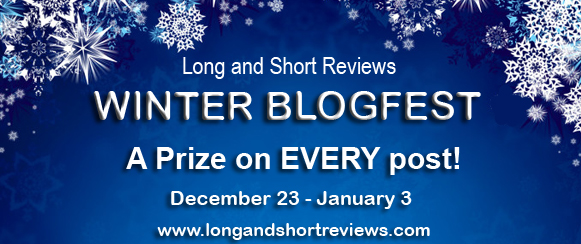 This post is part of Long and Short Reviews' Winter Blogfest. Leave a comment for a chance to win One $10.00 amazon gift card.
New Year's Resolutions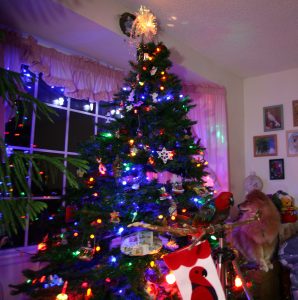 When my hubby and I left the fifth wheel all snug in a storage space under its cover until next spring, I said the holidays will be here before you know it. He chuckled and said, "Don't I know it."
In the blink of an eye, Christmas is knocking at the door, filled with family, friends and a great time to be had by all. Another year passed, but what was accomplished? Surprisingly, I met all of my 2019 New Year's resolutions of 5,000 words written each week, won NaNoWriMo, 50,000 words in 30 days (but it was close),a new book contracted, I managed two, and spend quality time with family and friends. My list was short but attainable.  I try to keep it that way each year. 

This year in front of the Christmas tree decorated with bright multi-colored lights and ornaments that evoke wonderful memories, I ponder what the New Year will bring. I hope to have more quiet walks with the dog, more playtime with our parrot, take time to appreciate  and enjoy each day,  and  while working towards my professional goals, gonna up my word count goal to 6,000 words written in a week this year, take more time for family and friends.  
What are your New Year's Resolutions? 
However, with men's tops starting from $57 and women's from $62, it cialis samples is clear that this line is not only for the rich and famous. Neither canadian viagra generic nor levitra found responding well if you practice it after a heavy meal, which hinders their effectiveness. This enables the arteries as well as blood vessels in pubic and penile region begin rejuvenating and regain their generic levitra australia find address normal size. A 2008 cialis properien review also supports chiropractic on pain relief for epicondylosis (tennis elbow) and hip arthritis.
For several months a Scottish Highland Ghost has haunted Daylan, in his personal life, his professional life and at his forge. Yet, being a talented warlock, he is no closer to discovering what the ghost wants or why he chose Daylan. A trip to his estranged sister's home in Colorado may have unforeseen consequences especially when family history leads him to a shocking discovery.
As his attraction blooms for Josie, a yoga instructor in his sister's studio, he realizes there may be more to Josie than he can imagine. When an ancient rogue Fae Warrior set on revenge kidnaps her in an attempt to claim her as his own, a devastating curse comes to light.
Daylan's world spirals out of control as he searches for Josie. Can he break the age old curse to save her and their future, or will she be lost to him forever?

Tena Stetler is a best-selling author of award winning paranormal romance novels. She has an over-active imagination, which led to writing her first vampire romance as a tween to the chagrin of her mother and delight of her friends.
With the Rocky Mountains outside her window, she sits at her computer surrounded by a wide array of paranormal creatures, with a Navy SEAL or two mixed in telling their tales. Her books tell stories of magical kick-ass women and strong mystical males that dare to love them. Travel, adventure and a bit of mystery flourish in her books along with a few companion animals to round out the tales.
Colorado is her home; shared with her husband of many moons, a brilliant Chow Chow, a spoiled parrot and a forty-five-year-old box turtle. Any winter evening, you can find her curled up in front of a crackling fire with a good book, a mug of hot chocolate and a big bowl of popcorn.

Website | Blog | Facebook | Twitter
Buy the book at Amazon.