Why Winter is Hot
Brrr, it's cold! Winter came on early and strong, this year. But despite the fact that I now have to write with fingerless gloves on— I love December. It really is a magical time of year, if you take a break from all of that shopping, shivering and sniffling for a moment and just sit back, relax, and take in the season for what it is. You'll see for yourself just how hot the coldest season can really be.
Need a few points of reference? How about:
Steamy mugs of hot chocolate.
Warm flames flickering in fireplaces.
Large bowls of delicious soups and stews.
Writing with those fingerless gloves. (Because they're fun and sexy!).
Holiday movies that tug at your heart strings.
The beauty of the world covered in snow.
Scarves, sweaters and turtlenecks (Because you KNOW you look good wearing 'em).
Slipping your hands up your significant other's clothes to keep warm.
Days off from work.
Snowball fights with your children. (Or your spouse when they least expect it!)
Romantic scented candles.
Ending the year, and preparing for a fresh start with a brand new one.
Wearing sexy Mrs. Claus costumes. (What? Don't you do that, too?)
The spirit of generosity — receiving and giving and creating thoughtful gifts.
Lots of cuddling up under blankets … either with a loved one or a good book.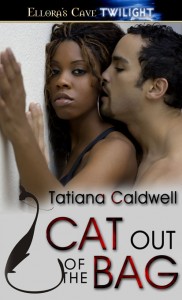 And speaking of generosity and a good book, I'm giving away a prize! Leave a comment below to have your name entered in the contest. One randomly selected winner will receive a free copy of my brand new ebook, CAT OUT OF THE BAG, in whatever electronic format you prefer.
So tell me – why do you think winter is hot? (Or not!)
BOOK TITLE: "Cat Out Of the Bag" (By the Tail, book 1)
GENRE: Erotic Romance
BLURB: Sofia is in desperate need of a vacation and she's determined not to let her aversion to flying get in the way of that. Luckily, her trepidation is quickly forgotten when in-flight entertainment takes the form of the sinfully gorgeous Nathan.
Nathan offers Sofia an electric induction into the mile high club and he wants more. He wants to meet her again once they land, but he has a dangerous secret—he's a Werecat shifter and can't risk an ongoing fling with a straight-up human.
However, Sofia discovers she's a "Late Bloomer". Her own Cat begins to awaken at Nathan's touch. In the mountain wilds, she asks Nathan to teach her to master her newfound abilities. But to do so he must violate the rules of the Pride, putting them both at risk.
BOOK BUY LINK: http://www.ellorascave.com/cat-out-of-the-bag.html
AUTHOR BIO: Let's see, what should I tell you about me? I'm an IT geek who happens to also be a vixen with an overactive imagination. I will write anything from programming code to smoldering erotica, so long as it involves brains or sex. Preferably both.  😉
I'm a published author of erotic romance in several sub-genres, including paranormal, fantasy, futuristic and science fiction. I believe love can happen not only any time or any place, but with anyone, and so my stories feature a diverse cast of characters.
When I'm not writing or working, I can be found reading; playing video games of all kinds; watching movies, anime and sci-fi television shows; exercising; spending time with my husband and children; or making complex spreadsheets.
WEBSITE / BLOG: http://tatianacaldwell.com/
FACEBOOK FAN PAGE: https://www.facebook.com/tatianacaldwell