CHEATING AT CHRISTMAS
When I was growing up, I was notorious for searching out presents hidden in the house. Mom, in desperation to keep me out of them, took to keeping the presents locked in the trunk of the car until Christmas Eve when she spent half the night wrapping them. Even wrapped presents weren't safe from me.
Every year a box would arrive from Tennessee with presents from my grandparents and two aunts, usually all of them contained some sort of clothing item. The year I turned eight, my box was unusually heavy. Now my curiosity was piqued! I'd lift the box and slowly shake it. Something heavy scooted from one end to the other.
What could it be?
Left alone with the Christmas tree one day while my mother was shopping, I couldn't stand it anymore. That was the day I became super expert unwrapping the taped end of a package to see what was inside. I slowly lifted the tape, until it gently released without tearing the paper.
I'd done it! Now to look inside.
Pushing back the paper, I slide the box out. Inside was of course a soft green sweater, but more importantly, the heavy object that had driven me nuts? A book. Not just any book. No, my aunts had sent me The Secret Of The Old Clock, A Nancy Drew Mystery!
Afraid of being caught, I quickly slipped it all back in the box and rewrapped it, making sure the tape stuck and the side I'd opened was hidden from my mom.
But the next day, all I could think about was that book. I'd never read a Nancy Drew book. Would I like it? Would the mystery be scary? What was the secret of the old clock?
It took two more days, but one night I snuck down, opened the present again, just as careful as before, then snuck the book up to my room. I read for about an hour, getting to know Nancy and her family, then decided I'd best get the book back into the box.
Christmas was just a few days away. Every night I unwrapped that present and read a little more, getting closer to the mystery and Nancy.
Then Christmas morning rolled around. I made sure to act very surprised when I opened that gift. And I was excited, because now I could finish the book and find out the ending! And wasn't I cleaver?
Not really.
Later that day when I was curled up on the couch reading, my mom sat down next to me and asked me how I liked the book. When I told her it was the best story ever, she said, she was glad, since I'd been reading it all week. Surprised, I asked how she knew.
She said, "You really shouldn't turn down the corners to mark your place."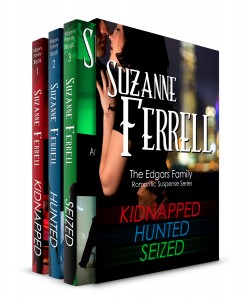 Prizes: In honor of that Christmas I'm giving away a set of the print copies of The Edgars Family Novels to one reader and a set of the Westen Series books to another reader.
Bio: Suzanne discovered romance novels in her aunt's hidden stash one summer as a teenager. From that moment on she knew two things: she loved romance stories and someday she'd be writing her own. Her love for romances has only grown over the years. It took her a number of years and a secondary career as a nurse to finally start writing her own stories.
A double finalist in the Romance Writer's of America's 2006 Golden Heart with her manuscripts, KIDNAPPED (Long Contemporary Category) and HUNTED (Romantic Suspense), both available at Amazon.com and B&N.com. Suzanne has also won The Beacon Unpublished and the CTRWA's contests in the erotica categories with her book, The Surrender Of Lacy Morgan (available from Ellora's Cave).
Suzanne's sexy stories, whether they be her on the edge of your seat romantic suspense, the heartwarming small town stories, or her steamy Western Eroticas, will keep you thinking about her characters long after their Happy Ever After is achieved.