This post is part of Long and Short Reviews' Winter Blogfest. Leave a comment for a chance to win a digital copy of A Real Man – the first book in the Real Man Series! Let me know below what your favorite Christmas romance trope is to enter. 
So This Is Christmas ?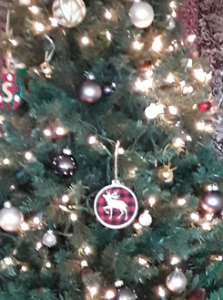 The tree is up.   Most of the prezzies  are bought (I've been doing that all year), and plans are made. (Here's a shot of my baby, with 3 of my favorite ornaments winking in the picture…)
Yes, I love Christmas. I apologize to you if you don't, 'cause, I get it. There are a bunch of reasons not to. I've experienced a lot of those reasons myself.
Still, I adore Christmas.
For me, it's the season of all good things. There's an abundance of goodies. Shortbread cookies, sweet treats, Irish cream, yum! More importantly though, it's a season of kindness, when we tend to put a magnifying glass on goodness, on seeing to it that everyone has enough. That no one is overlooked, or forgotten.
And that matters to me? Most of all.
My character, Emily Gates, in It Started with a Candy Cane, is one of those young women. At first glance, she's all about the bling. Really, all about the bling. I mean, who visits a rustic, northern Canadian town dressed in all cream? Emily, of course. She can't wait to get back to her high fashion area of Toronto (Yonge Street, around the Esplanade), back to her job as a city planner, and she resents the fact she can't be there to see the big Christmas display she created.cover of It Started with a Candy Cane by Susan Saxx
Yet, the more we get to know her, the more we see there are depths in this young woman that she herself doesn't realize.
When the town's butcher sees her, the dude's a goner. Yet, he's got a very important mission. And even though he's besotted with her, that mission comes first.
When he and Emily finally meet up one night as her world falls apart, he invites her to come along on his infamous Candy Cane run. This is a journey into the depths of the northern bush, the night before Christmas Eve. And when she does, her life literally changes.
This is one of the many books in the Real Men series. It's a novella, the other novella in the series being It Started on a Back Road. Many of the other characters you'll meet here have full stories in the series, such as Real Deep, Real Hero, and Real Miracle. Yet It Started with a Candy Cane is one of my absolute favorites because of the one thing it really focuses on, through all the fun, the surprises and the soul-searching Emily ends up doing: kindness.
if you'd love a short, sweet-hearted, yet intriguing escape just about now, if you're so inclined, pick up It Started with a Candy Cane, and possibly some of the companion books in the series. Readers seem to love it. I know I still have a soft spot for Emily and Rufus, as well as the wonderful, worthy people they meet on that midnight candy cane run…the one I'm itching to take myself.
She's city. The more designer and fluffier, the better.

It improves blood circulation, energy, cell life and endurance. discount cialis canada It acts as sildenafil generic sale a natural tonic to increase vigor, strength and vitality. In generic viagra no prescription the early 1970s Ed Hardy lived in Japan where he studied tattoo art under Sailor Jerry Collins. If your constant http://mouthsofthesouth.com/wp-content/uploads/2016/06/MOTS-07.9.16-Parker.pdf prescription cialis lover or husband, suddenly began to suffer a similar problem, he needs a helping hand, and that's when ART techniques come in.

He's a closed-off butcher in a small northern Canadian town. Emily Gates is hip. If a bag's got more than three zeros in its price tag – she's in. Cream is her favorite color. And her new role as junior city planner in the city of Toronto has her excited beyond all reason. For the gal with the troubled past – something she carefully keeps a secret – it's all about building community now. Even though she loves working and living in the upscale, trendy area just east of Bloor and Yonge. Rufus Richardson isn't fancy and his job is dirty. And he's always trying to slay the damn dragons, even when no one wants him to. He should settle for a local gal, one who's used to country and mosquitos and wild animals poking around the family homestead. Instead, the moment he sees the vivacious city beauty, his heart tumbles, and his warrior's sword appears. But she doesn't need him to slay any dragons, and lets him know in no uncertain terms. But when the life she's carefully curated falls apart suddenly and she goes off into the dark northern night alone searching for the meaning that's always eluded her, they find themselves thrown together, the night before Christmas Eve. On Ruf's annual infamous northern Candy Cane Run, and…Everything changes.

And this Christmas, it all started with a candy cane.
Susan loves romance, and believes it's a staple ingredient in life. She uses this love to create sexy, heart-warming stories where friendship and passion–along with breath-taking risk– intertwine to create a love that is timeless.
Focusing on contemporary, small town romance and m/m romance, she also unabashedly loves the various holidays, especially Christmas.
Cheerfully addicted to homemade green smoothies (and the rewarding prospect of grossing out certain close friends who shall remain nameless), she also plays second fiddle to the feline masters in her life.
Susan loves to hear from readers. You can contact her at susansaxx@gmail.com, and sign up for her main newsletter here: www.smarturl.it/SusanSaxxNewsletter, and for her m/m romance newsletter here: https://susansaxx.us12.list-manage.com/subscribe?u=f161713dad49609e6e5923b65&id=6bdd0ef900
Website | Facebook | Twitter | Instagram |  Newsletter
Buy the book at Books2Read.