Walking in a Winter Wonderland
I do love winter. I love the cold and the snow. I love the way everything is so crisp in the winter. You go out and it totally clears your head – blows your mind of the cobwebs. Sure days when it's well below freezing and there's a windchill factor making it all that much colder are harder, but there are far more days when there isn't an inhuman windchill factor to have to deal with. And after a few days of well below freezing weather, a day where it warms up just a little feels amazingly warm.
The sun is brighter with snow to reflect it, and I like the early nights because it lets the Christmas lights people decorate with shine that much brighter.
And when it snows… oh man, that is beauty, plain and simple.
My favorite kind of snow is when it snows great big fat flakes that float down and quickly blanket the world. There's a hushed quality to the air when it snows like that. Walking in fresh snow, being the first person to leave footprints behind… all the trees covered with a thick layer of snow… that is glorious.
And of course winter is when Christmas is – my second favorite holiday (just a hair behind Halloween). Gifts to give and receive, tons of lights, decorations, cookies, Christmas dinner, leftovers, lazy days after Christmas Day with new things to play with or explore: I do love it all.
I have two Christmas stories out this year – Special Order, a short story that's a part of Changeling Press' Red Velvet Christmas, available here: http://www.changelingpress.com/product.php?&upt=book&ubid=2165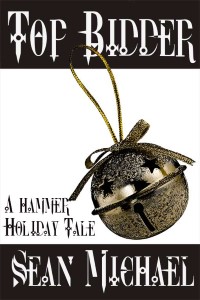 And Top Bidder, a Hammer story. This one is the fourth story featuring the Hammer Club's Charity Christmas Auction.
Kurt joined the staff as a waiter at the Hammer Club because he wanted a Master of his own. He's shy, though, and just one boy among the many looking for that special someone to dominate them.  In fact, he's working the night of the Hammer's Annual Christmas Auction when Master Marcus asks him to fill in for a sub stuck in traffic.
Master August noticed Kurt when he first started working at the Hammer, but hadn't approached the boy, wondering if they were compatible. When he sees Kurt on the auction block, he figures it's the perfect time to test out their chemistry without putting any pressure on either of them.
Will Kurt and August find what they're looking for in each other? Find out in the Christmas Hammer tale.
Top Bidder link:  http://www.torquerebooks.com/index.php?main_page=product_info&cPath=78_91&products_id=4091
I very much enjoyed writing both stories, even though it wasn't even winter yet, because working on them reminded me that it was just around the corner and that my beautiful snow was indeed coming.
Anyone who replies to this post and tells me one thing (or more!) that they like best about winter will be entered into a draw for a copy of the ebook of the winner's choice from my catalog of books which you can find here: http://www.seanmichaelwrites.com/books.html You have until the morning of December 28 to leave your comment.
So a very happy winter to everyone (except those in the southern hemisphere – you guys enjoy your summer!) and a very merry Christmas to everyone who celebrates it.
Sean Michael
Smut fixes everything
http://sean-michael.livejournal.com/
http://twitter.com/seanmichael09
http://www.facebook.com/SeanMichaelWrites
Author bio: Often referred to as "Space Cowboy" and "Gangsta of Love" while still striving for the moniker of "Maurice," Sean Michael spends his days surfing, smutting, organizing his immense gourd collection and fantasizing about one day retiring on a small secluded island peopled entirely by horseshoe crabs. While collecting vast amounts of vintage gay pulp novels and mood rings, Sean whiles away the hours between dropping the f-bomb and pursuing the kama sutra by channeling the long lost spirit of John Wayne and singing along with the soundtrack to "Chicago."
A long-time writer of complicated haiku, currently Sean is attempting to learn the advanced arts of plate spinning and soap carving sex toys.
Barring any of that? He'll stick with writing his stories, thanks, and rubbing pretty bodies together to see if they spark.