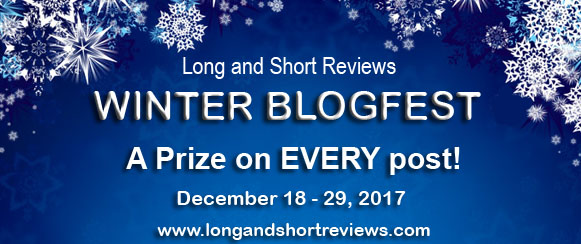 This post is part of Long and Short Reviews' Winter Blogfest. Leave a comment for a chance to win an ebook copy of Daddy Needs a Date.
Winter Wonderland
I do love winter. Once Halloween is over, I'm ready for snow and lots of it. By November the trees have lost all their leaves and there are far fewer sunny days. The snow brightens everything up and dresses the trees up in their winter finery. While I love all the greenery in the summer, I love a winter view even more. It's stunningly beautiful.
There's also a hush that comes with a snowstorm, as if the snow itself is blanketing the world, not just with a blanket that you can see, but one that dulls all the other outside sounds. You can walk out in a snowstorm and all the falling snow makes no sound as it falls and hits the ground. It's just quiet. When you go walking in freshly fallen snow, and you can hear the crunch of the white stuff under your boots, but while it's falling, there's nothing. It's like magic.
It's not just the snow, though, I also love the colder weather. I love coming in from the cold and taking off the layers, slowly warming up from the cold. Hot chocolate doesn't taste nearly as good any other time of the year. It's best enjoyed on a cold day – the colder it is the better the hot chocolate tastes. Even holding the hot mug feels good. There is more sun in the winter than in fall, the days often bright and sharp, the sky never so blue as it is on a deeply cold day.
I kind of hibernate in the summer. The hot days play with my mind and I don't get nearly as much done as I do in the winter. The snow comes and with it my creativity awakens again for the season. I usually get far more done in winter than I do in summer.
Finally, there's Christmas and the New Year. Christmas is one of my favorite holidays – with the coloured lights and all the decorations. Buying and wrapping gifts, making cookies and cooking for family. I even love the feeling on Christmas Day once all the eating and gifting is over, that sense of relaxation and ease now that everything is done.
As for the new year – I totally appreciate being able to reset, to wipe the slate clean and start over again. That feeling usually doesn't last very long, but that's okay, because where I live, there's still at least three more months of winter to revel in.
So give me my winter wonderland and I am happy down to the bone.
Sean Michael
smut fixes everything.
With four girls, single dad Ryan Withers has his hands too full to look for romance. He's not complaining—he loves his daughter and the three nieces he adopted when their parents died, and he would do anything for them. He's caught off-guard when his mother and daughter conspire to play matchmaker.

Alex Bernot works in disaster relief, his job taking him all over the world for extended periods of time, helping others. He's staying with his aunt while he's home, and she sets him up on a blind date. Finding a special someone isn't really on his mind, but he goes to make his aunt happy.
Ryan and Alex enjoy each other's company more than either of them expected, and they soon make a second date.

Their lives are complicated, though, in very different ways, and soon family needs and their jobs conspire to pull them apart. They'll need to figure out how to work through the things keeping them apart, but first they'll have to decide if they even want to….
About the Author: Best-selling author Sean Michael is a maple leaf–loving Canadian who spends hours hiding out in used book stores. With far more ideas than time, Sean keeps several documents open at all times. From romance to fantasy, paranormal and sci-fi, Sean is limited only by the need for sleep—and the periodic Beaver Tail.
Sean fantasizes about one day retiring on a secluded island populated entirely by horseshoe crabs after inventing a brain-to-computer dictation system. Until then, Sean will continue to write the old-fashioned way.
Website l Blog l Facebook l Twitter
Buy the book at Dreamspinner.