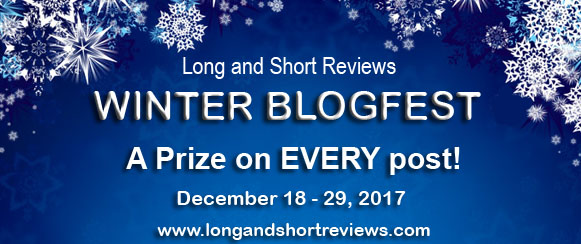 This post is part of Long and Short Reviews' Winter Blogfest. Leave a comment for a chance to win a $5 gift card to Starbucks.
Shoeing Through the Winter
I live in the northeast. We pretty much enjoy all four seasons, and I definitely take my activity cues from Mother Nature. Swimming in the summer, raking in the fall, and planting in the spring. Winter? It's a big deal here—it almost seems like it should be two seasons instead of just one. Cold and colder—or snowy and snowier, maybe.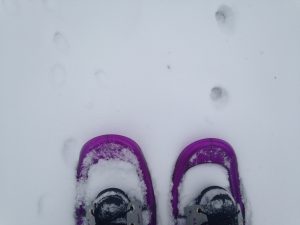 Things should slow down, given the icy roads and wintery winds but just the opposite happens. The cold weather brings so much activity! People are shopping, meal planning, travel planning—there's so much to do and so much of it is ridiculously frenzied. Along with the pre-holiday excitement, there's an almost-insane pace to get everything done despite darkness coming early.
Except here, in my little corner of the world. I don't get caught up in the "big plans" for the holidays that so many do. I make a conscious decision to hunker down and witness winter unfolding. If anything, life actually slows once the frost hits the pumpkin!
I'm big on enjoying nature even when bright lights beckon from city streets. So I stick to my following the seasons routine, which makes for a much calmer end to my year.
My biggest excitement about the winter season? I can break out my snowshoes! That's right, I love to hike across snowy meadows and through silent forests. It's a wonderfully peaceful way to spend an afternoon or even grab some exercise early in the morning before I settle down at my desk. Who needs the gym when Old Man Winter calls? Snowshoeing is great for burning calories and if you move quickly enough, the heart rate ramps right up!
I do take part in other winter sports, as well. Cross-country skiing, hot-cocoa-by-the-fire drinking, and long-afternoon-reading sessions all appeal but truly, any time I can strap on my snowshoes and head out, I'm happy!
Are there any winter sports that bring you pleasure?
The Octopus isn't an urban myth—and its agents are anything but ordinary. The intelligence bureau is so well-hidden most doubt its existence. A handful know its location. And fewer walk the halls in the subterranean compound. Benjamin Sinclair didn't ask to be a scientific miracle but every mission has its risks and one perfectly-placed bullet ended his life—for a brief moment in time. Nicole Anima battles demons every day. Life as a paranormal resources operative gives her tortured mind a rest—and keeps her from contemplating her own death. When Anima and Sinclair partner on a globe-trotting race to eliminate the threat about to cripple humanity, all hell breaks loose. Leaping from planes, crashing into continents, dealing with voodoo priestesses, and running through jungles with zombies hot on their trail doesn't leave much time for romance, but this duo somehow manages to sizzle. Two agents. Telepathic mind paired with regenerated commando. One world—and a mission to save it.
About the Author: Sarita Leone is an award-winning author who has written romance in many forms including Regency, paranormal, and contemporary. She loves happily-ever-afters in any setting!
When she's not writing, Ms. Leone spends her time hiking, learning languages, and traveling. She loves adventure and can pack a suitcase, grab her passport, and hit the road in less time than it takes to peel an apple!
Buy the book at Amazon.