This post is part of Long and Short Reviews' Winter Blogfest. Leave a comment for a chance to win an e-copy of any of the Haunted Shores Mysteries series, BLOOD ON THE CHESAPEAKE, CRIMSON AT CAPE MAY or SCARLET AT CRYSTAL RIVER, your choice! .
Christmas Ghost Stories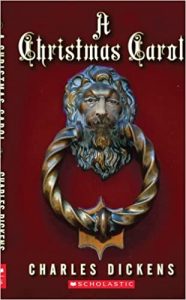 When readers pick up a Christmas story today, even a Christmas mystery, they will likely encounter brilliant Christmas lights , a decorated Christmas tree or even a Santa Claus—in addition to a murder victim or a detective, of course. In fact, listening to the incessant stream of cheerful holiday songs, readers might think it was always so. Not true. Not so long ago, during the late 1800's and early 1900's, children and adults were told stories of a different kind of "spirit." In England—the same country that gave us such holiday traditions as Christmas cards and mistletoe—children and adults gathered around a fireplace on a wintry Christmas eve and were frightened into the Christmas "spirit" via a few creepy ghost stories.
The most famous of these eerie Christmas tales is, of course, Charles Dickens' A Christmas Carol with its four specters to scare straight Ebenezer Scrooge. (Insert Christmas Carol cover) But Dickens is hardly alone. Henry James's most famous work, The Turn of the Screw, which also takes place on Christmas eve, is the tale of a governess who encounters the ghostly figures of a man and a woman.
In the same British holiday convention, A.M. Burrage'seerie short story "Smee" is about a group of young people messing around on Christmas Eve who decide to play a game of hide and seek in a spooky house in which a young girl died years before. What could go wrong?
The list goes on and on.
This tradition of sharing ghost stories on Christmas eve is thought to emanate from the pre-Christian celebration of the Winter Solstice, a time when light dies and the veil between the living and the dead is the thinnest…and many of these threads continue even into our time. For years, the BBC hosted "Ghost Stories for Christmas," spooking late night audiences into the '70's. Even the recent hit series, Downton Abbey—which portrayed life in England in the first half of the twentieth century—featured a Christmas episode where family members are gathered around a Ouija board, trying to access a spirit.
My new title, Scarlet at Crystal River, continues this fine tradition of spooky Christmas ghost stories. During the Christmas holidays, Darrell and Erin travel to Florida for their honeymoon, but, once there, the ghosts of two murdered children interrupt their romantic excursions. The newlyweds are driven to find out what really happened to the two kids, even when they are shot at, driven off the road and nearly killed.
hy not continue a centuries-old tradition and grab an alluring Christmas ghost mystery to read by the burning yule log this holiday?
All Darrell Henshaw wanted was to enjoy his honeymoon with his beautiful wife, Erin, in the charming town of Crystal River on the sunny Gulf Coast of Florida. Only a pair of ghosts decide to intrude on their celebration. And not just any ghosts, the spirits of two young Latino children. Unwilling at first to derail the honeymoon for yet another ghost hunt, Darrell finally concedes when a painting of the kids comes alive, weeping and pleading for his help.

When he and Erin track down the artist, they discover the children's family were migrant workers the next county over. But when they travel there, their questions about the kids gets their car shot up and Erin hospitalized. Torn between fear and rage, Darrell must decide how far he will go to get justice for two young children he never even knew.

Dr. Randy Overbeck is an award-winning educator, author and speaker. As an educator, he served children for four decades in a range of roles captured in his novels, from teacher and coach to principal and superintendent. His thriller, Leave No Child Behind (2012) and his recent mysteries, the Best Sellers, Blood on the Chesapeake and Crimson at Cape May and new release, Scarlet at Crystal River have earned five star reviews and garnered national awards including "Thriller of the Year–ReadersFavorite.com, "Gold Award"—Literary Titan, "Mystery of the Year"—ReadersView.com and "Crowned Heart of Excellence"—InD'Tale Magazine. As a member of the Mystery Writers of America, Dr. Overbeck is an active member of the literary community, contributing to a writers' critique group, serving as a mentor to emerging writers and participating in writing conferences such as Sleuthfest, Killer Nashville and the Midwest Writers Workshop. When he's not writing or researching his next exciting novel or sharing his presentation, "Things Still Go Bump in the Night," he's spending time with his incredible family of wife, three children (and their spouses) and seven wonderful grandchildren.
Website | Blog | Facebook | Twitter
Buy the book at Amazon.