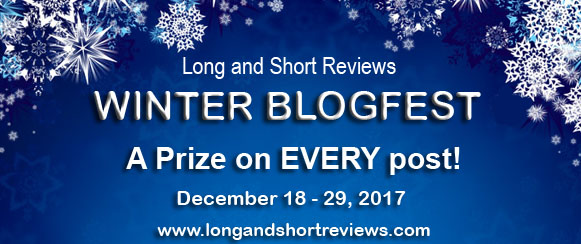 This post is part of Long and Short Reviews' Winter Blogfest. Leave a comment for a chance to win a print copy of A KISS UNDER THE CHRISTMAS LIGHTS to anyone from the Continental US who makes a comment. If no one from the Continental US makes a comment, I will pick a winner for an ecopy, no restrictions as far as location.
A Christmas Wish
My parents split when I was an infant and both remarried. My parents are of Irish extraction, my stepmother the same. My stepfather, though, was first generation Italian/American. This made for some memorable Christmas get-togethers during my childhood.
Christmas Eve was usually spent with the Italian relatives, starting at around 4 p.m. with the first course of the Feast of the 7 fishes. Every hour on the hour for 7 full hours a different fish course was served by my Sicilian-speaking-only step-grandmother. And with every course, a new bottle of wine would be served, so that by the time my mother, stepfather and I left, most of the relatives were gluttonously full and three sheets to the wind drunk. It made for many an interesting evening.
Christmas day was always spent with Irish relatives, starting with Midnight Mass Christmas eve,( and yes, we traveled to them as soon as the last fish course was finished on the Italo side.) and culminating in a day of drinking and eating. And when I say drinking I mean it in the purely alcoholic sense. Unlike with the stepfamily, my mother's family consumed more booze than food. And they started drinking earlier, too. Like noon early. There would only be two courses for dinner, which was usually served at 5 without any food before that, because my Irish grandmother didn't want any of us to spoil our dinners and eat too much before the meal was served. I never understood how she didn't equate the falling asleep drunks at the dinner table with the lack of food to sop up the afternoon booze. By seven p.m. most of them would be passed out in various lounge chairs and couches, the Yule Log blasting Christmas music in the background to drown out the yelling coming from the kitchen where my mother, her mother, and my aunt would be fighting about….anything and everything.
From the time I realized my family was different from all the other families in my school I started asking Santa for a different family every year for Christmas. The number one item on my Santa wish list was: a family that didn't fight, drink, or yell.
It wasn't until I was married and made my own family that I got my wish. When I wrote my very first Christmas romance, A KISS UNDER THE CHRISTMAS LIGHTS, I invented the family I wished for as a child. The San Valentinos are  loyal and loving and they do fight – but only in the best sense of the word because they fight for each other, not against one another. I got my wished-for family twice: One, I married; the other I created.
Gia San Valentino is the beloved baby in her large, loud, and loving Italian family. Family dramas, passion, and food rule the San Valentino clan, and Gia takes it all in stride, her family the touchstone of her life. But with Christmas fast approaching she longs for a life and home of her own with a husband and bambini she can love and spoil. The single scene doesn't interest her and the men her well-meaning family introduce her to are all wise guy wanna-bes, with old world views on women – the pregnant and barefoot kind – just the type of man she's trying to avoid.

When Gia lends a helping hand at her neighborhood parish's Christmas Festival she meets a guy who has all her requirements for perfect-man status. Tall, sweet, good looking, and from a big Italian family of his own, it seems she might finally have found a man she can give her heart to. When a miscommunication has her believing he's the new parish priest, her happily-ever-after hopes evaporate because he's the proverbial forbidden fruit.

Or is he?
About the Author: Peggy Jaeger is a contemporary romance writer who writes about strong women, the families who support them, and the men who can't live without them.
Family and food play huge roles in Peggy's stories because she believes there is nothing that holds a family structure together like sharing a meal…or two…or ten. Dotted with humor and characters that are as real as they are loving, Peggy brings all topics of daily life into her stories: life, death, sibling rivalry, illness and the desire for everyone to find their own happily ever after. Growing up the only child of divorced parents she longed for sisters, brothers and a family that vowed to stick together no matter what came their way. Through her books, she has created the families she wanted as that lonely child.
Tying into her love of families, her children's book, THE KINDNESS TALES, was illustrated by her artist mother-in-law.
Peggy holds a master's degree in Nursing Administration and first found publication with several articles she authored on Alzheimer's Disease during her time running an Alzheimer's in-patient care unit during the 1990s.
In 2013, she placed first in two categories in the Dixie Kane Memorial Contest: Single Title Contemporary Romance and Short/Long Contemporary Romance.
In 2017 she came in 3rd in the New England Reader's Choice contest for A KISS UNDER THE CHRISTMAS LIGHTS and was a finalist in the 2017 STILETTO contest for the same title.
A lifelong and avid romance reader and writer, she is a member of RWA and her local New Hampshire RWA Chapter.
Buy the book at Amazon.