Welcoming one and all
For many of us, the holiday season is a return. We go home for the holidays, or our loved ones return home to us.  Often, we return a bit to our childhood or previous selves, stealing treats late at night, picking the same old fight with a sibling, playing the saint, or some other old familiar role. Family and friends draw out our memories of past times, for good and ill.
But memories are malleable, science tells us, and never more malleable than when they are recalled, when you hold them in your active thoughts before you file them back away (see stories in Psychology Today and Yale News). Perhaps this year, you might call up that Christmas crisis that shook you to your core when you were nine years old and look at it through your loving adult eyes. It might look different now. You might look different now.
Before the start of my novella, The Science of Second Chances, Samantha walked away from her childhood town, leaving it and her disastrous first crush in the dust. So she remembers it, but in truth all this time she's carried her hurt and her broken heart along with her. The story starts when, 18 years later, the crush emails that he'll be visiting her new town and asks if they can meet. For Sam, reawakening unpleasant memories might allow her to cement that disappointment into her soul—or recast them into a shape that might heal them both.
I hope your memories are all shiny and bright, but if you have a couple of darker ones, I wish this year you may find some bit of peace with them.
My prize for you, if you are the random winning commenter, is a $10 giftcard for Evernight Publihing, my publisher. Read with joy!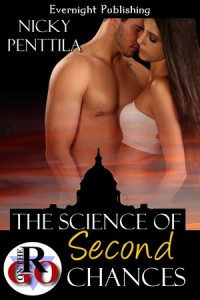 The Science of Second Chances: She hasn't seen him since they walked away from each other 18 years ago. Now he's coming to town. Dare she open that door again?
Amazon, Evernight Publishing, All Romance eBooks, author's book page
Nicky Penttila writes stories with adventure and love, and often with ideas and history as well. She enjoys coming up with stories that are set in faraway cities and countries, because then she *must* travel there, you know, for research. She lives in Maryland with her reading-mad husband and amazing rescue cat. She's chattiest on Twitter, @NickyPenttila, and can also be found at nickypenttila.com and on Facebook.