This post is part of Long and Short Reviews Winter Blogfest. Leave a comment for a chance to win a $5 Amazon/BN GC.
New Year's Resolutions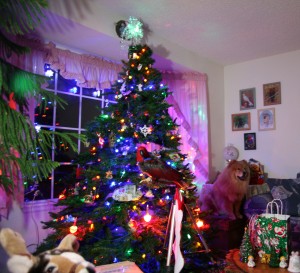 When my hubby and I left the fifth wheel all snug in a storage space under its cover until next spring, I said the holidays will be here before you know it. He chuckled and said, "Don't I know it."
In the blink of an eye, Christmas is knocking at the door, filled with family, friends and a great time to be had by all. Another year passed, but what was accomplished? Surprisingly, I met all of my 2015 New Year's resolutions of 5, 000 words written each week, a new book contracted, I managed two, and spend quality time with family and friends. My list was short but attainable.
This year in front of the Christmas tree decorated with bright multi-colored lights and ornaments that evoke wonderful memories, I ponder what the New Year will bring. I hope to have more quiet walks with the dog, more playtime with our parrot and remember to enjoy each day and, while working towards my professional goals, take time for family and friends.
What are your New Year's Resolutions?
Summer Dawn Riley''s an extraordinary elemental witch whose troubled past haunts her. She's created a calm life for herself teaching yoga and keeping people at a distance. Her life takes a one eighty degree turn when she enrolls in a women's weapons class and meets ruggedly handsome Devlin Sawyer. Devlin, a former Navy Seal, has sworn off women after two long-term failed relationships, but there is no denying his attraction to Summer. She intrigues him like no other women ever has. Despite her attempts to ignore him, Summer is drawn to Devlin. His magic signature is strong, but he's no warlock. Will Valentine's Day magic find them a future together?
About the Author:With the majestic Rocky Mountains for a backdrop, Tena Stetler is a paranormal romance author with an over-active imagination. She wrote her first vampire romance at the age of twelve, to the chagrin of her mother and the delight of her friends. Tena finds stories in the strangest places, while camping, kayaking, or hiking in the mountains. Even at the hair salon ie A Demon's Witch. So far, she's only found one dead body (imagined not real) during a camping trip, turned it into an exciting paranormal romantic suspense that's nearly complete.
For many years, Tena worked as a paralegal for a criminal law firm. You won't believe the tales she can spin from that experience!
Colorado is her home; shared with her husband, a brilliant Chow Chow, a spoiled parrot and a forty-year-old box turtle. She loves the adventure of a road trip. Together with her husband and their companion animals, they have logged thousands of miles in their RV visiting over 3/4 of the United States. The great northeast is still on the bucket list. Salem on Halloween, sounds great!
Website | Blog | Facebook | Twitter
Buy the book at Amazon.