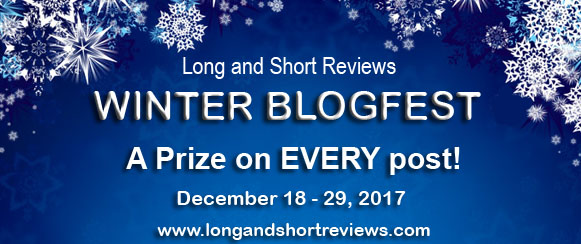 This post is part of Long and Short Reviews' Winter Blogfest. Leave a comment for a chance to win one of my signed books, along with an elf.
Christmas Memories
Christmas was always a time with family growing up. I was lucky enough to live a mile from both grandparents. One just up the road and one across the field as the crow flies.
Christmas eve was at Grandma Gray's house. I remember the tall tree with tons of elves peeking out from the branches. The tree topper was even an elf with a circle of lights dancing about his head. The fascination I have with the elf on the shelf may stem from this memory? All the local cousins, aunts, and uncles would come for the meal, and there were many. After the food was consumed the presents would be handed out.
Grandma and Grandpa Miller's house is usually where we celebrated Christmas Day. Their tree varied. Remember those aluminum trees? Her blue one was the prettiest and she always had the beautiful shiny wrapping paper for all the presents. It was pretty just to sit and look at. Sometimes it was just our family at their house and other times our cousins from Texas would be come. The meal was at noon, giving us plenty of time to play with our new toys.
Yes, I was pretty lucky to have all of that love and support growing up. Especially around the holidays. I hope everyone has a Merry Christmas and a Blessed New Year.
Mitchell Reeves is in trouble. Someone is sabotaging his ranch, cattle are missing, his sister is testing her wings, and his quarrel with a neighboring rancher has heated to boiling. Adding a beautiful woman who claims to be from the future couldn't come at a worse time.

Computer programmer Rachel Morgan understands machines, but fails with the opposite sex. When a dog plays chicken with her car, her bad week becomes worse when she wakes to find herself in the past –in a very hunky, very delusional cowboy's bed.

Time spent in Mitchell's company causes an unexpected glitch in Rachel's determination to get home. Love. Found in the most startling place and time. Could she go home, if she had the chance, without knowing his true feelings?

When unwanted attention from another man turns to kidnapping, Rachel is torn between wishing she were home…and risking it all for the love of a cowboy.
About the Author: I grew up on a farm in Oklahoma. I met my husband while in college. We have two grown sons, one pampered dog and two fat cats.
I have enjoyed writing since high school. I hope to continue to weave tales and bring a little entertainment to those who read my stories.