A Christmas Story
by MK Schiller
 I wanted to share a funny Christmas story with all of you. My children always crack me up and this little gem is as constant at the holiday table as my homemade cranberry sauce. I should start by telling you that my daughter, Nicole, was born with the cynical gene. It only makes sense since both her parents carry that particular strand of DNA and it is a dominant trait. She is also fiercely loyal so I think this story perfectly encompasses both characteristics. We told our kids all about the generosity and spirit of Christmas, and that special jolly man who brings gifts every year to all good little boys and girl. When they were tots, we'd wait in a long line at the mall, while they got irritated with us. We'd sit them on Santa's lap and they'd look horrified while pictures were snapped. We'd wrap presents from Santa in a different wrapping paper, and we'd watch the news as they tracked his progress throughout the world. My husband and I nervously answered all their questions in hopes they'd believe our hasty but loving replies. How can Santa be in the store when he's supposed to be making gifts? My children asked. Well, Santa has helper Santa's that work for him. How can he go to everyone's house in one night? Well, that has something to do with the magic of Christmas and his special flying reindeer. How can he fit down the chimney and what if you don't have one? Well, again, there is magic (magic accounts for many things), and sometimes he uses the front door too.
We baked cookies for the man in red, which my husband and I devoured while wrapping gifts, always making sure to leave one half eaten along with a thank-you note (Santa is very polite of course). But for all our good intentions, our daughter, as kids often do, created a different angle on our need to bring Santa into their lives. The kids in her class had discovered the hoax of St Nick. They took their newfound knowledge and spread it faster than Christmas cheer or a winter cold. My daughter, still a believer, was called out on how silly she was. She asked the slew of children, 'If Santa isn't real then who buys all those gifts every year?' Their answer – 'your parents, dummy.' She responded, 'What? That's silly. Why would your parents spend their hard-earned money on presents, spend their time wrapping them up, and putting them under the tree only to give someone else the credit? Who in the world would do that? And you guys think I'm dumb? By saying this, you are all calling your parent's liars, and I know mine are not.'
She regaled my speechless husband and I with that story, proud she had held her ground and defended us as honest people. I have to say, I admired her tenacity, and not siding with the other children (even though she wasn't in the right). I was equally impressed that my seven-year-old could create such a paradigm shift for me. I still believe in Santa and so do my children, but not in the literal sense as they used to. Like the ornaments on the tree that outline our lives from the glittery pretzel wreaths to the Baby's First Christmas snowflake, stories like this one always hold a special place in my heart.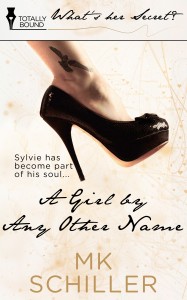 In my new book, A Girl By Any Other Name, the story begins when the characters are ten so I had to do my best to go back to that time, and remember how children think differently, and usually in a far more intriguing manner than adults. I am giving away an e-copy of this book to one lucky commentator. I look forward to your replies and wish you all a joyous holiday season.
Author BIO –
I am a hopeless romantic in a hopelessly pragmatic world. I have a full time life and two busy teenagers, but by night, I sit by the warm glow of my computer monitor, and attempt to conjure up passionate heartwarming stories with plenty of humor.
I've always been a reader and I love all genres, but there is something magical about romance. It's fascinated me since I stole/borrowed my mother's Harlequins at a young age. These stories provide all the elements of a good read – strong characters, heart-wrenching moments, swoon-worthy situations, and complete satisfaction. There is no other genre where you basically understand the premise and ending before you even start reading, yet you still want to know the story. That's because just like in life, the love story is all about the process, not the product.
Even with that, it took many years to realize I could produce an actual full length book that readers would enjoy. I try to make my stories humorous, realistic, with characters who are flawed but redeeming. I hope you enjoy my stories and never stop searching for your happily ever after.
LINKS –
http://www.mkschillerauthor.com/
https://twitter.com/MKSchiller
https://www.facebook.com/MKSchillerauthor
https://www.goodreads.com/author/show/7223625.M_K_Schiller
Buy Links –
http://www.amazon.com/M.K.-Schiller/e/B00FE0FGDM/ref=ntt_athr_dp_pel_pop_1
https://www.totallybound.com/index.php?route=product/author/info&author_id=306