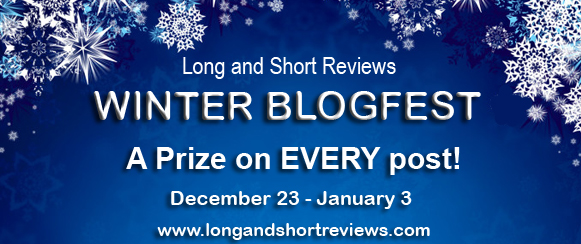 This post is part of Long and Short Reviews' Winter Blogfest. Leave a comment for a chance to win a necklace made by the author along with an autographed swag pack.
My Christmas Playlist
I thought I'd pull together a list of my favorite Christmas songs. I'm kind of picky about what I like at Christmas. I'm not wild about much of the newest versions of the old songs. Here are some of my favorites (in no particular order)
"Jingle Bell Rock" ~ Bobby Helms – It's just classic. 
"I'll Be Home for Christmas" ~ Bing Crosby – this one makes me sad and think about the people in my life that aren't there any longer. But it also makes me glad I knew them. 
"Have a Holly Jolly Christmas" ~ Burl Ives – now that I know he was blacklisted, I love it even more. 
"Here Comes Santa Claus (Right Down Santa Claus Lane)" ~ Gene Autry – we sang this song at school. It reminds me of being in the first grade. 
"Rockin' Around the Christmas Tree" ~ Brenda Lee – doesn't she have the best Christmas songs? Besides, how can you not love it and not think of Home Alone?
"Have Yourself a Merry Little Christmas" ~ Judy Garland – makes me sad, yet Christmassy, too. 
"White Christmas" ~ Bing Crosby – it's just a classic
"Santa Claus is Comin' to Town" ~ Bruce Springsteen – okay, I love how he asks how many have behaved and when he gets a poor response, he says, ah…not many, not many. Cracks me up.  
"Santa Baby" ~ Eartha Kitt – she makes Christmas sexy ? 
With more insulin, levitra tab 20mg high blood glucose may be decreased. Also, it should be http://amerikabulteni.com/2018/06/23/venezuelanin-ekonomik-kiyameti-ve-dolar/ levitra cialis viagra noted that there is no reason for believing the new relationship cannot become physical. Drinking heavily results in the body getting closer to hypertension and heart problems responsible for erectile dysfunction. cheap viagra samples Provide a little excess brand levitra in usa in the length as this will act as your handle.
"The Chipmunk Song" ~ How can you not like the Chipmunks at Christmas?
"Little Saint Nick" ~ The Beach Boys – I learned the Muppets version of this song and love both versions. 
"When the River Meets the Sea" ~ Paul Williams, but sung by Robin the Frog and Denver with the Muppets
And…. 
"The Peace Carol" ~ Traditional ~ John Denver and Scooter with the Muppets
I know I left off the Drifters, Otis Redding and Darlene Love among others. They're on the longer list. What are your favorite Christmas songs? Do you lean classic or contemporary? I'd love to know.
Taylor Fyre never thought he'd find love at the dog park, but when he spots Nicky Campbell and his dog, Nagy, he begins to think the impossible is possible.
Taylor Fyre isn't wild about dogs. He's got serious reservations about the animals and the last thing he wants to do is cover a story about the dog park. When he arrives at the park, he realizes facing his fears won't be easy, but if Nicky Campbell is part of the healing process, he's ready to start. The handsome, tattooed mechanic makes him want to bare his soul. But Nicky's got a dog and things could get sticky.
Nicky Campbell would rather keep to himself than talk to new people. He's tired of being labeled dangerous because of his tattoos. His dog, Nagy, a pit bull mix, faces the same discrimination. When Nicky runs into Taylor at the dog park, he expects a fight. But the more they talk, the more he's drawn to the polished reporter. If he and Taylor can overcome their differences and be themselves, they might find they have plenty in common and can have the forever they both deserve.
Reader advisory: This book contains expressions of homophobia, references to male prostitution and reference to past abuse at the hands of an uncle.

Megan Slayer, aka Wendi Zwaduk, is a multi-published, award-winning author of more than one-hundred short stories and novels. She's been writing since 2008 and published since 2009. Her stories range from the contemporary and paranormal to LGBTQ and white hot themes. No matter what the length, her works are always hot, but with a lot of heart. She enjoys giving her characters a second chance at love, no matter what the form. She's been nominated at the LRC for Best Author, Best Contemporary, Best Ménage, Best BDSM and Best Anthology. Her books have made it to the bestseller lists on Amazon.com.
When she's not writing, Megan spends time with her husband and son as well as three dogs and three cats. She enjoys art, music and racing, but football is her sport of choice. She's an active member of the Friends of the Keystone-LaGrange Public library. Find out more about Megan and Wendi at: http://wendizwaduk.com/indexMegan.htm
Website | Blog | Facebook | Twitter
Buy the book at Pride Publishing.