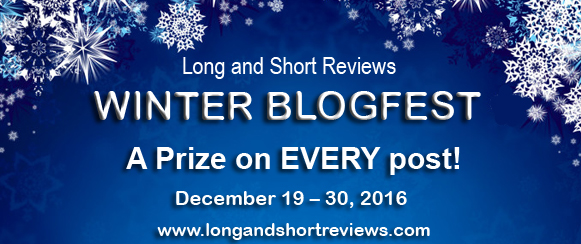 This post is part of Long and Short's Review Winter Blogfest. Leave a comment for a chance to win a $10 Amazon Gift Card..
Hanukkah—The Festival of Lights
By Marilyn Baron
This year, Hanukkah begins on December 24, the night before Christmas. What do I remember most about Hanukkah – the Festival of Lights? During this time of the year, our family used to drive around Miami, where I was born, and look at the beautiful display of Christmas lights.
The Hanukkah tradition is to light the menorah, a 9-candle ceremonial lamp with space for eight candles, representing one for each night of the holiday, and one candle to light the rest. Hanukkah is a festive holiday. Families sing songs, play a game called dreidel, a spinning top and exchange gifts. The holiday lasts eight days.
When I had younger children, we would give them one gift each night. Now that they're grown and out of the house, we typically give them one big gift. In the old days, I remember my grandparents lining up the grandchildren and handing out a dollar each. Now the money comes in the form of chocolate coins—Hanukkah Gelt—you can buy at the grocery store.
The thing I love most about Hanukkah is eating the traditional potato pancakes or latkes. You don't have to be Jewish to enjoy potato latkes. My sister Elaine makes great latkes. They require a lot of effort, but when done right, they are crispy and delicious. My mother made great latkes when we were growing up. Today, I just buy them out of a box in the grocery freezer section. They're not nearly as good. It is traditional to top the latkes with a little sour cream and some applesauce. I prefer applesauce and I also like mine sprinkled with sugar.
Here is my sister's recipe. Wishing you all a very Merry Christmas, Happy Hanukkah and a happy holiday season.
Potato Latkes
Ingredients:
1 onion
4-5 Idaho potatoes
2 eggs
1 tsp baking powder
¼ cup matzoh meal
Salt: 1 teaspoon, then sprinkle more on as they fry
Pepper, freshly ground, several twists
Cheesecloth
Directions:
Mix the salt, pepper and baking powder together with the matzoh meal.
Peel the potatoes and drop them right away into a large bowl of icy water.
Chop onion: Use a food processor. Decide how fine to chop.
Do not drain liquid from the onion.
In a large bowl, crack the eggs and beat (not too much).
Heat large skillets: Cast iron or any good pan. Use more than one to speed up the cooking. Start low, and when almost ready with the completed mixture, raise the heat. During frying, constantly monitor the heat level, starting on medium high, then adding the mixture, and then turning down to about medium. Then back up to medium high with the next batch, and so on.
Cut the potatoes lengthwise, and in a food processor, using the shred attachment, shred a few at a time. Then, take out the shredded potatoes into a big bowl, put the chop attachment on and put the shredded potatoes back into the processor, then give just a few pulses (5-10), until a nice chopped consistency (not too big, but not too finely chopped, either).
Then put the potatoes into a cheesecloth (in the sink), and squeeze as much liquid starch as you can! Then put the squeezed potatoes right into the eggs, and mix around with your hands to absorb the potato mixture.
Then repeat this process until all the potatoes are in the egg mixture.
Add the onions and dry mixture to the egg and potato mixture, and mix: Use your hands.
Add oil to the fry pan(s) and wait until the oil is hot (but not burning). Add mixture by tablespoons, not too thick. Fry in hot oil. Turn when golden. Keep adding oil to pan before each new batch. The more oil, the better it tastes. The first batch never tastes as good as the rest.
Enjoy.
Hallelujah Weiss, writer for the steamy sudser As the Planet Spins, gets a second chance at love when she flees to Italy to get over her recent divorce, courtesy of her cheating ex-husband's credit card. A woman scorned, Hallelujah has sworn off men and is determined to reinvent herself. The new Hallelujah is eager to live life on the edge, more like Polly, a character she writes and idolizes.

Lonely Berlin hedge fund manager Alexander Stone, a number cruncher who puts his faith in numerical data, still believes in destiny, despite the fact his fiancée just dumped him. Always a man with a plan, Alexander did not plan on Hallelujah.

After a chance encounter on a flight to Rome, the unlikely pair faces danger when they team up to return to their rightful owner a stash of WW II vintage jewels. The hidden diamonds hold the key to an unsolved mystery and a promise of love.
About the Author: Marilyn Baron writes in a variety of genres, from humorous coming-of-middle age women's fiction to historical romantic thrillers and romantic suspense to paranormal/fantasy. Stumble Stones: A Novel is her 11th book with The Wild Rose Press, Inc. AmazonEncore republished her book Sixth Sense on September 15, 2015. She has published five short stories with TWB Press and self-published two books and a musical. She's received writing awards in Single Title, Suspense Romance, Novel With Strong Romantic Elements and Paranormal//Fantasy Romance. She is a Georgia Romance Writers (GRW) Maggie Award winner. She's a PAN member of Romance Writers of America and GRW and winner of the GRW 2009 Chapter Service Award. A public relations consultant in Atlanta, Marilyn graduated with a BS in Journalism and a minor in Creative Writing from the University of Florida. She worked in Public Relations for AT&T in Atlanta for 13 years before starting her own PR firm. She has served on the Roswell Reads Steering Committee for three years. She was selected as a featured author in the 2016 Atlanta Authors Series.
Website | Facebook | Twitter
Buy the book at Amazon.