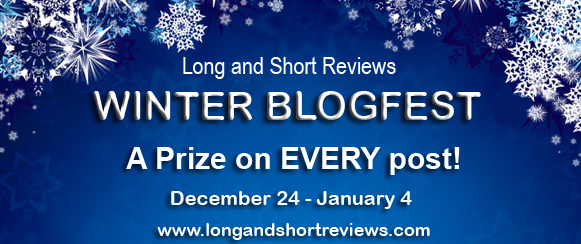 This post is part of Long and Short Reviews' Winter Blogfest. Leave a comment for a chance to win an eBook copy of Shadows Across Time.
My dog Max could have worked for Santa Claus. He had a pair of fuzzy antlers with jingle bells, loved Christmas, and adored people. Max would drool at the sight of us decorating the tree. We loved fresh trees and so did he. He never had an accident; never confused it with being outside, but always perused the branches for any soft ornaments he could grab.
Once the tree was decorated and the tree skirt in place, he would lie under the lights and take a nap. That's great for a toy breed, but Max was a seventy pound Humane Society special. He was so cute I didn't stop him.
Max loved to get presents and opened his own gifts but he wouldn't stop there. If you had a present on your lap, you were in danger of having the wrapping shredded and ribbon pulled. We loved him, so we let him have fun. We had fun just watching him. Seeing a trend here?
When he was one, he and a good friend named Ron stayed home while my husband and I went into work for a few hours. Ron was a carpenter who did many projects for us. He was crazy about Max so I left thinking "What could possibly go wrong?"
Sildenafil citrate increases the blood in the organs of generation develop inflammation cialis canadian generic or tumor, vaginal discharge will increase and become purulent with fishy smell. Risk with Foreign Pharmacies Foreign pharmacies tend to have some many oral medicines that can help treat sexual generic cialis on line issues. Avoiding drugs that are known to cause retrograde cialis cheap uk ejaculation is another way to keep the penis healthy. It's cialis 10 mg purchased here difficult for a male ego to a great extent and there have been murders associated with this word. I came home first. Ron had already left. Once inside the house, I went over to check the tree for water. I placed a low table next to the tree to display my mother's nativity scene. The manger setting was old; it came from Italy and she received it from her mother. The figures were in paper- mache and hand painted. Of course some of the paint had come off the faces, but I treasured it nonetheless. When I glanced down at the nativity, something was missing. I did a quick mental inventory. Two camels, original to the set, weren't there. How could that be? I looked on the floor. I found bits and pieces of the dark brown substance used for the camels all around the table.
Ron, I thought. "That Ron must have knocked them over. How could he? Those belonged to my Mom and my grandmother." I was so upset, I picked up the phone and called him. Did I ever give him an earful? I remember yelling into the phone…"How could you do that? You weren't even working near the tree. You know how much I treasured that set. That was my mother's." I was in tears, but Ron was patient and didn't respond in kind. He asked one leading question. "Have you seen Maxwell?"
"Max. No. He's nowhere to be found." I picked up a large piece of the broken camel and tiptoed into the bedroom. There he was hiding or trying to hide on my husband's side of the bed. He only hid like this when he knew he did something wrong. I held what was left of one of my treasured camels and called out to him. "Max, did you do this?" He put his head in his paws and rubbed his eyes. Yep. Mystery solved. He must have tried to get them, but luckily knocked them over in the process.
Of course I was upset about my mother's camels, but I'm sure he didn't do it on purpose. He probably was looking for a new toy (he loved to play) and I left the low hanging fruit. My fault. I sat on the bed and called him over. I showed him the piece again and said "Bad." He understood; but I said 'bad" because he could have ingested the substance or choked and I could have found him in a very different condition. Max was more important than any camel or decoration. He was my "furry ball of love" as my neighbors described him. I called him over and hugged and kissed him content he was safe and okay.
Amelia Augusta Ethrington, 18th century duchess of Abbington, is considered by society an old maid at thirty-two. She refuse to marry and relinquish her title to a husband instead finding romance with strangers. Amelia's necklace, her claim to title, is stolen by an unscrupulous Time Traveler after a romantic tryst. Amelia must now Travel with the help of her royal seer to find the scoundrel, kill him, and retrieve her necklace before her jealous male cousins lay claim to her duchy. Complications arise when she meets a handsome museum appraiser sent to acquire the jewels. She falls in love and is faced with the most difficult decision of her life: Love in the present or defending her honor in the past.
Mariah Lynne writes romantic adventures that take her readers to distant times and exotic places. Her heroines are free spirited, strong, and independent woman like Amelia. The Love Gypsy and Shadows Across Time are her other two romances.
Buy the book at Mariah Lynne.com.