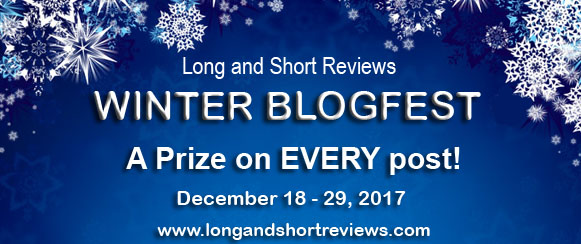 This post is part of Long and Short Reviews' Winter Blogfest. Leave a comment for a chance to win a $10 Amazon e-gift card.
Christmas Cheese Ball Recipe
My favorite part of the holidays is gathering together with family and friends over delicious food. I'm Italian and one of six children so things can get pretty loud when we're all together. Family and food are always prominent in my books because they are so dear to my heart. I love a loud room filled with all my crazy siblings and our kids. Sharing love and happiness, isn't that what the season is all about.
When my family is all gathered together it mean a lot of hungry tummies. Pleasing adults and kiddos at the same time is tough, but I have found at least one tasty treat that seems to delight everyone. Today I'd like to share with you my recipe for a Christmas Cheese Ball. It's a great appetizer or even a yummy snack to munch on while you play games. Everyone loves it and the red and green bell peppers make it look festive (psssst don't tell the kiddos they're eating veggies, they'll never know).
Christmas Cheese Ball:
16oz cream cheese
1 T. chopped onions
2 T. chopped red bell pepper
2 T. chopped green bell pepper
2 tsp. seasoned salt
Worcestershire sauce to taste
Chopped pecans or another nut of your preference (nuts can be left off in the case of allergies)
Blend all ingredients together, except nuts. Form into a ball. Roll ball in nuts and chill. Add to plate with your favorite crackers or some celery and carrot sticks.
It's that easy! And now you have a delicious snack the whole family will enjoy. May your holiday season be filled with loving family, delicious food, and (my favorites present) good books! Happy Holidays!
Maggie Evans is back in Peak Town, Colorado to take over her grandmother's cupcake shop, but problems keep arising. Is it rotten luck…or something more nefarious? To top it off, her former best friend/childhood crush, Colton Denning, won't leave her alone. He's sexier than ever. But Maggie has no time for love.

When his best friend comes back into town all grown up, Colton finds his feelings for her go far beyond friendship. Unfortunately, the pretty baker only sees him as the town playboy. He plans to convince her otherwise, but may not get the chance when someone starts threatening Maggie's life.

Whether she likes it or not, Colton plans to take her safety into his own hands. How will Maggie keep her shop afloat with a madman after her? More importantly, how will she keep her heart intact when Colton admits her safety isn't the only thing he wants in his hands?
About the Author: RWA® Golden Heart® Nominated Mariah Ankenman began writing at the tender age of five. Her first book "George and the Green Glob" received high praise from her mother. Many years, and green glob stories later, Mariah received a playwriting degree from the University of Wyoming. After a few years in Hollywood, working in "the biz," she came home to the beautiful Rocky Mountains.
When she's not writing Mariah loves to read, crochet, and play her ukulele. She loves to hear from readers.
Buy the book at Amazon.