This post is part of Long and Short Reviews Winter Blogfest. Leave a comment for a chance to win a $10.00 Amazon Gift Card.
Making Memories
Our little street that skirts the bayou is made up of families from all over the country. I'm a local, but we have families from Pennsylvania, Minnesota, Virginia, the Carolinas and several other states, so we try to make everyone feel at home, especially for those who are unable to be with their loved ones.
One day one of our neighbors admitted she cried all day the first year she was here because she had to bake cookies alone, without her sisters and mother. From then on, we've gotten together for an afternoon of baking and, well, just being together.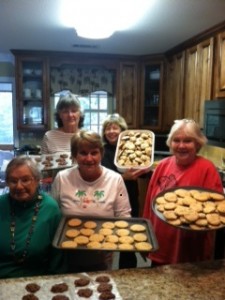 Baking cookies is a simple way of reminding us that Christmas might be celebrated with different traditions throughout the country (and world), but many things remain the same. It's nice to have the end results of our time together. Everyone takes home several tins of cookies, but that's not the best part. Sharing time together, enjoying stories of by-gone Christmases, remembering those who are no longer with us—these are the things that are important. Before my mother died, she loved being part of the fun. This year is the second Christmas without her, but even though I thought about her throughout the day, I was thrilled to have the mother of my neighbors with us. It made the day complete.
Christmas brings up an array of emotions, but I hope throughout this week, you'll find the joy of being with those who are important to you—and if it happens to be in the kitchen cooking together—remember that you're making wonderful memories that will be with you forever.
Defying the odds, Casey Morgan opened Hope Ranch for troubled teens in a rural Texas community, but not everyone welcomed her with opened arms. The unexplained death of her security guard and other disturbing activities prompts her to advertise for help to make her ranch the safe haven she envisioned.

The lady in a Stetson pointing a rifle at his head wasn't the greeting Major Nathan "Max" Maxwell expected when he stepped onto Hope Ranch. Max needed the job to give him a place to finish his recuperation before returning to his Spec Ops team, but instead of the serenity he expected, he walked into a web of deceit and danger.

Torn between his growing feelings for Casey and his need to return to his team, Max searches for the strength to help the beautiful ranch director. Casey wasn't looking for a man, and Max knew his career choice didn't mix well with family life. Would Hope Ranch give them a chance to find a future together?
About the Author:Fran McNabb grew up along the beaches and waterways of the Gulf Coast and has used this setting in many of her novels. She and her husband live on a quiet bayou harbor and love to spend time fishing and boating with their sons and families.
Website | Facebook | Twitter