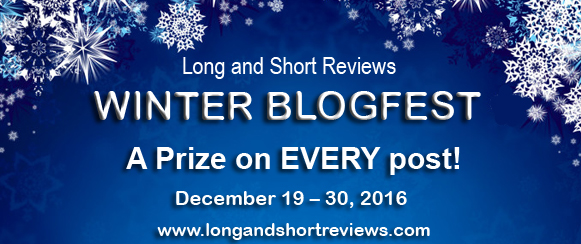 This post is part of Long and Short's Review Winter Blogfest. Leave a comment for a chance to win a $5 gift certificate to The Wild Rose Press. .
Generational Magic
by Laura Strickland
When you think about it, it's really quite amazing. Generations of parents from differing segments of society and many parts of the globe all bent on perpetuating a single myth: there's this fellow in a red suit (some even call him a jolly elf) who, on one night each year, accomplishes a truly astounding feat. He travels the world—all in a single revolution of the globe, you understand—distributing gifts to deserving children regardless of weather, door locks or even blazing fires in chimneys.
He may be called by various names. Santa. Pere Noel. Father Christmas. Kertsman, Jultomten or Grandfather Frost. The name doesn't really matter because his heart's always the same, warm and jolly and loving. His heart is pure magic.
What makes rational and otherwise-enlightened parents perpetuate such a tale? I have seen parents go to great and heroic lengths to make sure Santa does not fail. They stand on aching feet in checkout lines; they visit eight stores in the hopes of snagging the very last of the year's must-have stuffed critters. They stay up all night frosting cookies so Santa can have a plate of his favorites. They struggle throughout the dark hours assembling toys with instructions written in a foreign language.
Why? I believe it's the memory of how believing felt when we were children, the sheer breathless wonderment of the impossible happening year after year without fail. After all, the love in the heart of a parent is pure magic.
This holiday season, may we remember the breathless wonder that's survived for generations and experience just a little of that magic once again.
Scottish chief's daughter, Tinnie MacAieth, can think of only one way to ransom her clan's folk, defeated by the fierce Viking, Claus – agree to his demand that she become his bride. She hopes her faith and love for her people will allow her to endure a lonely, loveless future in the cold north.

Claus has claimed Tinnie for his wife, but the prize he truly wants is her heart. Determined to win it, he offers her many gifts, but not until he undertakes a dangerous winter voyage for her sake does he dare hope she sees what's in his heart. And on one magical Christmas Eve, while delivering toys to her clan's children by sleigh, he begins to believe she may grant him the one gift he desires
About the Author: Award winning author Laura Strickland delights in time traveling to the past and searching out settings for her books, be they Historical Romance, Steampunk or something in between. Born and raised in Western New York, she's pursued lifelong interests in lore, legend, magic and music, all reflected in her writing. Though she's made pilgrimages to both Newfoundland and Scotland in the company of her daughter, she's usually happiest at home not far from Lake Ontario with her husband and her "fur" child, a rescue dog.
Website
Buy the book at Amazon.