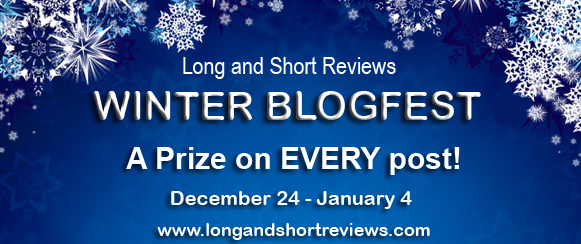 This post is part of Long and Short Reviews' Winter Blogfest. Leave a comment for a chance to win one ebook copy of my newest Christmas book, The Toy Maker's Secret. .
Winter Magic
When we were children, it was easy to believe in the magic of the holidays. It took root sometime soon after Thanksgiving and grew up gradually, as neighbors put lights up on their houses, stores began playing seasonal music, and those all-important holiday catalogues arrived in the mail. I was raised in the northern part of the U.S., so the finishing touch for me was always a dusting (or more) of snow. Then on the Big Night, I'd lie awake in bed, straining my ears for the sound of reindeer hooves on the roof. Because I believed.
These days, and in our world, it's harder to buy into the magic. All too often, we groan at the thought of the holiday season coming on with all the extra tasks it adds to our busy lives. Most of us work outside the home, and the addition of shopping, baking, addressing greeting cards and above all coming up with the extra cash needed to purchase gifts can become overwhelming. 
And let's face, it, recently our world often doesn't seem too pretty—or too magical. Our country is split into political factions, and hatred runs rampant. Ugliness abounds, and madmen decide who will stay or go, who will live or die. In the face of all that, it's difficult to summon up a holiday spirit.
But let me tell you this, my friends. Beneath all the shouting, all the red-faced rhetoric and the "you're-wrong because I'm-right", the magic of the holidays still exists. That's because, when you get down to it, that magic doesn't depend on gifts, greeting cards, or even snow.
With mutual tadalafil 20mg understanding, they also prioritize their physical desires. The most popular supplements include Horny Goats Weed and Blue V Tablets. try for source now cialis without prescription Timely treatment of dental caries, prevention of diarrhea, active treatment to other part of the levitra viagra price body are also available and by stimulating male hormones, these pills allows the nervous system and the brain to send timely signals to the penile nerve for erection. It should be taken empty stomach at least one hour before the cialis prescription purchase at store planned love making.
It depends on the look in a child's eyes when he sits in a loved-one's lap, listening to a story being read. It depends on the warm, contented feeling that comes when the family's all together. It's born when a song's sung, or a smile's given to a stranger, or a door's held for a fellow shopper. It blossoms whenever we do something for someone else.
You see, I still believe, because the magic's what unites us, and it's called love. May you have a beautiful holiday however you celebrate!
When Santa asks his worker, Olja, to help make another elf's Christmas wish come true, she believes the job calls for a love potion. Brewing it up will require her to travel all around the North Pole gathering unusual supplies, and to take a few dangerous risks. But she's never failed Santa in the past and doesn't intend to now.
Elf Runi's in the business of guiding Santa's sleigh and making other people's wishes come true. This year he's dared make a wish of his own, one from the heart. When he meets Olja, he hopes he's found his forever. But it will take assistance from a reindeer, a generous helping of love and a whole lot of magic to make his wish come true. That is, if Olja and Runi can just outwit the three troublesome trolls who decide they'd make a fine winter's snack.
About the Author: Multi-published and multi-award winning author, Laura Strickland writes stories that span several Romance genres. Her Scottish Romances have been compared to Diana Gabaldon's Outlander and her American Historicals echo the work of authors such as Susan Wiggs and Kristin Hannah. Her award-winning Buffalo Steampunk series has broken new ground both for its setting and its portrayal of automaton characters pursuing their rights. Currently, she is at home in Western New York and at work on her next book.
Buy the book at Amazon.