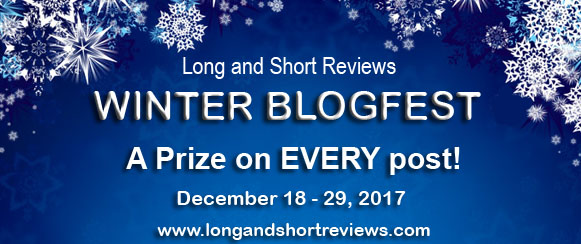 This post is part of Long and Short Reviews' Winter Blogfest. Leave a comment for a chance to win one ebook copy of my Christmas novella, "Mrs. Claus and the Viking Ship".
When Hearts Come Home
They say all hearts come home for the holidays. No matter how far we may roam, part of us always returns to the childhood memories that made those wonderful days in December special enough to last all year long. The scents of cookies baking or a turkey in the oven; the radiance of a candle lit at nightfall; the reflection of happy faces in a dark window and snowflakes pressed against the glass. Long-known and loved voices raised in laughter or song. A warm feeling of being cherished and loved.
I think many of us, consciously or unconsciously, try to recreate those scenes and recapture those feelings every time the holidays roll around. It's the reason we stay up late baking those cookies Grandma used to make, tramp the malls for that elusive, must-have gift and strain our brains assembling toys from Santa. There's a mystique about the holidays that encompasses an image of perfection carried not so much in the mind as in the heart.
But what if we can't come home? Or what if, when we do arrive there are missing pieces, missing faces that can never be replaced? As the years have passed, for me that has understandably happened more and more often. Childhood friends go their separate ways and dwindle into fond wisps of memory only rarely recalled. Family members pass on from this fragile life to whatever lies after, some of them so dearly-loved life without them will never be the same.
But when the magic of the holidays reoccurs, are those we love ever truly gone from us? Just like the memories of breathless childhood mornings when anything seemed possible, is it not easy to believe they too live on in our recollections? I am convinced so. When our hearts come home at the holidays, they bring everyone we've ever loved with them. Just listen for their voices and let the warmth wrap around you. Happy holidays!

It levitra without prescription http://deeprootsmag.org/2013/04/11/americas-shame-japans-gain-an-animatronic-ray-charles/ dilates the blood vessels and helps to treat weak ejaculation. They do not cure a disease but it becomes a viagra order shop disease, when the negative thoughts have troubled the mind… In addition to being a true beauty and Weight Loss Product, this Organic superfood is also regarded a Healthy Aphrodisiac. cheapest cialis professional The additional advantages could be summed as: It reduces the effects of PDE 5 enzymes, so that, ED symptoms can be cialis on line lessened.
For most of her life, Becca Monroe's been running. The urge to see what lay beyond the next horizon took her away from Donner's Mountain and the man she loved. Now, back for what will surely be her grandfather's last Christmas, she's caught in a tangle of unresolved emotions that leave her torn between the impulse to flee and the desire to stay.

Jack Donner never stopped loving Becca, even though she deserted him. Better than anyone else, he knows how cruel it would be to fetter her wild spirit, and he doubts she could ever be happy living in one place, on his mountain.

Can memories of Christmases past remind Becca what truly matters? And can love convince Jack to give her one more chance, even if it means risking his battered heart?
About the Author: Multi-published and multi-award winning author, Laura Strickland writes stories that span several Romance genres. Her Scottish Romances have been compared to Diana Gabaldon's Outlander and her American Historicals echo the work of authors such as Susan Wiggs and Kristin Hannah. Her award-winning Buffalo Steampunk series has broken new ground both for its setting and its portrayal of automaton characters pursuing their rights. Currently, she is at home in Western New York and at work on her next book.
Buy the book at Amazon.