Christmas Ornaments
 Post by Kristy McCaffrey
Ornaments tell stories of childhoods, old times, and friends long gone from our lives. My parents' tree is filled with memories from my own youth, and those items have remained with them, as well they should. My tree is filled with my children's spirits, and I cherish every last item they've crafted.
One of my favorites is a small pine cone glued to a wooden base and sprinkled with glitter, made by my oldest son in preschool when he was three years old. It's such a simple and lovely design, holding up well over the years, helping me recall that special time when he was young and I was a new mother. There's a lovely clear ball given to my youngest daughter from her swimming teacher; in the center is a photo of her and the other children in her class. Besides an elegant, well-crafted ornament, it also reminds me of how, at the age of four or five, my daughter loved to swim, how strong she was in the water, and the unfettered enthusiasm she had for this activity. As my children have grown, I've begun to recognize these moments as rare and full of real and complete joy.
The ornament that commemorates the birth of my younger son is also a favorite. Each of my children has such a memento; his is a bear with a pacifier in its mouth and my son's name and birthdate imprinted in red ink on the belly. My son was born big and cuddly, right on time (whereas the others came early), and my heart was attached to his from the beginning.
When one of my daughters was young, she painted a simple ceramic cross, yellow with purple dots. She's quite artistic and inventive, and even then enjoyed the act of creation. She takes great joy in the spiritual side of her life, more than any of her siblings, and she expresses this through her art. The cross is also a favorite.
There are the dog ornaments, several especially for our deceased Dalmatian, Sparky. It makes all of us feel better to have him present during the Christmas holidays. I have a nice collection of ornaments from my close friends while we raised our children together. In any other situation we might never have been comrades, but sharing the experience of watching our offspring grow creates a connection like no other. While I'm not a very crafty person, there are two sets of ornaments I stitched together while I was in graduate school, studying to get a Master's Degree in Mechanical Engineering. They were my therapy during a very stressful time and remind me that I persevered through my fears and succeeded. And then there's simply the ornaments that were purchased because something about them caught my eye—the color, the shape, the absolute loveliness of them.
A Christmas tree is more than a colorful decoration under which Santa leaves his presents; it's a tree that's alive with the pulse of the people living in the home, alive with memories that keep the family together.
Tell us about your favorite ornament–or any other favorite from the holiday season– for a chance to win a $5 Amazon gift card.
Author Bio: Kristy McCaffrey has been writing since she was very young, but it wasn't until she was a stay-at-home mom that she considered becoming published. A fascination with science led her to earn two engineering degrees—she did her undergraduate work at Arizona State University and her graduate studies at the University of Pittsburgh—but storytelling was always her favorite hobby. Born and raised in Arizona, and recently returned after a 20-year absence in Pittsburgh, she writes Old West romances to capture the landscapes that were such a big part of her childhood. Her first novel, The Wren, was a CAPA winner for Best New Author Traditional, a Texas Gold finalist, and a HOLT Medallion finalist for Best First Book. The Sparrow was the 2012 Winter Rose Winner in the Published Historical Division. She lives in the Arizona desert with her husband, where they frequently remove (rescue) rattlesnakes from their property. Her four teenaged children are in varying stages of flying the nest, so her two chocolate labs—Ranger and Lily—are the recipients of her maternal instincts these days.
Website: http://kristymccaffrey.com
Blog:  http://kristymccaffrey.blogspot.com/
Facebook:  https://www.facebook.com/AuthorKristyMcCaffrey
Twitter:  https://twitter.com/McCaffreyKristy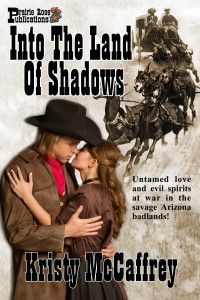 Rancher Ethan Barstow is weary of the years-long estrangement from his brother, Charley. Deciding to track him down is easy; not so easy is riding in the company of Kate Kinsella, Charley's fiancée. In the land of the Navajo, spirits and desire draw them close, leading them deeper into the shadows and to each other.
Buy Links
Amazon http://www.amazon.com/Into-Land-Shadows-Kristy-McCaffrey-ebook/dp/B00H49GO8M/ref=sr_1_1?s=digital-text&ie=UTF8&qid=1386263740&sr=1-1&keywords=kristy+mccaffrey#_
Barnes & Noble http://www.barnesandnoble.com/w/into-the-land-of-shadows-kristy-mccaffrey/1117585332?ean=2940148827382
Smashwords http://www.smashwords.com/books/view/384914
Trade Paperback https://www.createspace.com/4554548