Please Have Snow and Mistletoe
It's a pleasure to be here today at Long and Short Reviews! Christmas is truly my favourite time of year (although summer is admittedly a close second). In December I just adore all the lights, decorations, delicious treats and catching up with dear family and friends.
It's also the only time of year I enjoy snow and cold weather! Living in Toronto, January through April is pretty miserable, weather wise. Cold and dreary, with the sun rarely making an appearance. But in December? Bring on the snow and ice! I delight in every flake and gust of arctic wind. The past few years it's been a green Christmas here, but fortunately at my family's cottage a few hours north on Georgian Bay, there's always lots of the white stuff at Christmas. I love snowshoeing and then warming up in front of a crackling fire.
What about you? Do you love snow at Christmas, or would you rather be sun worshipping? Do you live in a warm climate and can't imagine a frosty holiday? I did spend one Christmas in Australia on the beach and I have to say it just didn't feel the same! Of course if you're used to sunny warmth in December, snow would likely feel just as foreign to you. No matter where we're from, there's really no place like home at the holidays.
It was a real joy for me to set my new holiday romance, Where the Lovelight Gleams, on Georgian Bay at a cabin not unlike my family's. I couldn't think of a better place for LA actors to spend the holidays while navigating the tricky waters of going from friends to lovers. While Ryan has pined for his co-star since they day they met, Cary has a starlet girlfriend—which means he's straight, right? Ryan doesn't think there's a snowball's chance in hell Cary will ever return his feelings. Little does he know, Cary has his own secret desires to unwrap this Christmas…
Win a sexy Christmas romance!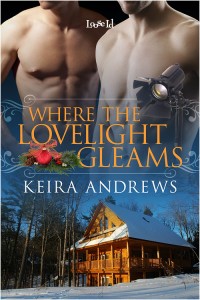 Comment below to win an electronic copy of Where the Lovelight Gleams and find out if Ryan and Cary can find their way together this Christmas!
Good luck and happy holidays!
About the Author: After writing for years yet never really finding the right inspiration, Keira discovered her voice in gay romance, which has become a passion. She writes contemporary, historical, fantasy and paranormal fiction, and—although she loves delicious angst along the way—Keira firmly believes in happy endings. For as Oscar Wilde once said, "The good ended happily, and the bad unhappily. That is what Fiction means." You can find out more about Keira and her books online at her website, Facebook, and Twitter.