A Season for Fantasy
 The holiday season is such a magical time. With all the twinkling lights and glittering decorations, Christmas has always put us in the mood for the fantastical. The drabbest of buildings become absolutely enchanting with the help of brightly colored fairy lights, and along with the snow (depending on where you live, of course!) there seems to be a sprinkling of pixie dust in the air.
There's no better time of year for happily ever afters!
During the holidays we can't get enough of fantasies and fairy tales. We rewatch the Lord of the Rings trilogy and speed through the Harry Potter series again. It feels like magic and miracles are everywhere, and that everyone will get their happily ever after.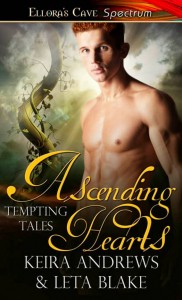 We've written a trilogy of reimagined erotic M/M fairy tales: Earthly Desires, Ascending Hearts and Love's Nest. To celebrate the magical spirit of the season, we're giving away all three tales to a lucky winner! Just comment below for your chance to win these three sexy fairy tales.
Also available at Ellora's Cave and All Romance Ebooks. Happy holidays and may they be magical!
While Leta Blake would love to tell you that writing transports her to worlds of magic and wonder and then safely returns her to a home of sparkling cleanliness and carefully folded laundry, the reality is a bit different. For as long as Leta can recall, stories have hijacked her mind, abducting her to other lands, and forcing her to bend to the will of imaginary people. This absence from reality results in piles of laundry and forgotten appointments. In between abductions, Leta works hard at achieving balance between her day job, her writing, and her family. You can find Leta online at her website, Facebook and Twitter.
After writing for years yet never really finding the right inspiration, Keira discovered her voice in gay romance, which has become a passion. She writes contemporary, historical, fantasy and paranormal fiction, and – although she loves delicious angst along the way – Keira firmly believes in happy endings. For as Oscar Wilde once said, "The good ended happily, and the bad unhappily. That is what Fiction means." You can find out more about Keira and her books online at her website, Facebook and Twitter.