Christmas Tree Beginnings by Karen Michelle Nutt
A lot of our holiday traditions stem from Pagan festivals. Vikings from North Europe believed evergreen trees represented inspiration during the winter months since they remained green throughout the entire season. They were a reminder to the people that spring season would soon come again.
The first known customs of decorating trees during the festival came from England and France when Druids used to decorate oak trees with candles and fruits at the time of their harvest festivals. Ancient Romans decorated trees with trinkets during their harvest festival Saturnalia. German Christians were the first to incorporate Christmas trees in their homes. If trees were not available, they used wooden pyramids.
During the 1800s, fruits, nuts and cookies were used to trim Christmas trees. The Germans baked gingerbread cookies in the shape of fruit, stars, angels and bells. The English created ornaments out of lace and paper, while Americans added strings of cranberries or popcorn to their Christmas trees.
It wasn't until the late 1800s when the Germans manufactured glass ornaments for mass production. At first they were molded to look like fruits, nuts and other food items, but later hearts, stars and other shapes were created. The glass blowers of Lauscha, Germany created molds of children, saints, famous people and animals.
Dresden and Tinware Ornaments were crafted during the 1800s, too. They were made out of pressed and embossed paper, which were fish, birds and other animals. This way they could be used after Christmas and for other holidays. During the 1900s, the ornaments were made out of pressed tin. They were brightly colored lithographed surfaces. It was during this time that foil strips were used, too. They were called icicles, angel hair or tinsel.
In my story, Wanted, the town came together to decorate a Christmas tree for their holiday celebration. Though they made most of the ornaments, they also order glass ornaments from Woolsworth's.
GIVEAWAY: I'm giving away an Ebook copy of Wanted to one lucky reader. All you need to do is answer the question below to be entered. Don't forget to leave your email so I may contact you if you should win. If you already own Wanted, you may choose another book for your holiday prize. Good Luck!
QUESTION: If you decorate a tree at Christmastime, do you prefer store bought ornaments, homemade or a little of both?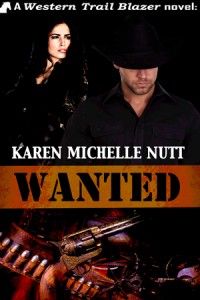 Sheriff Jace Kelly's wife died giving birth to his remarkable daughter, Emma. She inherited the families' seer abilities, but being only six-years old, she has the tendency not to know the difference between a vision and just an ordinary dream. So Jace doesn't put too much faith in Emma's recent premonition: marriage for him and a new mother for her, all because she wished upon a Christmas star.
When JoBeth Riley arrives in town, Emma is convinced this is the woman she dreamed about: dark hair, green eyes and shamrocks in her pocket. Only there's one problem, she's the notorious outlaw, Baby Face Jo.
JoBeth's stay in the lumber town is meant to keep Shane Maverick, the leader of the outlaw gang from finding her and breaking her out of jail before the authorities have time to devise a plan to capture him.
JoBeth finds the Kellys a strange lot. A little girl, who believes her dreams are tales of the future and the rugged sheriff whose kindness proves a distraction. She's an outlaw for heaven's sake, but Jace is bound and determined to steal her heart.
Purchase a copy of Wanted at: Amazon: http://www.amazon.com/Wanted-Karen-Michelle-Nutt-ebook/dp/B0054KJGG0/
Barnes and Noble: http://www.barnesandnoble.com/w/wanted-karen-michelle-nutt/
About the Author: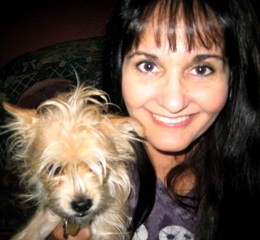 Karen Michelle Nutt resides in California with her husband, three fascinating children, and houseful of demanding pets. Jack, her Chorkie, is her writing buddy and sits long hours with her at the computer.
When she's not time traveling, fighting outlaws, or otherworldly creatures, she creates pre-made book covers to order at Gillian's Book Covers, "Judge Your Book By Its Cover". You can also check out her published cover art designs at Western Trail Blazer and Rebecca J. Vickery Publishing.
Whether your reading fancy is paranormal, historical or time travel, all her stories capture the rich array of emotions that accompany the most fabulous human phenomena—falling in love.
Visit the author at: http://www.kmnbooks.com
Stop by her blog for Monday interviews, chats and contests at:
Gillian's Book Covers
Judge Your Book By Its Cover
http://judgeyourbookbyitscover.blogspot.com/
Facebook: https://www.facebook.com/authorkarenmichellenutt
Twitter: https://twitter.com/KMNbooks
Pinterest: http://pinterest.com/karenmnutt/
Amazon Author Page:
http://www.amazon.com/Karen-Michelle-Nutt/e/B002BLLBPE