One of my favourite Christmas memories, that stands out amongst many of them, is baking with my Mom, and this is my favourite recipe. My kids have come to love these as well and I make them every single year without fail. 
Shortbread Sandwich Cookies
Ingredients:
2 cups of flour (remove 2 tablespoons to be replaced with the cornstarch)
2 tablespoons of cornstarch
1 cup of unsalted butter
1/2 cup of Berry sugar
 Instructions:
Preheat the oven to 325ºF
Combine the sugar and the flour mixture; mix well
Work in the butter; knead
Divide into two equal portions; wrap in plastic and refrigerate
Roll cool dough to 1/8 inch on pastry cloth using a rolling pin cloth cover
Cut out shapes; transfer to tray and dock decoratively
Bake for 8-9 minutes, until a very light golden on the bottom (still white on top)
Cool on rack; decorate
 **Bakes approx. 80 delicious cookies!!**
 Almond Icing: Recipe
 Ingredients:
1 cup of unsalted butter, room temperature
3 cups of icing sugar
2 teaspoons of pure almond extract
8-12 drops of green food colouring
 Instructions:
Mix all ingredients together until the consistency of play dough; refrigerate in a sealed container
Take out of the fridge 15 minutes before needed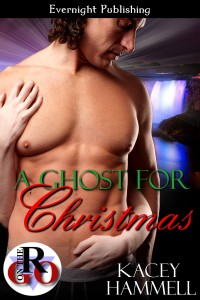 A Ghost for Christmas
Kacey Hammell
Publisher: Evernight Publishing
Genre: Paranormal Erotic Romance
ISBN# 978-1-77130-211-1
*Evernight Publishing Editor's Pick*
After receiving a long weekend at an elegant hotel beside the majestic Niagara Falls as a Christmas gift, Jodie Gibson is determined to do nothing but relax and enjoy the scenery. And, okay, just maybe meet someone who makes her toes curl.
Sebastian is sophisticated, tall, dark and gorgeous–everything a woman fantasizes about. But he's also an 18th century ghost. He haunts the halls of the hotel, seeking the one true love that can help him find peace…
Available at…
Evernight Publishing
Amazon – US / Canada / UK
B&N (Nook)
aRe
Kobo Store
Bookstrand
iTunes
  PRIZE INFO:
One reader will win a backlist Ebook Copy for one of my books. Winner's choice of title and format.
 Avid Reader. Romance Author. Redhead…
Canadian-born author, Kacey Hammell is definitely a book-a-holic, who began reading romances at a young age and became easily addicted.  These days, as a multi-published erotic romance author, she enjoys adding a lot of heat, sass and emotion to the Contemporary Romances she writes.
A mom of three, Kacey has made certain each of her children know the value of the written word and the adventures they could escape on by becoming book-a-holics in their own right. She lives her own happily ever after with her perfect hero in Ontario, Canada, and is a true romantic at heart.
Connect with Kacey…
Website / Newsletter / Facebook / Facebook Author Page / Twitter / Amazon / Goodreads / Pinterest / Instagram / Triberr