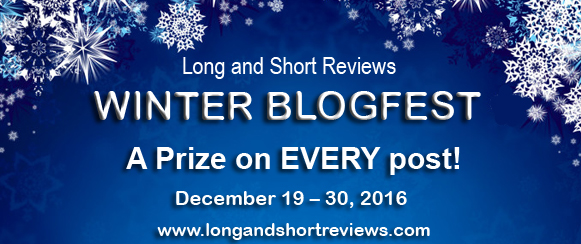 This post is part of Long and Short's Review Winter Blogfest. Leave a comment for a chance to win a
$10 Visa GC..
A Christmas Poem
My Christmas focus now will be
On what makes life so grand,
And hopefully you all will see
How living on this land
Is God's great gift to all of us,
To cherish and adore.
For in our hearts and hands He trusts
Its safety evermore.
Just take a look around and see
The wonders to behold,
Your friends and your dear family-
They're worth much more than gold:
A mother's tears of pride and joy,
No words can e'er express,
A love none ever can destroy,
Her newborn at her breast.
As children to adults they grow,
So proud of them are we.
Our faces happy and aglow
To see their destiny:
A graduation, wedding day,
Success in their careers.
And happiness for them we pray
Throughout their coming years.
Let's not forget the wisdom learned
From those who've gone before,
For with their knowledge and concern
There's more world to explore.
We won't forget our dear grandpa,
Or father, friend now gone.
They taught us well, the rules, the law;
They're our top echelon.
And we could never do without
Our pets that we hold dear,
For animals, there is no doubt
Bring us great joy and cheer.
They listen to our every word
As we unload our cares.
No back-talk from their mouths is heard;
They look at us and stare.
But in that stare they comfort us.
They do not judge our ways.
Accepting what we say in trust-
Their look their love conveys.
We cannot let a day go by
Without a special prayer
To soldiers who we so rely,
Our country's in their care.
They risk their lives for us each day;
They are a special lot.
May God protect them on their way.
They give all that they've got.
Now let us look around our land
At other miracles:
The mountains, oceans, hills, and sand,
To God we do extol;
The beauty of a setting sun,
What joy to us it brings;
The rising moon when day is done.
God's gifts are all these things;
A peaceful night beneath the sky,
Or walking in the rain;
A Christmas day with apple pie,
Or strolling down a lane
With fragrance of a new mowed lawn
Adrift in open air;
Or fishing in a sparkling pond
Without a single care;
The changing seasons, winter's snow,
So crisp and cold at night;
The summer heat as soft winds blow,
The sun so warm and bright;
The colored leaves of autumn trees
As coolness fills the air;
And springtime with the birds and bees,
And flowers everywhere.
So this year Christmas is a time
To let our anger go.
And as the distant church bells chime,
Let love and patience grow.
Let's try to live in harmony
With both our friend and foe.
Remember Jesus is the key.
He is the King, you know.
His birthday is a sacred time
For us to celebrate.
And Christmas cheer to yours from mine.
Let peace to you await.
Were they prank telephone calls in the middle of the night, or was it a desperate cry for help? The calls eventually force Ken Driscoll, a young accountant, to examine what was important in his life. His job? His relationship with his fiancée? Or the life of the boy at the end of the telephone line? Let Freedom Ring deals with two very different lives and their unique intersection in time. Because of a quirky twist of fate, Avery Archer, an eleven-year-old boy, telephones Ken and pleads for help in escaping from his kidnappers. Ken thinks that the boy is playing a sick prank on him, but after several phone calls, Ken truly believes the boy is in danger. When Ken contacts the local police for assistance, he learns that Avery Archer had been abducted sixty-seven years ago and eaten by alligators in a nearby lake.
About the Author: We were a mother and daughter team, collaborating on the writing of this manuscript. June is a mature lady of seventy-six living in rural Orange County, Florida, with her second daughter and family, four dogs, fifteen chickens, five Nigerian Dwarf goats, a horse named Pearl, and 50,000 Italian honey bees. Graduating summa cum laude from Youngstown State University (when it was still Youngstown College), she was an art teacher for several years and now is a part-time staff accountant for a CPA firm, working primarily from home. Wendelin Saunders, June's daughter, passed away from cancer in 2009. She was a graduate of Illinois Benedictine College with a major in mathematics. She worked for several years at Disney's Epcot. Before her death she and June ran an animal shelter in their home, which included the forever home for forty dogs, twenty-two cats, and four rabbits.
Facebook | Website