New Year's Eve, A Costumed Affair
Dressing for the holidays has a different meaning around here. I have a delightful, fellow author friend who hosts a themed costume party each New Year's Eve. She and her husband hold nothing back, decorating every bit of their house as well. Camelot was the theme the first time I attended, and a more creative bunch of outfits could not be had anywhere. Sir Gilroy of Garlic presented himself to the court, adorned with a necklace of state and coronet of bulbs as befit his name. His wife, Lady Baguette, wore a heavily bejeweled bread crown. My friend as The Lady of The Lake enchanted all in an aqua gown with pearls and seaweed hemmed with rubber squeaky frogs. Guests jousted with swim noodle lances astride whinnying stick horses while door prizes such as bags of King Arthur flour were drawn. Being a noob, I wore a gown with long belled sleeves and a wizard's hat. I vowed next time I would be more inventive.
I got my chance the following year-end when the theme was "My Heart's in the Highlands." The host and hostess, you see, had spent a good month of the summer over in Scotland. While there was the requisite sheep or two among the crowd and lots of Highlander lads and lasses in full kilt regalia, I was the only person who came as the national symbol of Scotland–the thistle. Dying my hair lavender was the easy part. What to wear to look like stems and proper thistle leaves was a thorny problem. (Pun intended.) But I managed to whip a little something together.
We've stepped back to the psychedelic Sixties, wagon-trained into the Wild West, and hung with flying monkeys in the EmeraldCity. (I was a Ruby Slipper.)
Woe to anyone who comes to the door in street clothing. My friend strictly enforces the costume requirement, so if you aren't dressed, she'll put you in something–usually the most embarrassing thing she can find. The theme for the following New Year's bash is announced post midnight–after everyone has sung all the verses to Auld Lang Syne to the hostess' satisfaction. Bet you didn't know it had more than one verse, did you? Granted, she has all the lyrics posted for everyone to follow so there is no excuse, even if ( like me) you can't carry a tune in a bucket. Usually by that time no one cares anyway so we all just howl along.
This year–Steampunk–will be the final soiree. I understand completely; it's a lot of work to plan, decorate, and entertain a bunch of people in your home every year. After a decade or so it stops being fun and turns into a frustrating chore. They've had a great run of fifteen parties, each with a unique theme and décor. It's time for them to kick back and enjoy the turning of the calendar minus the hassle.
I'll be searching for the right accessories for my Victorian garb: a map case, perhaps a mechanical pet companion, definitely a kick-ass hat and funky eyewear.
See you on the dance floor December 31st. But come 2014, I'll dearly miss dressing for New Year's Eve.
~Jude Johnson
JUDE'S PRIZE GIVEAWAY:
A set of the first two ebooks in my Save The Last Dance contemporary romance series:
 A Dangerous Dance and A Wicked Waltz (pdf format),  PLUS a compilation CD of dance music associated with the series (for personal use only).
About Jude: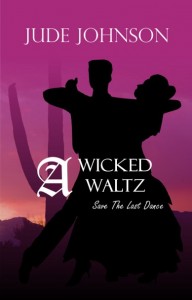 Jude Johnson has been a history enthusiast since childhood and has spoken about her historical research at numerous historical societies as well as on BBC Radio Wales. She is the author of the Dragon & Hawk trilogy of historical novels set in the Arizona Territory that follow three fictional brothers from Wales in 1882 and the three very different women who change their lives. While she has no Welsh heritage in her lineage, Jude has studied Cymraeg—the Welsh Language—and learned just enough to be dangerous in Cardiff pubs. She also speaks really bad border Spanish that gets better with Negra Modelo. She loves to watch Wales in Six Nations Rugby to compare and contrast the definitions of gluteal musclulature in rugby shorts versus American football pants. All in the name of research, of course.
Her newest series is a trilogy of contemporary romance called Save the Last Dance, of which A Dangerous Dance and A Wicked Waltz are now available. A Torrid Tango is scheduled for release in March 2014.
She is a member of Gecko Gals Ink, LLC, a group of "sassy Tucson authors" who encourage other writers to become published by holding writing seminars and classes. Recent endeavors have also included organizing The All-Zona Book Fest, a gathering of Arizona scribes who may otherwise fly under the radar because they are indy published or published by a small house without major distribution.
She lives in the foothills of the Santa CatalinaMountains with her long-suffering husband and son who have resigned themselves to ingesting charred food while she's in a writing frenzy. Which may explain how her two cats have become quite deranged as well…
Facebook: http://www.facebook.com/JudeJohnsonAZ
Website: http://jude-johnson.com
Amazon Author Page: http://www.amazon.com/Jude-Johnson
Twitter: https://twitter.com/JudeJohnsonAZ