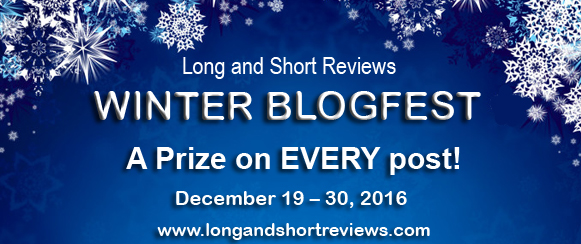 This post is part of Long and Short's Review Winter Blogfest. Leave a comment for a chance to win an e-book of AN INFATUATION, a novella by Joe Cosentino, published by Dreamspinner Press, Rainbow Award Honorable Mention. .
The Best Christmas Ever
My Christmas memories are of my older sister and male cousin wrapping a blanket around me, putting me in a trash can filled with yellow construction paper, throwing sheets around themselves, and charging the neighbors money to see our nativity play. At least I played the leading role!
As the years went on, Christmas in my big Italian family included grace by my father ("Bless us, let's eat.") my mother displaying her ceramic Santa napkin holders ("When I die take these out, think of me, and cry buckets."), a huge feast where my spouse and I dodge food grenades at the kiddy table, and opening lavish gifts (one year my parents gave my sister a house and me a sweater), then my family opening gifts from me ("I guess I can wear that for dress down day at work.").
My parents, sister, niece, aunts, uncles, and cousins had been telling me for years to travel to Italy. I always resisted due to the long plane ride and steep cost. However, like Kunta Kinte charting his roots, I decided it was time. So one Christmas my spouse and I dipped into our savings—and dipped into the Dramamine, and booked a flight and bus tour from the US to Rome, Naples, Venice, Assisi, Lake Como, Milan, Florence, the Amalphi Coast, Pompeii, Tuscany, and Lake Maggiore. We were exhausted, but we had the vacation of a lifetime seeing the most gorgeous architecture, natural resources, and views of any of our trip. We also ate delicious food and reveled in the art, history, and beauty (noticing all the statues were of very muscular, naked men). The people were warm and friendly as was the weather. However, there was no site more gorgeous, magical, and romantic than the Island of Capri.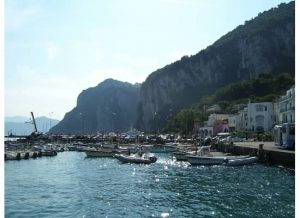 While on the boat ride to the Marina Grande, the sight of the enormous cliffs sitting majestically on the water literally took our breath away. From the funiculare (cable car) we marveled at the stunning views of the island below and Mt. Vesuvius in the distance. At the Piazetta (main plaza) we boarded an island bus that zoomed around harrowing, tight corners like a car in a Fun House. We travelled to Via Krupp in the southern part of the island, and we walked through what Italians call "the villas of the rich and famous," underscored by the sparkling turquoise sea below. We swam in gorgeous white sand beaches surrounded by artistic white stone formations like Marina Piccola. When we arrived at Mt. Solaro, our guide told us it was highest point on the Isle of Capri, five hundred and eighty-nine meters above sea level. As we looked out at the fog, the sun came up and the wind blew the vapors of fog upwards, crowning the clouds, and revealing stunning views of the Bay of Naples, the Amalfi Coast, and the mountains of Calabria in the distance. As we looked out over the turquoise water, white mountains, and azure sky, I felt like I was in heaven. However, the most magical of all was the Grotta Azzurra (the Blue Grotto). As our boat went through the tiny portal of the expansive cave, my breath was taken away by the water's brilliant shades of iridescent sapphire and emerald from the sun's reflection on the water in the cove. Capri also had the most amazing restaurants and shops on the water's edge. And the people somehow all seemed beautiful and sensuous.
Our trip to Italy proved to be the best Christmas ever—and even sparked a novella. So this winter holiday season, think outside the box, and consider taking a trip to somewhere amazing. If you can't get away at this time, there are always books to take you there! Peace on earth, good will to all! Happy holidays!
Bobby McGrath's Christmas trip to the beautiful Italian Island of Capri to meet his eccentric, extended family offers stunning views—none more stunning than his third cousin, Paolo Mascobello, a real stocking stuffer. As the two young men embark on a relationship, Bobby, a driven law student, learns to relax and bask under the old Italian moon, and Paolo realizes there's more to life than a frolic on the beach. For the two to find everlasting amore, Paulo must overcome his fear of commitment and learn to follow his dreams, and Bobby must get his wish for happily ever after. "Reading this little holiday treat is like taking a romantic trip to gorgeous Capri, Italy!
About the Author: Bestselling author Joe Cosentino wrote In My Heart/An Infatuation & A Shooting Star, A Home for the Holidays, The Naked Prince and Other Tales from Fairyland (Dreamspinner Press); Drama Queen, Drama Muscle, Drama Cruise Nicky and Noah mysteries (Lethe Press); Cozzi Cove: Bouncing Back, Cozzi Cove: Moving Forward, Cozzi Cove: Stepping Out (NineStar Press); and Paper Doll, Porcelain Doll, Satin Doll, China Doll, Rag Doll Jana Lane mysteries (The Wild Rose Press). He has appeared in principal acting roles in film, television, and theatre, opposite stars such as Bruce Willis, Rosie O'Donnell, Nathan Lane, Holland Taylor, Charles Keating, and Jason Robards. Joe is currently Head of the Department/Professor at a college in upstate New York, and is happily married. He was voted 1st Place Favorite LGBT Mystery, Humorous, and Contemporary Author of 2015, and 2nd Place Favorite LGBT Romance Author of 2015 by the readers of Divine Magazine. He has also won many Rainbow Award Honorable Mentions including for In My Heart/An Infatuation & A Shooting Star. Upcoming releases are Drama Luau (fourth Nicky and Noah mystery) and Cozzi Cove: New Beginnings (fourth Cozzi Cove beach novel, NineStar Press). http://www.JoeCosentino.weebly.com
Website | Blog | Facebook | Twitter
Buy the book at Amazon.