A Festival of Lights
Chanukah is one of my favorite holidays, and it has nothing to do with presents. I love the warm glow of the candles, which increases each night. I love watching the anticipation grow as my kids wait for the sun to go down. I love the fact that the holiday lasts eight days, which gives us plenty of time to fit in all different kinds of activities.
In our house, we all have our own Menorahs, the special eight-branched candelabra we light during the holiday. Mine is one my grandparents bought me on a trip to Israel. My husband's is one he made in woodshop as a kid. My husband and I have a joint one we received as a wedding gift, and we decide each year whether or not to light our own or our joint one. When my kids were little, they had ones appropriate for their age, such as Winnie the Pooh. Now that they're older, they have a dog one and a music one. Each one reflects their likes or hobbies at the time they received it.
I have to admit, I'm a bit partial to the Winnie the Pooh one. Not only was it the first child menorah we'd ever purchased, but also it is responsible for my kitchen renovation. One year, when my kids were young, we had lit the menorahs in the kitchen, and then moved into the living room to open presents. I'll admit, I wasn't thinking particularly clearly, and lined the counter with wax paper to protect it from dripping wax. While sitting in the living room, I heard a noise. At first I ignored it, but later, I looked at the lit menorahs and noticed a space in the line of candles. Since it was one of the last nights of Chanukah, and almost all of the candleholders were filled with candles, there wasn't supposed to be a space. But there was.  Walking into the kitchen, I found that one of the candles in the Winnie the Pooh menorah had fallen over, landed on the wax paper, remained lit, and burned a hole in my countertop. Now, my countertop was ugly, and was on the list of things to replace "someday." Apparently, "someday" was "now."
In our family, we only give six nights of gifts. One of the nights we don't give gifts is the night we celebrate with our extended family. The kids get so many presents from everyone else, they really don't need an additional one from us. And the other "non-gift night" is to celebrate Ner-Shel-Tzedakah.  Ner-Shel-Tzedakah is the night we show appreciation for what we have and give what we would have given to ourselves to others. We let our kids decide who should get the charity and usually that means donating to our local animal shelter. We go to the grocery store and each girl is given a budget to spend on pet food and toys. Additionally, we go to the fabric store and each girl picks out one or two pieces of flannel to make into dog or cat blankets. Once the girls make those—using a knot-tying technique—we deliver the food, toys and blankets to the animal shelter.
We use the eight nights of Chanukah to celebrate the holiday as best we can. Because it's an evening event, and there's school and work during the holiday, some nights are more rushed than others. But we always try to make sure everyone gets to enjoy their favorite foods—like latkes (potato pancakes), fried Oreos and donuts. Some nights we play dreidel games, other nights we listen to music or make chocolate gelt (chocolate coins).
Beyond presents, I love celebrating Chanukah with my family. I love the coziness and the family time and the tradition.
What's your favorite part of your holiday? Leave me a comment and you could win an Amazon gift card and autographed copy of one of my books (found here http://www.amazon.com/s/ref=nb_sb_noss_1?url=search-alias%3Daps&field-keywords=jennifer+wilck) You can also hop on over to my blog to read excerpts (http://www.jenniferwilck.blogspot.com).
Happy holidays!
About the Author: Jennifer started telling herself stories as a little girl when she couldn't fall asleep at night. As an adult, she started writing them down and after several years of writing, editing and querying publishers, she's a multi-published author. Her favorite stories to write are those with smart, sassy, independent heroines; handsome, strong and slightly vulnerable heroes; and always end with happily ever after.
When she's not writing, she loves spending time with her family and friends, reading, traveling and watching TV. She volunteers with her Temple and is also a freelance writer for magazines, newspapers and newsletters.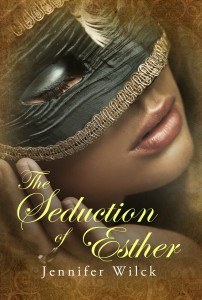 A Heart of Little Faith and Skin Deep were published by Whiskey Creek Press in 2011. Her newest romance, The Seduction of Esther, was published in June by Rebel Ink Press. All books can be purchased through Amazon and Barnes & Noble.
She can be reached at www.jenniferwilck.com or http://www.facebook.com/pages/Jennifer-Wilck/201342863240160. She tweets at @JWilck. Her blog (Fried Oreos) is www.jenniferwilck.wordpress.com and she contributes to Heroine With Hearts blog on Tuesdays http://www.heroineswithhearts.blogspot.com and Front Porch Saturdays at Sandra Sookoo's Believing is Seeing blog http://sandrasookoo.wordpress.com.