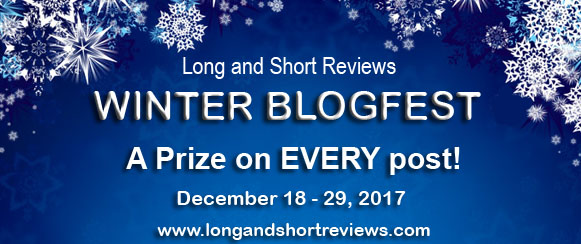 This post is part of Long and Short Reviews' Winter Blogfest. Leave a comment for a chance to win tea and a mug for cozying up by the fire to read romance novels this winter!
Christmas
My father taught at a high school where service to the community was one of the most prized values. Every holiday season, the homerooms collected food and gifts for a family in need. One year, several grades before I started high school myself, I rode along and helped him deliver boxes.
Some of the homerooms did a satisfactory job collecting for their family. Some did an outstanding job. And one homeroom, where my father returned to the car for box after box after box, did a such a good job, that the family members cried in wonder and thanks.
It stayed with me, that night. I was too young at the time to be more than a clueless observer without the emotional resources or life experience to process or understand my experience.
It did not leave me, though. In fact, it partially inspired the pivotal part in my first published book, TO WIN A LADY'S HEART. The hero, the Earl of Corbeau, carries on a family Christmas tradition in which he makes a tour of his lands, bringing gifts to tenants, and accepting a gift in return. Not just any gift. Food. Something he will put on his Christmas table and something that the tenant family will put on their Christmas table. In this way, the earl remembers that he is not an arbitrary lord, but has people in his care. A duty he takes extremely seriously.
It's on a sleigh ride through the snow in which the impoverished heroine—forced into an engagement with the besotted hero whom she doesn't want to accept because she doesn't want to marry for money—first begins to reconsider the hero not as a means to an end, but as someone with whom she could build a happy home centered around love.

England, 1811. When John Merrick, the Earl of Corbeau, is caught in a locked storeroom with Lady Grace, he has but one choice—marry her. He cannot bear to tarnish any woman's reputation, least of all Lady Grace's.

Lady Grace Landon will do anything to help her mother and sisters, crushed and impoverished by her father's disgrace. But throwing herself into the arms of her dearest friend's older brother to trap him in marriage? Never.

Each book in the Landon Sisters series is a standalone story that can be enjoyed out of order.

Series Order:
Book #1 To Win a Lady's Heart
Book #2 To Covet a Lady's Heart
About the Author: Ingrid Hahn is a failed administrative assistant with a B.A. in Art History. Her love of reading has turned her mortgage payment into a book storage fee, which makes her the friend who you never want to ask you for help moving. Though originally from Seattle, she now lives in the metropolitan DC area with her ship-nerd husband, small son, and four opinionated cats. When she's not reading or writing, she loves knitting, theater, nature walks, travel, history, and is a hopelessly devoted fan of Jane Austen.
Buy the book on Amazon.