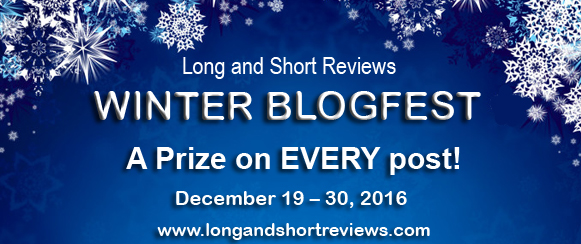 This post is part of Long and Short's Review Winter Blogfest. Leave a comment for a chance to win a Kindle copy of BLOODSTONE..
Winter Wonderland
Winter will soon arrive in our neck of the woods. Last year it arrived on Christmas Eve, just in time for the traditional White Christmas, with about an inch of pretty white fluff. About seven inches of snow came down just before the New Year.
It was the picture-perfect snowfall, thick flakes coming down with no wind, making the trees in my yard look like something out of a fairy tale (the Dancing Princesses, maybe?). I went outside that night and was instantly transported back to my childhood.
My friends and I used to walk to the movie theater, escorted by one or more of our parents, and I recall quite vividly a magical snowy night when we walked home after the feature. The air was completely still. A couple of inches of snow had freshly fallen. Trees and bushes were decoratively draped in it. Our boots crunched and squeaked in the silent air. The temperature must have been near 30 because I don't remember being cold at all as I breathed in that uniquely fresh air that's present only after a snowfall. All around us, in the light of the streetlamps, the snow sparkled and twinkled. It looked as though a rainbow had frozen and sprinkled the snow with colorful crystals. I fancied they were jewels, scattered by a giant's hand for us to enjoy. (I was about eight or nine then and already a great fan of fairy tales.)
Now, every winter I look forward to a night like that one—a magical, still night with freshly fallen snow sparkling with a multitude of colors. The air always smells fresh, uniquely clean. My boots always crunch and squeak. And I always have to stand for a moment enjoying the fantastical spread of jewels and remembering.
What if looking at the face of the man you loved meant death?

Years ago, warrior Durren Drakkonwehr was cursed by a mage. Now feared and reviled as the Shadow Man, he keeps to himself, only going to town to trade rare bloodstones–petrified dragon's blood–for supplies. Though he hides his face, he can't hide his heart from the woman who haunts his dreams…

Needing bloodstones for a jewelry commission, Mirianna and her father journey across the dreaded Wehrland where the beast-men roam. When their party is attacked, only the Shadow Man can save them. Strangely drawn to him, Mirianna offers herself in return for her father's rescue.

Living in the ruined fortress with the Shadow Man, Mirianna slowly realizes that a flesh-and-blood man–not a fiend–hides there in hoods and darkness. But are love and courage enough to lift the curse and restore the man?
About the Author:Helen C. Johannes lives in the Midwest with her husband and grown children. Growing up, she read fairy tales, Tolkien, The Scarlet Pimpernel, Agatha Christie, Shakespeare, and Ayn Rand, an unusual mix that undoubtedly explains why the themes, characters, and locales in her writing play out in tales of love and adventure. A member of Romance Writers of America, she credits the friends she has made and the critiques she's received from her chapter members for encouraging her to achieve her dream of publication. When not working on her next writing project, she reads all kinds of fiction, enjoys walks, and travels as often as possible.
Website
Buy the book at Amazon.