This post is part of Long and Short Reviews Winter Blogfest. Leave a comment for a chance to win a Taylor & Graham/McLaren mysteries ceramic mug.
Have You Been Naughty Or Nice?
by Jo A. Hiestand
Christmas Eve and Santa Claus are indelibly linked for many of us. We love the jolly old man. But do you know Santa–or St Nicholas, as he's known in European countries–had a helper?
Many of these companions are rooted in the Middle Ages when the tension between Good and Evil was powerful and held a strong fascination.
These sometimes devil-like figures were created to be very frightening, perhaps to keep children in line, but most probably to remind us of the eternal fate in store for the poorly behaved.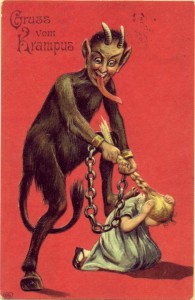 One companion is Krampus. A frightening devil-like figure of Austria, Slovenia, Croatia and southern Germany, he's dressed in fur, has horns that look very goat-like, and has a long, red tongue. He usually holds chains or switches, which, presumably, he will use on naughty children. As he roams the streets he hurls the chains at children who find themselves in his path. A basket usually sits in the crook of his arm. Naughty children are dropped into the basket and taken away to some terrifying doom.
Knecht Ruprecht is St Nicholas' most common attendant in Germany. His name means Farmhand Rupert, or Servant Rupert, implying he was a farmhand who became St. Nicholas' servant, or was an infant reared by Nicholas. He's clothed in a long, brown hooded robe of fur or straw. His face is sooty from going down chimneys. Variously, he carries a pack of presents or a sack of ashes. He gives the gifts to the good children and beats the bad children with the sack of ashes. He also carries switches, which he either uses on the disobedient children or leaves for their parents to use. Occasionally he has his own companions: fairies or dark-faced-men made up as old women. In many versions of this character he carries a bell, which warns of his menacing arrival.
Pelznickel, meaning "Nicholas in Furs," is a variant of Ruprecht, residing in the Northwest area of Germany. His attire is dark or shaggy clothing (furs or animal skins) or a long, pale robe and a tall, peaked "witch" hat. He carries away bad children–either to his home in the Black Forest or to be tossed into the river!
Schmultzli, a Swiss companion, is all brown–clothing, hair and beard–and his face is darkened with lard and soot. He carries a switch and a sack. Naughty children are beaten with the switch and then toted off in the sack, where he eats them in the woods!
Zwarte Piet, or Black Peter, helps Nicholas in the Netherlands, Belgium and Flanders. He's dark skinned and wears a Renaissance outfit of colorful pantaloons, feathered flat cap and ruffles. This traditional look's based on a lone illustration from an 1850 book. Zwarte Piet originated as an enslaved devil who was forced into his captor's service. The 19th century saw his mutation into St. Nicholas' companion who resembled a Moor. A mischievous rather than mean-spirited character, Zwarte Piet brings gifts and candy to good children, but punishes bad children by cramming them into his sack and taking them to Spain (of all places!).
In France, Pere Fouettard accompanies St. Nicholas on his rounds and spanks naughty children. He's dressed in a long, brown, fur trimmed hooded robe. Sometimes a long rope tethers him to a donkey.
Housécker is St. Nicholas' companion in Luxembourg. He's the wicked butcher of the legend (He lured three boys into his shop, murdered them, cut them up, and stuffed them into a barrel. Seven years later St. Nicholas arrives and brings them back to life). Now he's forever doomed to attend St. Nicolas. Housécker translates roughly as "Mr. Bogeyman," "spanking," or "switches."
These are a few of St Nicholas' helpers. He has many more, in other countries. I've mentioned some in my mystery novel Sainted Murder, but this gives you an idea of the wealth of customs and legends surrounding this man.
Customs and holidays are the backbone of many societies. It's through the yearly repetition of songs, actions or eating certain foods that we form a relationship with past generations. It gives us a sense of place, so I applaud St. Nick and his companions. Ho, ho, ho…
"A murder mystery in the classic vein set in England's snowy Peak District. Laced with folklore and legend, and with a cast of suspicious villagers, this is a story to enjoy on a long winter's night. Very atmospheric; the first scene was stunning!" – Ann Cleeves, author of the Inspector Jimmy Perez/Shetland Island Mysteries series
About the Author: Jo Hiestand discovered the joys of Things British on a month-long trip to England during her college years. Since then, she has been back nearly a dozen times, and lived there during her professional folksinging stint. This intimate knowledge of England forms the backbone of her two series. Set in Derbyshire, England, the Taylor & Graham series employs British customs as the backbone of each book's plot. The McLaren Cases features ex-police detective Michael McLaren, who now works on his own to investigate cold cases. Jo is a member of Sisters in Crime, and Mystery Writers of America.
Website | Facebook
Buy the book at Amazon.