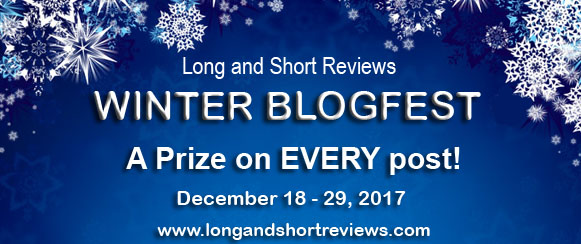 This post is part of Long and Short Reviews' Winter Blogfest. Leave a comment for a chance to win a digital copy of my short story, "The Black Silk Stockings".
Christmas Blues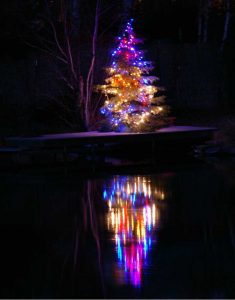 Although the Christmas season basks in Macy's red, angel white and evergreen, I'm drawn, like a kid to Toys R Us, to the color blue. Not just any blue. It has to be that captivating shade of cobalt blue that's found in Christmas lights.
I grew up in Klamath Falls, Oregon in a house so small we had to move two living room chairs to the garage in order to put up a Christmas tree. We adorned our tree with one string of lights—an assortment of bulbs that didn't blink, twinkle or bubble, and only one of which was blue. To protect the pine needles we put star-shaped aluminum collars around the bulbs before screwing them into their sockets. No matter where I sat, I'd make sure the collar of the blue bulb didn't hide the mesmerizing effect its color had on me.
On the rare evenings our parents weren't home, my sisters and I would darken the living room and take in the magic of this gleaming, tinseled tree that prettified our modest home a few weeks each year. No one spoke, each sister absorbed in her own thoughts, mine soothed by the one blue light that held my gaze.
I still live in a small house, this one in Bend, Oregon. The artificial Christmas tree my husband and I bought came with clear mini lights, and since people our age shouldn't climb ladders, we no longer hang lights outside. Sarah Street, a few blocks away, is a virtual Disney light parade during the month of December, and for many years, one of the properties on that street was, for me, a blue fantasy. Nothing but blue lights bordered its windows, outlined the roof, and decorated the branches of every tree in the front yard. After dinner sometimes, while my husband napped, I'd drive over there and sit in the dark like I did as a child, filling my soul with blue serenity.
Last year there wasn't a single light on the house I hoped to see. I drove home in a funk, feeling low as the lyrics in "Blue Christmas." At least I wouldn't be spending Christmas alone like Elvis, I told myself, and when I got home, I shared my blue light disappointment with my husband. The next day, while I was running errands, he bought a string of blue lights and wrapped it around the trunk of the tree outside our kitchen window. During dinner, he made some excuse to leave the table and turn them on. After we finished eating, I carried our dishes to the sink, and the minute I entered the kitchen, my heart swelled at the sight of our pine tree lit in blue. What a glorious way to get rid of my Christmas blues!
Colorado. 1885. Sparks fly as two young friends become ex-friends after one secretly marries the other's widowed father. Overnight, fourteen-year-old Clara's world crumbles when she learns her best friend Geneva, only two years older than she is, has become her stepmother.

Feeling betrayed by a father she adores and her only friend in the remote San Luis Valley, Clara wants nothing to do with her stepmother. Geneva pushes back, beginning a clash of wills that lasts until the flu epidemic of 1918.
About the Author: Ginger Dehlinger writes in multiple genres including two published novels–Brute Heart and Never Done. She writes for women in general and nature lovers in particular, focusing on lesser known aspects of the American West. She's a member of Women Writing the West, Central Oregon Writer's Guild, and a small, but fastidious critique group.
Ginger lives in Bend, Oregon with her husband Dick and a cat named Kiki.
Buy the book at Amazon.